Current Affairs MCQ for UPSC Exams – 15 May 2017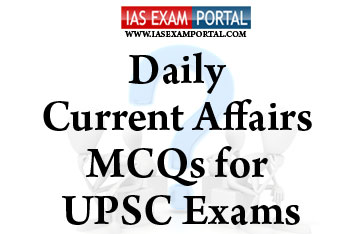 ---
Current Affairs MCQ for UPSC Exams – 15 May 2017
---
Q.1- Which of the following is not a part of Panchsheel, five principles of peaceful coexistence?
A. Equality and cooperation for mutual benefit
B. Mutual respect for each other's territorial integrity and sovereignty
C. Mutual non-aggression.
D. Help each other in case of external aggression
Q.2- Which of the following is correct regarding Pradhan Mantri Gram Sadak Yojana?
1. It was launched by the Govt. of India to provide connectivity to unconnected Habitations
2. It is a program for the reduction of poverty
3. There are about 1.67 lakh Unconnected Habitations are eligible for coverage under the programme
A. 1 and 2 only
B. 2 and 3 only
C. 1 and 3 only
D. All
Q.3- The seasonal reversal of winds is the typical characteristic of
A. Equatorial climate
B. Mediterranean climate
C. Monsoon climate
D. All of the above climates