Current Affairs MCQ for UPSC Exams – 21 April 2017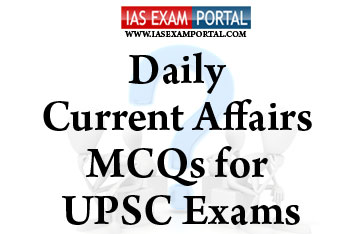 ---
Current Affairs MCQ for UPSC Exams – 21 April 2017
---
Q.1- With respect to notices issued by interpol, which among the following is correct?
a) International notices are the main instruments of international police co-operation.
b) Red corner notice can be issued only against an Indian citizen who has committed an offence which is an "extraditable offence" under the Indian Extradition Act, 1962.
c) Intelligence Bureau is the nodal agency for the coordination with interpol.
A) a, b only
B) b, c only
C) a and c only
D) All
Q.2- Which of the following is correct regarding proposed monetary policy committee?
1. It will have all the members from RBI
2. Nominated members will be nominated by external selection committee.
3. The RBI governor will never vote
A. 1,3
B. 1,2
C. 2,3
D. 2 only
Q.3- Which of the following is correct regarding the solar system?
1. Mercury is smallest planet in the solar system
2. Venus is hottest planet in solar system
3. Asteroid belt is between mars and Saturn
A. 1,2
B. 1,3
C. 2,3
D. All