(Free Coaching) Free Training Programme for Civil Services Examination 2011-12 By SPIPA, Gujarat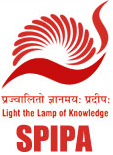 Sardar Patel Institute of Public Administration
SPIPA is the apex training institute of the Government of Gujarat. As an apex institute, it provides the basic foundation courses of 45 days for all fresh entrants in class I & II services of the State Government. SPIPA is also the in-service training institute of the officers of Gujarat Administrative Service and for Class II service officers like Mamlatdars of the Revenue Department.

It also provides regular periodic short courses on both the general aspects of administration and on specific fields pertaining to administration. The number of courses offered by the institute has been increasing every year reflecting the increased importance being attached to training as a basic tool of human resource development.
Training Programme Details:
Full Time Free of Cost Training Programme for UPSC Civil Service Examination (IAS/IPS etc.) will start from September 2011 at SPIPA.
Total: 72 candidates
36 General
12 SC
12 ST
12 SEBC
Admission Procedure:
Age Limit: As on 1/2/2012: GEN: 21 to 30 Yrs., SC/ST: 21 to 35 Yrs., SEBC: 21 to 33 Yrs.
Educational Qualification: Graduate form any recognised / Deemed University established under Act of the Central Government of State Government.
Entrance Exam Pattern:
Objective Test (MCQ)
Essay
Personal Interview
How to apply:
Application form can be downloaded from this link
Application form must reach SPIPA through post or in person from 6.6.2011 to 20.6.2011.
Courtesy: spipa.gujarat.gov.in
We Need Your Help... Recommend Us on Google