Current Affairs for IAS Exams - 01 May 2021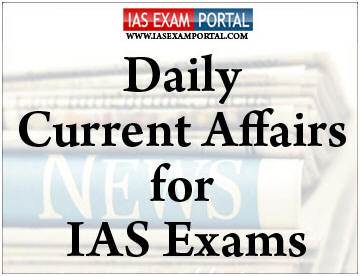 ---
Current Affairs for IAS Exams - 01 May 2021
::NATIONAL::
Python-5
India's indigenous Light Combat Aircraft, Tejas, has added the fifth generation Python-5 Air-to-Air Missile(AAM) to its weapons capability.
The Python-5 is the second AAM of Israeli origin to be integrated on the Tejas fighter.
It is an infra-red guided missile with a range of at least 20km.
The first missile was the Beyond Visual Range (BVR) AAM Derby which is a radar-guided weapon with a range of over 50km.
Oxygen Concentrators
PM CARES Fund would be used to procure 1 lakh portable oxygen concentrators.
An oxygen concentrator is a medical device that concentrates oxygen from ambient air.
Oxygen concentrator takes in air, filters it through a sieve, releases the nitrogen back into the air, and works on the remaining oxygen.
This oxygen, compressed and dispensed through a cannula, is 90-95 per cent pure.
A pressure valve in concentrators helps regulate supply, ranging from 1-10 litres per minute.
CLICK HERE FOR FULL CURRENT AFFAIRS (Only for Course Members)
::INTERNATIONAL::
May Day
International Labour Day is being celebrated across the worldwide on May 1.
About:
International Labour Day or International Workers Day is often referred to as May Day.
The day is celebrated to honour the contribution of working men and women and to pay tribute to workers sacrifices in achieving economic and social rights all over the world.
It is observed on May Day (1st May), an ancient European spring festival. The date was chosen by a pan-national organization of socialist and communist political parties to commemorate the Haymarket affair, which occurred in Chicago on 4 May 1886.
In India, the first Labour day or May Day was celebrated in 1923 in Chennai.
Tianhe
China has recently launched key module of new space station that it plans to complete by the end of 2022.
About:
The module has been named "Tianhe," or "Harmony of the Heaven".
Tianhe forms the main living quarters for three crew members in the Chinese space station, which will have life span of at least 10 years.
Work on the space station programme began a decade ago with the launch of a space lab Tiangong-1 in 2011,and later, Tiangong-2 in 2016.
::ECONOMY::
Govt to provide Rs 15,000 crore to states for capital expenditure
The Centre on Friday announced decision to provide an additional amount of upto Rs 15,000 crore to states as interest-free 50-year loan for spending on capital projects.
The Department of Expenditure has issued fresh guidelines in this regard for financial year 2021-22, according to an official statement released by the Ministry of Finance.
Capital expenditure creates employment, especially for the poor and unskilled, has a high multiplier effect, enhances the future productive capacity of the economy, and results in a higher rate of economic growth.
Thus, despite adverse financial position of the Central government, it was decided last year to launch a scheme for special assistance to states for capital expenditure.
Under the scheme, financial assistance is provided to state governments in the form of 50-year interest free loan. An amount not exceeding Rs 12,000 crore was earmarked for 2020-21 and a sum of Rs 11,830.29 crore was released.
This helped to sustain state level capital expenditure in the pandemic year. "In view of positive response to the scheme and considering requests of state governments, the government has decided to continue the scheme in 2021-22.
::SCIENCE AND TECHNOLOGY::
MACS 1407
Indian Scientists recently have developed a high-yielding and pest-resistant variety of soybean, called MACS 1407.
It is a high-yielding and pest-resistant variety of soybean developed by scientists from MACS- AgharkarResearch Institute (ARI), Pune in collaboration with Indian Council of Agricultural Research (ICAR), New Delhi.
It is suitable for cultivation in the states of Assam, West Bengal, Jharkhand, Chhattisgarh and North-Eastern states.
It has white coloured flowers, yellow seeds and black hilum. Its seeds have 19.81 % oil content and 41 %protein content.
 CLICK HERE FOR FULL CURRENT AFFAIRS (Only for Course Members)