Current Affairs for IAS Exams - 17 May 2017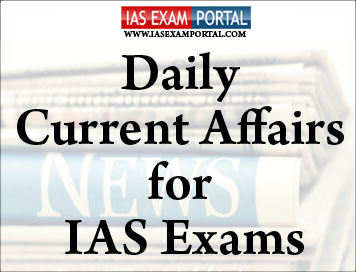 Current Affairs for IAS Exams - 17 May 2017
:: National ::
India urged Palestine and Israel to coexist peacefully
India urged that a future state of Palestine should coexist peacefully with Israel.

However, Palestinian President Mahmoud Abbas said that a sovereign state of Palestine should be built according to the pre-1967 borders and include East Jerusalem as the capital.
Ransomware cyberattack has hit computers of the Gujarat government
Ransomware cyberattack has hit several hundred computers of various departments of the Gujarat government. Computer systems crashed in some Regional Transport Offices, several district collectorates and police stations.

As a precaution, the government issued an alert to switch off the computers and IT networks till anti-virus systems are installed.

According to Gujarat's IT secretary Dhananjay Dwivedi, 120 computers across the State were affected. A few police stations and the Ahmedabad civil hospital were also affected.

The State IT department and State Crime Record Bureau have issued advisories to all departments and agencies to install a security patch and upgrade the systems before using them.

No private company in the State has so far complained of cyber intrusion in their networks. However, cyber experts said the private firms have avoided reporting complaints and have instead been upgrading their networks.

Meanwhile, the Ahmedabad Crime Branch has developed an anti-virus software which once installed protects all data and systems.
:: International ::
Pakistan under fire in its own country for CPEC
Opposition leaders slammed Pakistan govt after the Dawn daily disclosed the "master plan" of theCPEC, which will link the port city of Gwadar in Balochistan to China's Xinjiang province via a network of highways and railways.

Member of Parliament from the Opposition Pakistan Peoples Party, said the government must come clean on the long-term plan for the corridor.

Dawn reported it had acquired exclusive access to the original document that discloses what the Chinese priorities are in Pakistan for the next decade and a half.

The master plan, drawn up by the China Development Bank and the National Development Reform Commission of China, states that thousands of acres of agricultural land to be leased out to Chinese enterprises to set up projects in areas ranging from seed varieties to irrigation technology.

The Pakistani government challenged the report, saying the details were quoted from one of the working papers prepared to be discussed with the Chinese leadership during the recently-held Belt and Road Forum in Beijing.

The report states that Chinese enterprises will also operate their own farms, processing facilities for fruit and vegetables and grain, while logistics companies will operate a large storage and transportation system for agrarian produce.

China's plan is to gradually create a favourable industry image and reputation for Pakistan by relying on domestic demand, states the document.

In the Balochistan and Khyber Pakhtunkhwa provinces of the CPEC, the focus is on mineral extraction, with potential in chrome ore and gold reserves and diamonds.
:: Business and Economy ::
Way for multibrand foreign retailers to tap the Indian market
Centre is expected to pave the way for multibrand foreign retailers to tap the Indian market, by allowing overseas investors in the food retail segment to offer 'Made in India' non-food items as well, according to Food Processing Minister.

The Prime Minister's Office (PMO) had assured her ministry that the concerned foreign direct investment (FDI) norms would be tweaked as a 'sweetener' for foreign investors likely to attend a mega World Food Forum being held in the national capital this November.

While India's $600 billion retail sector, with 70% of it comprising food, is a 'mind boggling' proposition for foreign retailers grappling with stagnating growth in the developed world, the minister said that the food-only model was a challenge for them.

India had opened up 100% FDI in multibrand food retail and food processing sectors in early 2016.

Investors had also pointed out that multibrand food retail ventures entailed a lot of investment in infrastructure but the margins had to be really small as one could not be viable with big margins on food.

For consumers, in any case, it was more convenient to buy food and small home care items in one place instead of going to different retailers, Ms. Badal added.
Chief Economic Advisor says India's employment challenge is very difficult (Register and Login to read Full News)