Current Affairs for IAS Exams - 18 April 2017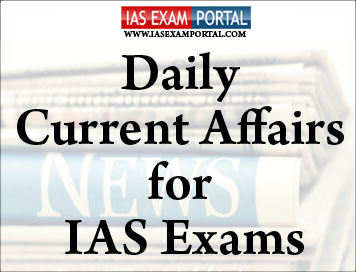 Current Affairs for IAS Exams - 18 April 2017
:: National ::
U.S. National Security Adviser Lt. General H.R. McMaster arrived in Delhi
U.S. National Security Adviser Lt. General (retired) H.R. McMaster arrived in Delhi, the first such visit by a senior official of the Trump administration for talks that are expected to set the course of bilateral relations.
He is expected to extend a formal invitation for Prime Minister Narendra Modi to visit Washington in the next few months.
The visit will be watched particularly closely for its timing, as it comes close on the heels of the Russian conference on Afghanistan in Moscow, which India attended and where Russia offered to mediate between Taliban and government.
Mr. McMaster, will discuss the future of security operations in Afghanistan, India's role in Afghanistan as well as the India-Pakistan impasse.
In Kabul, Mr. McMaster said he would impress on Pakistan that it was important to give up support to the Haqqani group and the Taliban.
Pakistan has praised the U.S. administration's recent remarks on mediating between New Delhi and Islamabad, something India has been opposed to.
Ms. Curtis, has advocated a tougher line on Pakistan, and co-authored a paper in February this year suggesting enforcing conditions on military aid to Pakistan with action against terror groups in the region, including the Lashkar-e-Taiba.
However, the figures released in April 2017 of security-related aid that the Trump administration has requested from the U.S. Congress for Pakistan indicate the U.S. government has not decreased its allocations for the upcoming year.
Union Home Ministry said it would introduce less lethal "plastic bullets"
The Union Home Ministry said it would introduce less lethal "plastic bullets" to be used against protesters in Jammu and Kashmir.
The Centre said it was exploring options to initiate a dialogue in Kashmir, including with the separatists, but no one had came forward in the past and it had hit a dead end.
The government also said it was considering enhanced use of "bunkers" to protect security forces from stone throwers after the annual shift of the capital from Jammu to Srinagar in the next few days.
The government had managed to control the spiral of violence but the "atmosphere was vitiated" because of the April 9 byelections in the Srinagar Lok Sabha constituency.
Supreme Court wants appearance of secretaries on issue of police vacancies
The Supreme Court sought the personal appearance of Home Secretaries or authorised joint secretaries of six States together with a definite roadmap to fill up the long-pending vacancies in the States' police forces.
The court found that Uttar Pradesh has 1.51 lakh vacancies, West Bengal with 37,325, Karnataka has 24,899, Jharkhand 26,303, Bihar 34,500 and Tamil Nadu has 19,803 posts vacant.
Tamil Nadu informed the apex court that advertisements have been put out for the vacancies. "Giving advertisements is the first step. You [Tamil Nadu] have taken the first step since 2013," the Bench remarked.
The apex court was hearing the 2013 petition which claimed that law and order situation in the country was deteriorating due to a large number of vacancies in police services at all levels across States.
:: India and World ::
Consular access denied to Jadhav
The Pakistan's army ruled out consular access to former Indian Naval officer Kulbhushan Jadhav, days after India had made a strong case for access to the Indian prisoner now on death row.
Mr. Jadhav was awarded death sentence by the Field General Court Martial , evoking a sharp reaction in India which warned Pakistan of consequences and damage to bilateral ties if the "pre-meditated murder" was carried out.
"Under the law we cannot give consular access to Khulbhushan who was involved in spying," Pakistan military spokesman Major General Asif Ghafoor said.
However, Indian officials in New Delhi maintained that there was no communication from Pakistan on the denial of consular access.
:: International ::
Turkish referendum gave sweeping powers to President
The referendum was seen as crucial not just for shaping the political system of Turkey but also the future strategic direction of a nation that has been a NATO member since 1952 and an EU hopeful for half a century.
The 'Yes' camp won 51.41% in referendum and 'No' 48.59, according to near-complete results released by the election authorities.
Mr. Erdogan's victory was far tighter than expected, emerging only after several nail-biting hours late Sunday which saw the 'No' result dramatically catch up in the later count.
The new system is due to come into effect after elections in November 2019.
:: Business and Economy ::
A decline in the prices of fuel and manufactured products helped inflation
A decline in the prices of fuel and manufactured products helped inflation, as measured by the wholesale price index (WPI), to moderate to 5.7% (provisional) for March 2017 despite hardening of food prices.
The WPI inflation had touched a 39-month high of 6.55% (provisional) in February while it was -0.45% in March 2016.
The decline was accentuated by decline in fuel and power inflation and manufactured products. Fuel prices were significantly cut on March 31 while rupee has been on an appreciating trend since February 2017.
Primary food inflation trended higher as vegetable inflation emerged after six months of deflation although food price pressures are not yet a concern, as prices of cereals, pulses and spices have fallen sequentially.
Food inflation has increased a bit and this would require greater monitoring in light of the evolving weather conditions.
The focus on drip irrigation and micro-irrigation along with improvement in the efficiency of cropping patterns and water use mechanisms will strengthen agri-production and productivity.
Further, the recent strengthening of rupee vis-a-vis the U.S. dollar will also contribute towards limiting imported inflation.