Current Affairs for IAS Exams - 19 March 2017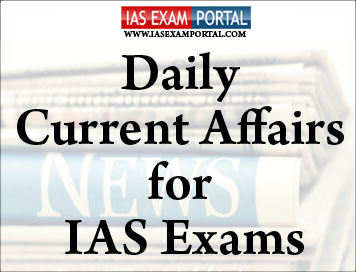 Current Affairs for IAS Exams - 19 March 2017
:: National ::
Bilateral exercises new way to increase strategic cooperation
India is leveraging bilateral military exercises to further strategic cooperation.

The Indian Army is currently engaged in or has just concluded four separate exercises with the armies of Nepal, Oman, Singapore and the U.S., with a focus on aspects like counter-insurgency, jungle warfare.

The exercise with Nepal also comes at a time when the Himalayan neighbour is expected to conduct its first military drills with China.

The Surya Kiran exercise with Nepal is underway at Pithoragarh in Uttarakhand, while the Al Nagah-II exercise with Oman is underway at Bakloh in Himachal Pradesh.

They are infantry exercises meant to improve interoperability and focus especially on counter-terrorism. Both the exercises are spread over 14 days.

During the last three years India has signed defence agreements/memorandum of understandings (MoU) with 21 countries.

The Army has conducted exercises with 18 countries during the three-year period, including the current year, and Indian military personnel attended training and courses in 34 countries.

This is the ninth edition of the Surya Kiran exercise from March 9-20 with Nepal. The Nepal contingent is represented by 300 personnel, including 26 officers.

There is also a component on the study of Left Wing Extremism in South East Asia and the Indian Army hopes to gain from the experience of the Nepal Army, including their best practices.

Meanwhile, the Army's Para Special Forces and U.S. Army's Special Forces honed their skills from February 27 to March 12 in Jodhpur. The exercise covered a range of activities, including advanced marksmanship, sniping techniques and military free fall.

The Bold Kurukshetra exercise with Singapore is an armoured exercise under way at the Babina field firing range in Uttar Pradesh, involving 250 soldiers from each side.

India and Singapore have an agreement that allows the latter to use the Indian Army's facilities for training and exercises.

The agreement on utilisation of facilities by the Singapore Air Force was initially signed in October 2007 and Army facilities in August 2008.
India's longest road tunnel to open soon
India's longest road tunnel, built on the Jammu-Srinagar National Highway, will open to traffic very soon following the success of the trial run.

The work on the 9.2-km tube tunnel, which is part of a 286-km, four-lane project, started on May 23, 2011 in the lower Himalayan mountain range and cost Rs. 3,720 crore.

The tunnel, which is located at an elevation of 1,200 metre, will be the first in India to be equipped with the world-class integrated tunnel control system, through which ventilation, fire control, signals, communication and electrical systems will be automatically actuated.

The tunnel will reduce the travel time between Jammu and Srinagar by two-and-a-half hours. The road distance from Chenani and Nashri will now be 10.9 km, instead of the present 41 km.

Prime Minister Narendra Modi is likely to inaugurate the highway tunnel by month-end.
Central govt is planning for one lakh toilets in madrassas
The Centre plans to build toilets in one lakh madrassas across the country as part of its efforts to revamp these traditional learning centres.

Union Minister of State for Minority Affairs Mukhtar Abbas Naqvi said the government also plans to introduce mid-day meals.
India and Russia have begun firming up the agenda for PM's visit to Russia
India and Russia have begun firming up the agenda for Prime Minister Narendra Modi's visit to Russia in June.Mr. Modi will participate in a major international economic event in St. Petersburg on June 1 and 2.

Foreign Secretary S. Jaishankar held talks with Russian deputy foreign ministers Igor Morgulov and Sergey Ryabkov during a visit to the Russian capital on March 16 and 17.

Apart from the talks with the two deputy foreign ministers, Mr. Jaishankar also held talks with Yuri Ushakov, Russian President Vladimir Putin's foreign policy aide, and Konstantin Kosachev.

Earlier, during the visit of Russian Minister of Industry and Trade Denis Manturov to Delhi on Friday, both sides inked an agreement for a long-term pact on the maintenance of Sukhoi Su-30MKI fighter jets of the Indian Air Force.
More than one crore face arsenic contamination in West Bangal
West Bengal has the highest number of arsenic-affected people in the country.

There are 83 blocks in eight districts — Bardhaman, Malda, Hooghly, Howrah, Murshidabad, Nadia, North and South 24 Paraganas — where ground water is affected by arsenic contamination.

Bengal topped the list with more than 1.04 crore arsenic-affected persons as on March 4, 2017. Bihar comes second with 16.88 lakh persons, with Assam in third spot with 14.48 lakh victims.

The total number of arsenic-affected people in the country is about 1.48 crore.

According to the WHO's guidelines for drinking water quality (2011), the permissible limit of Arsenic in groundwater is .01 mg per litre. However, in India the permissible limit in drinking water has recently been revised from .05 mg per litre to .01 mg per litre.

The ruling Trinamool Congress had claimed in its 2016 election manifesto that 91% of the population of arsenic-affected areas in the State have been provided with clean drinking water.

The website of the PHE department also claims that arsenic contamination is "getting under control" and Bengal is expected to be "arsenic free" in another couple of years.
:: International ::
Finance ministers of G-20 dropped an anti-protectionist pledge
Finance ministers from the world's biggest economies dropped an anti-protectionist pledge and a vow on action against climate change after Washington refused to sign up to the commitment.

After a two-day meeting, ministers from G20 developed and developing nations said they were "working to strengthen the contribution of trade to our economies" but failed to spell out a pledge to reject protectionism.

The conspicuous omission came amid a push by U.S. President Donald Trump to pursue an "America First" policy that includes penalising companies that manufacture abroad by heavily taxing their products.
:: Business and Economy ::
Bitcoins remain highly unsuitable, both as medium of exchange and store of value
In 2013-14 series of scams and nefarious activities involving bitcoins surfaced. Value of bitcoins had then crashed; bitcoin exchanges closed down and investors had forgotten about them.

Not much has changed with respect to the fundamentals of the bitcoins over the last three years. They still remain highly unsuitable, both as medium of exchange and store of value.

While bitcoin usage could increase in the years ahead, they carry multiple risks that investors need to be aware of.

Every bitcoin transaction is recorded and verified in an open ledger called block-chains, thus preventing counterfeiting or double spending.

Using bitcoins is simple, if you are tech savvy. You have to first acquire a bitcoin wallet through one of the sites buying and selling bitcoins.

Then you have to transfer funds from your bank to the wallet which can then be used to buy bitcoins. The bitcoins can be stored in the wallets, on your desk-top or mobile, or in the cloud until put to use.

Bitcoins can be used to buy products and services from various websites including Microsoft and Dell. Many gift cards can be purchased with bitcoins that can, in turn, be used on online retail stores such as Amazon, Walmart and Target.

Bitcoin prices are discovered through exchanges that are unregulated with very lax KYC compliance process. Wash trades, front-running and trading with insufficient funds is said to be common in many of these exchanges.

In other words, the value of bitcoin is determined largely by unregulated pools of investors.The speed of money transfer and the lower cost of transaction in bitcoins are mainly because there is no supervising authority.

But with no overseeing authority, instances of price manipulation is common. There is no central authority giving the rights to set up or trade on the bitcoin exchanges either.

Regulators, including the Reserve Bank of India, have issued cautionary notices to users, highlighting the risks they take in dealing with these currencies. This causes a problem for bitcoin users too.

If the user suffers a loss due to an exchange or the dealer deducting unfair transaction charges, he has no one to complain to. If the bitcoin wallet is hacked into or some bitcoins are lost, there is again no recompense.

The main reason for this volatility is that there is no underlying to which the value of the bitcoin can be pegged. Its price is based just on the demand and supply in numerous unregulated exchanges around the world.

The trading volume is quite shallow too. It's reported that 50 per cent of the bitcoins is held by less than 1,000 people. Hoarding of bitcoins is also quite rampant.

Another problem is that only 21 million bitcoins can be mined in all. Over two-third is reported to be mined already. As the number of bitcoins mined reaches the upper limit, the value is expected to shoot through the roof.
:: Science and Technology ::
GRAPES-3 experiment at TIFR's Cosmic Ray Laboratory in Ootacamund is getting upgraded
The GRAPES-3 experiment at TIFR's Cosmic Ray Laboratory in Ootacamund is getting upgraded. The telescope made news last year when it detected the effect of a solar storm that hit the earth in June 2015.

The upgrade will play a major role in getting precise information about the propagation of storms in 'the last million miles' (from the L-1 point) of their journey from the Sun to the earth.

The upgraded detector will have an increased coverage of the sky and improved capacity to determine the direction of incident cosmic rays.

The latter property, of being able to discern the direction of detected particles, makes it unique among cosmic ray detectors in the world; it can also to measure the intensity of the particles.

Since the enhanced facility can cover a wider field of view (from present 37% to 57%), the chances of spotting solar storms will be higher.

The sun is at a distance of 150 million kilometres from the earth, and satellites have been placed at a distance of nearly 1.5 million kilometres, at the so-called L1 point, where they orbit the Sun along with the Earth.

Since charged particles from a solar storm will first impact the satellites before hitting the earth, they act as an early warning system. Depending on the speed of the storm, it will take about 20-40 minutes to reach the earth from the L1 point.

It is important to know the time when plasma will reach the earth, accurately, so that preventive and protective measures can be put into place in case a solar storm were to strike the earth.

If the earth's magnetic field were to be weakened by extreme solar storms, charged particles would shower on to the planet.

Apart from rendering electronic devices defunct, charged particles in an extreme solar storm can also short current carrying over-head high voltage lines, leading to large-scale transformers burn out and thereby, power blackouts.

The up side is that the way to prevent such a disaster is well understood: simply switch off the power lines on being informed of an approaching solar storm!

And for this to be possible, an accurate determination of the time taken for the solar storm to travel to the earth is needed, which is where the GRAPES-3 set up comes in.
A group of marine researchers from Kerala is attempting to combat corrosion of steel (Register and Login to read Full News)