Current Affairs for IAS Exams - 19 April 2017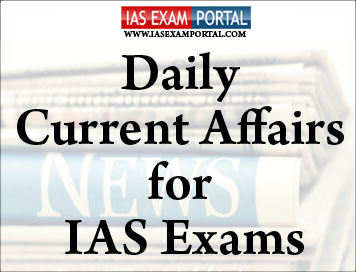 Current Affairs for IAS Exams - 19 April 2017
:: National ::
India is likely to get 'normal' monsoon rains according to Met Dept
India is likely to get 'normal' monsoon rains, according to the first official forecast of the season by the India Meteorological Department (IMD).

Rains are likely to be 96% of the 50-year average of 89cm for the monsoon season of June to September. They are expected to fan out favourably and "help agriculture."

There is, however, a significant element of uncertainty in this forecast. For one, there's the looming threat of El Nino. Secondly, the IMD has adopted a new weather model this year, and it is still a work-in-progress.

The IMD's estimate of 96% rains falls at the bottom edge of what it considers 'normal' monsoon rains.

Every number forecast by the IMD has a built-in 5% error margin. India saw drought years in 2014 and 2015. As for 2016, it received 3% less than the 89 cm average, despite an IMD forecast of 'above normal' rains.
Australian 457 visa scheme scrapped
The Centre said it was studying the implications of the Australian government's decision to scrap a visa programme that benefited Indians, and warned that the move could have an impact on negotiations on the CECA.

Australian Prime Minister Malcolm Turnbull announced that he was scrapping the Australian "457" visa programme that allowed Australian companies to hire Indians in a number of skilled jobs.

He said he would in due course replace the programme with a more stringent system, making it difficult for companies to hire non-Australian citizens.
Prime Minister Modi held talks with U.S. NSA
Prime Minister Narendra Modi held talks on Afghanistan, the West Asian region and the Korean peninsula with the visiting U.S. National Security Adviser, Lt. General H.R. McMaster.

Lt. Gen. McMaster, the first high official of the administration of U.S. President Donald Trump to visit India, met Mr. Modi after completing his trips to Afghanistan and Pakistan.

The meeting, however, did not yield an announcement of a date for Mr. Modi's visit to Washington.

The meeting held at the Prime Minister's official residence was attended by India's National Security Adviser Ajit Doval, Foreign Secretary S. Jaishankar and a few other officials.

Earlier, the U.S. NSA and Mr. Doval held detailed discussions on India-U.S. relations, especially the security aspect of the ties, sources said.

During his stopover in Kabul, Lt. Gen. McMastertold an Afghan TV channel that Pakistan should deal with terror "less selectively" than it had done in the past.

A U.S. Embassy statement issued after the departure of Lt. Gen. McMaster that the bilateral talks "emphasised the importance of the U.S.-India strategic relationship and reaffirmed India's designation as a major defence partner".
:: International ::
China wants India's participation in the Belt and Road connectivity initiative
China reinforced its call for India's participation in the Belt and Road connectivity initiative, telling that the China-Pakistan Economic Corridor (CPEC), on which India has its reservations, was not linked to the Kashmir issue.

India has objected to the CPEC as it passes through Pakistan-occupied Kashmir. But Mr. Wang said that China's stance on CPEC projects "had no relationship with the [Kashmir] dispute".

Mr. Wang pointed out that China had even earlier taken up projects, like the Karakoram highway, in the area. They, however, did not have any bearing on China's position on Kashmir.

"I want to mention that the CPEC is economic, and for the purpose of serving economic cooperation and development. It has no direct link with political or border disputes."

Referring to the Bangladesh-China-India-Myanmar (BCIM) economic corridor — one of the major economic corridors China is planning in its neighbourhood — Mr. Wang said that the four countries are ready to advance it within the framework of Belt and Road.
:: Business and Economy ::
Banks may not invest more than 10% of unit capital of REITs
Banks may not invest more than 10% of unit capital of Real Estate Investment Trusts (REITs) and Infrastructure Investment Trusts (InvITs), the RBI said.

During the first bimonthly policy review of 2017-18, the central bank allowed banks to invest in such funds, within the overall ceiling of 20% permitted for direct investments in capital markets (including venture capital funds).
SBI surpassed ONGC to become the country's most valued state-owned firm
State Bank of India (SBI) surpassed ONGC to become the country's most valued state-owned firm in terms of market valuation. At end of trade, the market cap of SBI was Rs. 2,35,307.51 crore.

This was about Rs. 2,961.79 crore more than ONGC's Rs. 2,32,345.72 crore. ONGC once used to be the country's most-valued company in terms of market valuation.

Among the top-10 most valued companies list, SBI is at fifth position.