Current Affairs for IAS Exams - 21 April 2017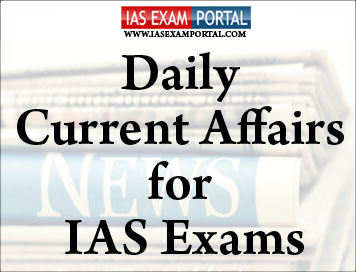 Current Affairs for IAS Exams - 21 April 2017
:: National ::
India has made a fresh request to the U.S. for the extradition of David Coleman
India has made a fresh request to the U.S. for the extradition of David Coleman Headley and Tahawwur Rana, wanted for their roles in the 26/11 Mumbai attacks.

The NIA, which is probing the conspiracy behind the 2008 attacks, raised with Mr. McCabe the pending requests for extradition of Headley and Rana. The NIA told him that its multiple requests for the custody of Rana went unanswered.

Revising its demand, the NIA told Mr. McCabe that though Rana was convicted by a U.S. court of the charge of providing material support to the Lashkar-e-Taiba (LeT), which was behind the attacks.

The 'double jeopardy' clause in the U.S. law prohibits punishment for the same crime twice.

So, last year, India renewed its attempt at Rana's custody on the ground that he was involved in the planning of an attack on the National Defence College (NDC) in Delhi and Chabad Houses (Jewish religious centres) in several cities.

Headley has been sentenced to 35 years in prison by a U.S court, and the 'double jeopardy' clause is one of the biggest impediments for the NIA to get him extradited.

NIA officials said they were hopeful of securing his custody because the U.S investigation mostly centred on the death of six American nationals in the attacks and a large number of Indians were also killed.

Rana, a school friend of Headley, is serving a 14-year term in the U.S. for providing material support to the LeT, but has not entered a plea bargain as Headley did. Rana was arrested in 2009.

Though a U.S. District Court sentenced him in 2013, his jail term would include the period he had already served in prison.
India has made a 15th request to Pakistan for consular access
India has made a 15th request to Pakistan for consular access to the former Navy officer Kulbhushan Jadhav, who was sentenced to death for alleged espionage and sabotage.

A External Affairs Ministry spokesperson said the request for consular access and the process of appeal was made. He maintained that Pakistan had not informed India about Mr. Jadhav's physical condition and location.

As Pakistan has been claiming of legal proceedings against Mr. Jadhav, we would also like to see what are the details of the proceedings from the Government of Pakistan.

This presentation happened a day after Pakistan postponed a meeting between Indian High Commissioner Gautam Bambawale and Foreign Secretary of Pakistan Tehmina Janjua.

The Ministry downplayed Pakistani allegations that its nationals in Indian custody have been denied of consular access.
India objects to Chinese arunachal move
India rejected China's move to rename six towns in Arunachal Pradesh, giving them new Chinese names in its official record.

"Assigning invented names to the towns of your neighbour does not make illegal territorial claims legal," said MEA spokesperson Gopal Baglay. "Arunachal Pradesh is and will always be an integral part of India," he added.

Mr. Baglay was responding to questions about an announcement by the Chinese Ministry of Civil Affairs that said it would "standardise" the names of towns in Arunachal, which China refers to as 'South Tibet'.

Going further, the Chinese Foreign Ministry spokesperson Lu Kang even said that the names reflected, "China's territorial claim over South Tibet is supported by clear evidence in terms of history, culture and administration."

The government dismissed China's claim clearly on Thursday, with Urban Development Minister Venkaiah Naidu accusing Beijing of trying to "get some sort of publicity" from the notice on renaming towns.

Beijing's move is being seen as an escalation of tensions by China that has been angered by the government's decision to allow the Dalai Lama to visit the Tawang monastery this month.

In a series of statements, China reacted sharply to the Dalai Lama's travels in Arunachal Pradesh, all of which is Indian territory that China continues to dispute.
Sri Lankan Prime Minister Ranil Wickremsinghe will visit India
Sri Lankan Prime Minister Ranil Wickremsinghe will visit India next week to set the agenda for Prime Minister Narendra Modi's trip to Colombo in May.

MoU to develop Trincomalee port's prospects through operating a major oil-storage facility, LNG plant and piped-gas projects and developing it as a key transit point with major expressways and industrial zones in the region is in the final stages of negotiations.

The two sides will also hold discussions on the Economic and Technology Cooperation Agreement (ETCA), a version of the free trade agreement, and will be taken forward during Mr. Modi's visit for International Vesak Day.

Mr. Wickremsinghe, who frequently travels to India, is understood to be in the country on a private visit from April 25 to 29, to attend a wedding, but will spend April 26 in Delhi for official meetings.

Mr. Wickremesinghe's visit is also significant as it comes a few weeks before his trip to Beijing to attend the Belt and Road Summit, that Sri Lanka has joined.

While Chinese companies have already clinched many important infrastructure projects in Sri Lanka, including the Hambantota and Colombo port development projects, India is hopeful of more projects in the North and the East of the island.

Apart from the economic agenda, Mr. Wickremsinghe is expected to discuss the ongoing dispute over fishing rights in the Palk Strait with Ms. Swaraj.
ISRO invited scientists to suggest studies for a potential orbiter mission to Venus (Register and Login to read Full News)
:: International ::
Tougher requirements to gain citizenship of Australia
Canberra unveiled plans to put "Australian values" at the heart of tougher requirements to gain citizenship, days after scrapping a visa programme for temporary foreign workers.

The moves came against a background of growing populist pressure and a resurgence of the anti-immigration One Nation party led by Pauline Hanson.

These fundamental values are what make us Australian. Our citizenship process should reflect that.

The new requirements include competent English, belief in gender equality and a four-year qualification period.

Candidates for citizenship will be required to be permanent residents for four years against the current one-year period. They will also need to demonstrate a job record and how they have integrated into the local community.

The current "civics" test for would-be Australians would be expanded to include issues such as domestic violence, Immigration Minister Peter Dutton said.

Some 1,14,109 people sat the Australian citizenship test in 2014-15, with 1,12,474 passing it, according to the latest immigration figures.
:: Business and Economy ::
Status quo on rates by MPC
While all the six members of the monetary policy committee of the Reserve Bank of India (RBI), that sets interest rates, voted in favour of a status quo.

One member discussed the possibility of increasing the rate to achieve the 4% retail inflation target over the medium-term, according to the minutes of the meeting.

In the first bi-monthly monetary policy review of 2017-18, the RBI decided to keep the policy interest rate unchanged at 6.25%.

RBI governor Urjit Patel said that vegetable prices, which declined sharply during November 2016 to January 2017, seems to have stabilised but may rise in the coming months due to a seasonal pick up.
Coal imports into the country are unlikely to rise
Coal imports into the country are unlikely to rise, thanks to a surge in domestic coal production, but the demand for coal from new thermal power plants is likely to taper off after five years and leave some coal mining assets stranded.

Targets for boosting output remain ambitious, but are likely to be sufficiently successful to further reduce the country's dependence on imported coal," the report on the impact of the government's 'Make in India' programme.

India is no longer the dynamic coal import market of yesteryear. Domestic production will continue to expand, but India's energy trajectory is becoming less coal-based, raising a real risk of stranded assets.

Overall, new projects announced under the Make in India programme are helping bolster demand for resources such as oil, coal, petrochemicals and metals.
Private players will be able to bid for mines with about 100 million tonnes (Register and Login to read Full News)