(Article) How to Study for Ethics Paper?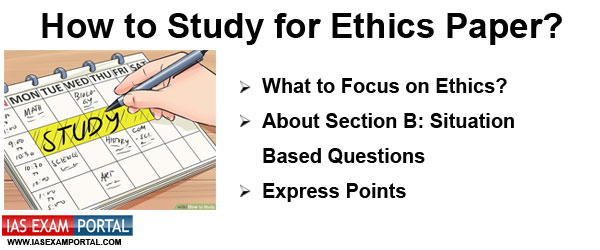 ---
How to Study for Ethics Paper?
---
In our earlier articles, IASEXAMPORTAL discussed the Ethics, Integrity and Aptitude Paper of 2013. We observed that, as against the general expectation that the paper would include questions on committees and commissions relating to ethics in governance and administration, the paper was quite simplistic.
However, for a candidate, who lacks an understanding of the concepts and ideas of ethics, the paper became a nightmare.
Thus, IASEXAMPORTAL presents an overview of- how to study for the ethics paper.
What to Focus on Ethics?
Contrary to all expectations, the Ethics paper included questions on values, correlation between ethics and competency, and other related theoretical concepts. To the surprise of many, there was hardly any question related to a committee or legal provision.
Thus, there is an urgent need to revamp the strategy for the Ethics paper. To begin with, you should shift your focus on studying more about the philosophical base of ethics paper. Here, it is more important to focus on developing an understanding of the terms and concepts of ethics and values.
Also, what is important for this paper is to understand, rather than learn, about the connections between ethical principles and the administrative framework.
Since the purpose of the paper is to evaluate the integrity of the candidate, it is necessary that you develop an ethical perspective towards different things. To develop an ethical perspective, it is necessary that you understand the purpose of civil services and public organizations.
It is also important to learn why things are valued. An ethical perspective cannot be developed merely by learning. You need to understand and develop the art of free rational thinking. A free rational thinking refers to an unbiased thought about things. When our thoughts are unbiased, they are based on an benevolent attitude, which is the essence of ethics.
Express Points-
Your main focus should be to understand, rather than learn, about the essence of various values.
You win half the battle, when you are able to understand the ethical concepts and link them in a logical sense.
While it is necessary to study about the various committees and commissions on governmental ethics, it is more important to develop your theoretical base first, and then move towards the application.
About Section B: Situation Based Questions
While you might think that there is no need to study theoretical aspects of ethics for the Section B of the Ethics Paper, you must understand that this section cannot be dealt without a firm theoretical base.
The questions of the Section B are of the nature that they test your integrity and emotional intelligence. Now, these things cannot be developed by reading books. While you might get some similar questions for Section B, in different books and sources, it is difficult to get the 'perfect answer' for such questions, as their answers are subjective in nature.
your performance in the section B mainly depends on your clarity of thought and understanding of the crucial ethical issues.
Thus, we highly recommend that- since there is quite some time available for the IAS Mains, the aspirants should spend time on developing their understanding of the ethical issues and principles.
Here is an example of the Question asked in the 2013 Ethics paper:
---
Question-
You are the Executive Director of an upcoming Infotech Company which is making a name for itself in the market.
Mr. A, who is a star performer, is heading the marketing team. In a short period of one year, he has helped in doubling the revenues as well as creating a high brand equity for the company so much so that you are thinking of promoting him. However, you have been receiving information from many corners about his attitude towards the female colleagues; particularly his habit of making loose comments on women. In addition, he regularly sends indecent SMS' to all the team members including his female colleagues.
One day, late in the evening, Mrs. X, who is one of Mr. A's Team members, comes you visibly disturbed. She complains against the continued misconduct of Mr. A, who has been making undesirable advances towards her and has even tried to touch her inappropriately in his cabin.
She tenders her resignation and leaves your office.
(a) What are the options available to you?
(b) Evaluate each of these options and choose the options you would adopt, giving reasons. (250 words) 20 marks
Analysis-
This is a very serious issue in the contemporary times, as we get to read about such incidents of sexual harassment everyday. The central point while making decisions in cases is that- no matter what, those guilty of proven sexual harassment charges shall not be forgiven.
Now, this type of questions can be answered effective only when you have a sound base of the ethical principles. Thus, we emphasis that you should not merely read the content on ethics, integrity and aptitude, but internalize the principles and meanings.
Solution-
(a)
This is a very sensitive matter, and shall be dealt with great responsibility. The various legitimate options available are-
Option (I) Explain the female employee about the credentials of Mr. A and ask her to ignore the issue.
Option (II) call an urgent meeting about the issue and take disciplinary action.
Option (III) immediately expel Mr. A for such act.
Option (IV) First, talk to Mrs. X and calm her, as she is under a traumatic condition. And assure her that a strict disciplinary action would be taken at the earliest.
(b)
Option (I) might not be resorted as it would be highly unethical to expect Mrs. X to forget the issue. Issues of sexual harassment shall not be ignored.
Option (II) might be considered, as no decision can be taken arbitrarily, and proper channels have to be followed. However, given the exigency of the case, it is of an urgent need to take some immediate actions, while protecting the privacy of the lady employee.
Option (III) might appear just, but might not be the best course of action, because in an organization decisions are made through proper channels and procedures. Thus, while there is no doubt that Mr. A shall be given severe punishment for his offense, this shall be done through organizational procedure.
The Option (IV) is the most apt course of action, as it addresses the immediate as well as long-term needs. Since Mrs. X has faced an assault, she is in a disturbed state. It is the foremost duty of the head, to calm her, and make her understand that justice would be done. She shall also be assured that her privacy would be protected. Further, the perpetrator should be dealt strictly, as there are multiple proved incidences of sexual advances from his side. Thus, as the final decision, Mr. A shall be expelled from service, with an appropriate legal action against him.
---
In our further articles, we would be dealing with the meaning and application of ethics in our life.
In the meanwhile, we wish the aspirants, All the Best!!
Team IASEXAMPORTAL
© www.IASEXAMPORTAL.com