Getting Started for IAS Exam Preparations - FAQ for All UPSC Aspirants
Getting Started Guide for IAS Preparations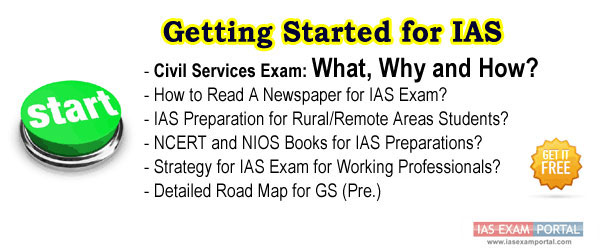 Civil Services is the dream of many students. No wonder, there is a great competition for this examination, given the prestige and power linked to the profile of a civil servant. However, a large majority of students are struggling without any proper guidance. Thus, at UPSCPortal we have come up with an initiative to guide the aspirants, in their journey through the IAS, IPS exam.
We have started with a series called- Getting Started with Civil Services Examinations, to guide you in your preparations. Every other day, we would come up with motivational and informative articles, discussing the various aspects of the civil services examination, and the possible strategies, that a candidate might choose to get success.
The Vision
Our aim is to guide the candidate, in making different decisions while facing the UPSC. We welcome the aspirants to discuss, with us, their problems and confusions, anytime. Any aspirant may subscribe to the Getting Started Series, and enjoy our support free of cost. You may, later, take our other products and services, if you so like.
We wish the candidates All the Best for the their preparations!!
Salient features of the Indian society
Why read NCERT Books for UPSC IAS Exams
(FAQs) Civil Services Examination (CSE)
(Getting Started in Hindi) सिविल सेवा क्या, क्यों और कैसे ?
The Hindu Newspaper: How and What to study in it
9 Step Strategy To Prepare For The UPSC Interview
Importance of Economic Survey for UPSC Exams
Importance of Yojana, Kurukshetra Magazine for UPSC Exams
Crack IAS Preliminary in your first attempt
Civil Services Exam: What, Why and How ?
Importance of NCERT BOOKS for UPSC Exams (Why, What, How)
How to Read A Newspaper for IAS Exam
What are the important topics to read from a newspaper in two hours?
How should one start IAS preparation from scratch?
Two more attempts in UPSC Exams: all boon and no bane!!
How to Study? The Ultimate Dilemma
Preparing for Civil Services without Coaching
IAS Preparation for Rural/Remote Areas Students
NCERT and NIOS Books for IAS Preparations
Strategy for IAS Exam for Working Professionals
Overview of UPSC Personality Test (IAS Interview)
Preparing for Civil Services (Pre.) Examination
All About UPSC Interview Panel Board and Profile
Detailed Road Map for GS (Pre.)
IAS Preparation for Undergraduate & CBSE Students
The Significance and Role of Essay Paper in IAS MAINS
What does Evaluate, Examine, Critically Discuss and Such Terms Mean??
How to Study for Ethics Paper?
​More Articles will be added regularly.
---