Mind Map for UPSC Exam (BCIM)
---
Mind Map for UPSC Exam (BCIM)
---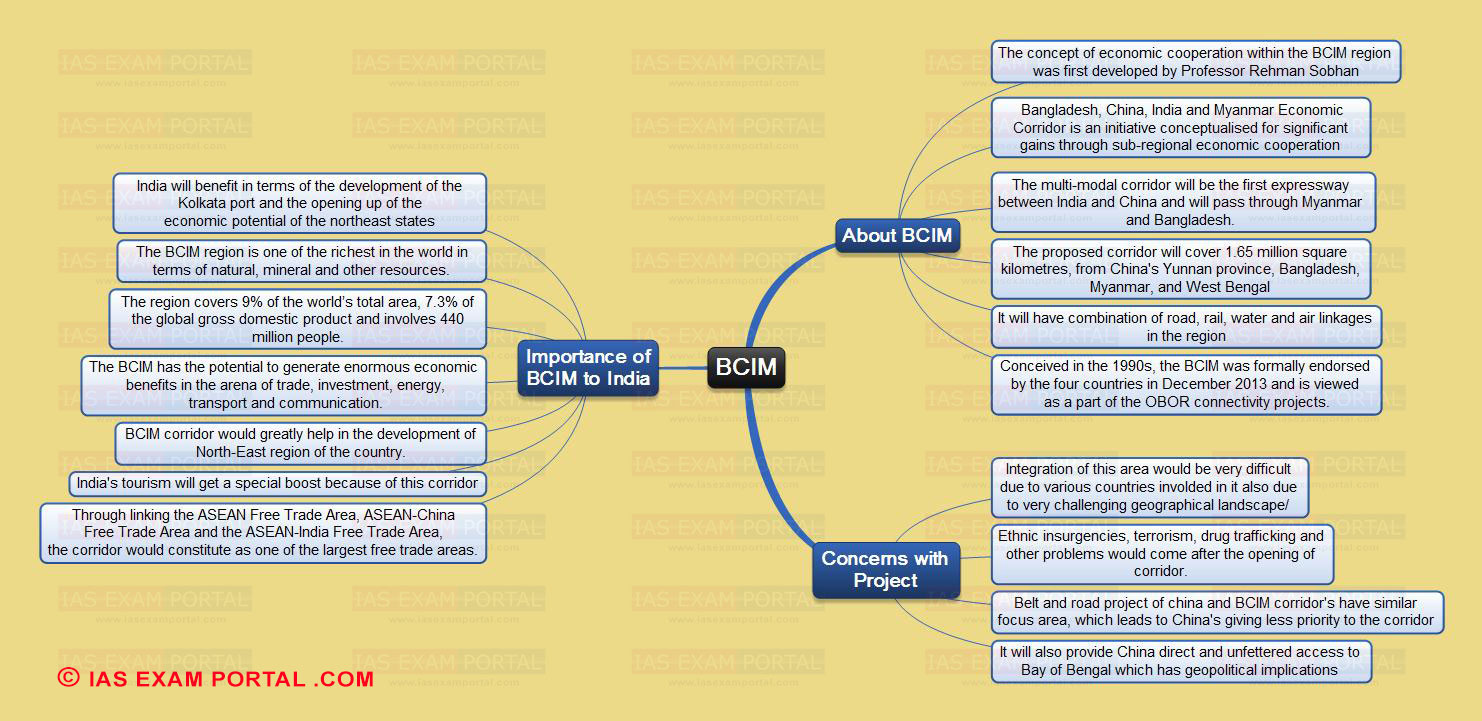 Mind Map Important Topics:
BCIM
About BCIM
The concept of economic cooperation within the BCIM region was first developed by Professor Rehman Sobhan
Bangladesh, China, India and Myanmar Economic Corridor is an initiative conceptualised for significant gains through sub-regional economic cooperation
The multi-modal corridor will be the first expressway between India and China and will pass through Myanmar and Bangladesh.
The proposed corridor will cover 1.65 million square kilometres, from China's Yunnan province, Bangladesh, Myanmar, and West Bengal
It will have combination of road, rail, water and air linkages in the region
Conceived in the 1990s, the BCIM was formally endorsed by the four countries in December 2013 and is viewed as a part of the OBOR connectivity projects.
Importance of BCIM to India
India will benefit in terms of the development of the Kolkata port and the opening up of the economic potential of the northeast states
The BCIM region is one of the richest in the world in terms of natural, mineral and other resources.
The region covers 9% of the world's total area, 7.3% of the global gross domestic product and involves 440 million people.
The BCIM has the potential to generate enormous economic benefits in the arena of trade, investment, energy, transport and communication.
BCIM corridor would greatly help in the development of North-East region of the country.
India's tourism will get a special boost because of this corridor
Through linking the ASEAN Free Trade Area, ASEAN-China Free Trade Area and the ASEAN-India Free Trade Area, the corridor would constitute as one of the largest free trade areas.
Concerns with Project
Integration of this area would be very difficultdue to various countries involded in it also due to very challenging geographical landscape
Ethnic insurgencies, terrorism, drug trafficking andother problems would come after the opening ofcorridor.
Belt and road project of china and BCIM corridor's have similarfocus area, which leads to China's giving less priority to the corridor
It will also provide China direct and unfettered access to Bay of Bengal which has geopolitical implications