Mind Map for UPSC Exam (Changes in Budget)
---
Mind Map for UPSC Exam (Changes in Budget)
---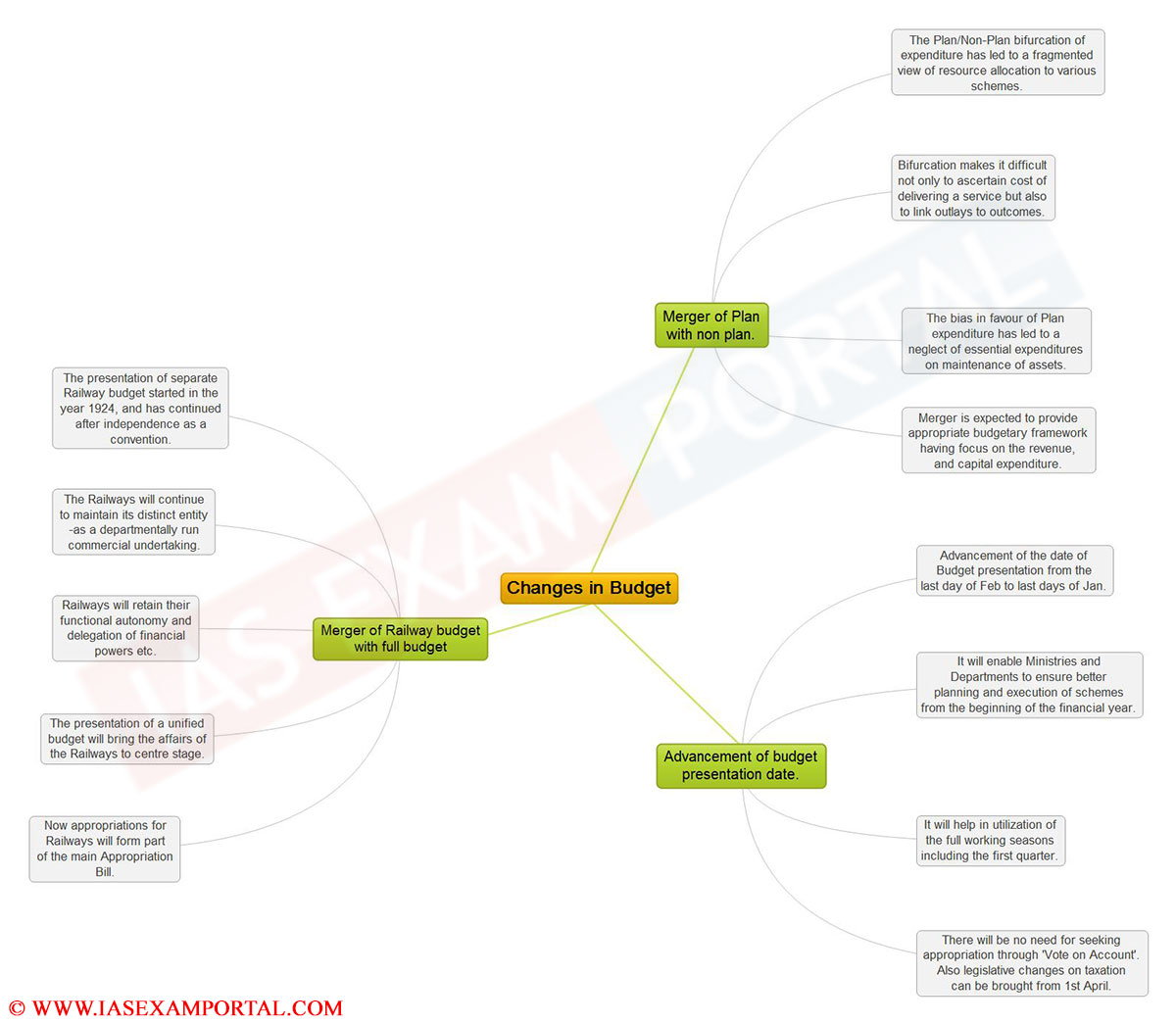 Mind Map Important Topics:
Changes in Budget
Merger of Railway budget with full budget
The presentation of separate Railway budget started in the year 1924, and has continued after independence as a convention.
The Railways will continue to maintain its distinct entity -as a departmentally run commercial undertaking.
Railways will retain their functional autonomy and delegation of financial powers etc.
The presentation of a unified budget will bring the affairs of the Railways to centre stage.
Now appropriations for Railways will form part of the main Appropriation Bill.
Merger of Plan with non plan.
The Plan/Non-Plan bifurcation of expenditure has led to a fragmented view of resource allocation to various schemes.
Bifurcation makes it difficult not only to ascertain cost of delivering a service but also to link outlays to outcomes.
The bias in favour of Plan expenditure has led to a neglect of essential expenditures on maintenance of assets.
Merger is expected to provide appropriate budgetary framework having focus on the revenue, and capital expenditure.
Advancement of budget presentation date.
Advancement of the date of Budget presentation from the last day of Feb to last days of Jan.
It will enable Ministries and Departments to ensure better planning and execution of schemes from the beginning of the financial year.
It will help in utilization of the full working seasons including the first quarter.
There will be no need for seeking appropriation through 'Vote on Account'. Also legislative changes on taxation can be brought from 1st April.