Mind Map for UPSC Exam (China Pakistan Economic Corridor)
---
Mind Map for UPSC Exam (China Pakistan Economic Corridor)
---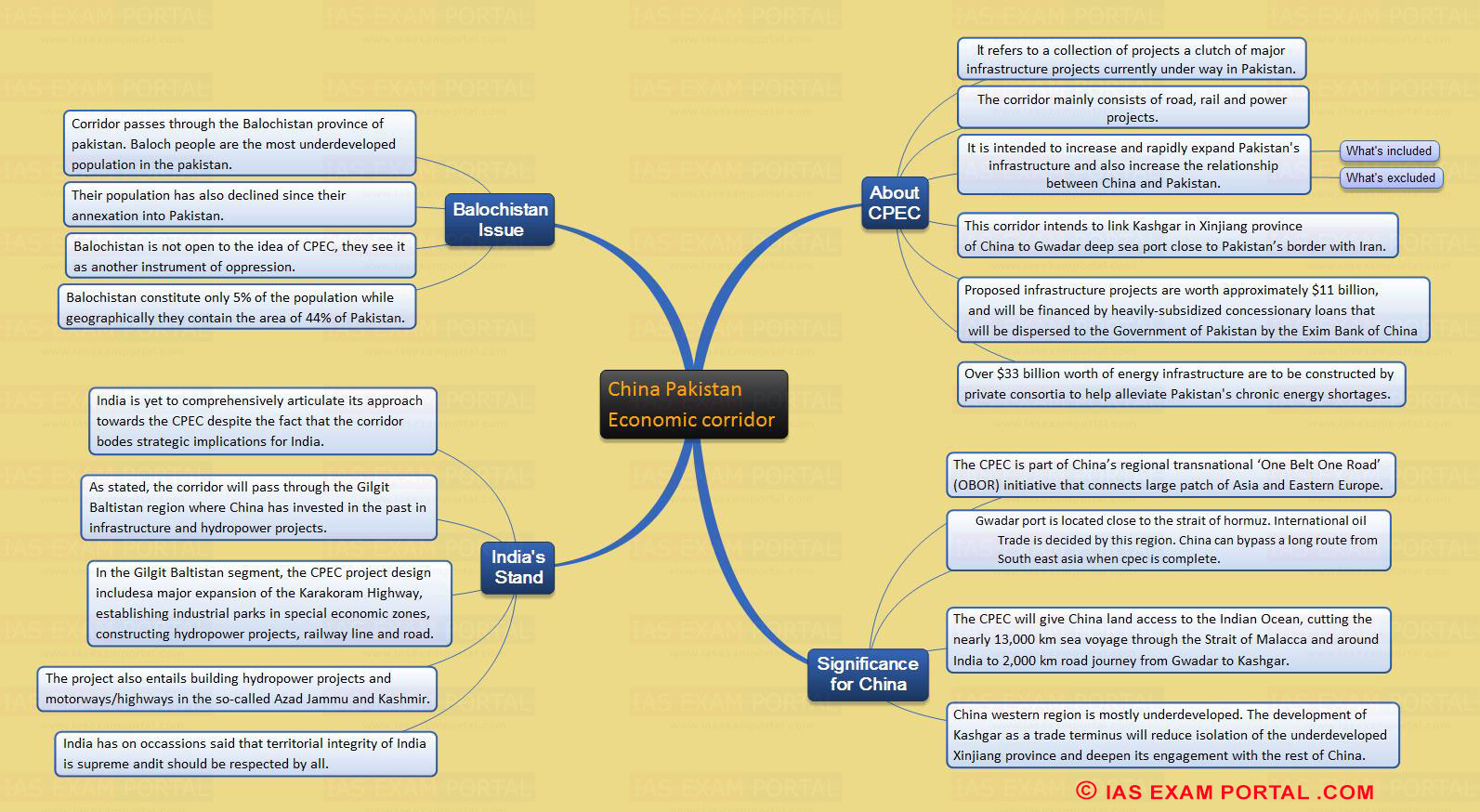 Balochistan Issue
Corridor passes through the Balochistan province of pakistan. Baloch people are the most underdeveloped population in the pakistan.
Their population has also declined since their annexation into Pakistan.
Balochistan is not open to the idea of CPEC, they see it as another instrument of oppression.
Balochistan constitute only 5% of the population while geographically they contain the area of 44% of Pakistan.
India's Stand
India is yet to comprehensively articulate its approach towards the CPEC despite the fact that the corridor bodes strategic implications for India.
As stated, the corridor will pass through the Gilgit Baltistan region where China has invested in the past in infrastructure and hydropower projects.
In the Gilgit Baltistan segment, the CPEC project design includesa major expansion of the Karakoram Highway, establishing industrial parks in special economic zones, constructing hydropower projects, railway line and road.
The project also entails building hydropower projects and motorways/highways in the so-called Azad Jammu and Kashmir.
India has on occassions said that territorial integrity of India is supreme andit should be respected by all.
About CPEC
It refers to a collection of projects a clutch of major infrastructure projects currently under way in Pakistan.
The corridor mainly consists of road, rail and power projects.
It is intended to increase and rapidly expand Pakistan's infrastructure and also increase the relationship between China and Pakistan.
What's included
What's excluded
This corridor intends to link Kashgar in Xinjiang province of China to Gwadar deep sea port close to Pakistan's border with Iran.
Proposed infrastructure projects are worth approximately $11 billion, and will be financed by heavily-subsidized concessionary loans that will be dispersed to the Government of Pakistan by the Exim Bank of China
Over $33 billion worth of energy infrastructure are to be constructed by private consortia to help alleviate Pakistan's chronic energy shortages.
Significance for China
The CPEC is part of China's regional transnational 'One Belt One Road' (OBOR) initiative that connects large patch of Asia and Eastern Europe.
Gwadar port is located close to the strait of hormuz. International oil Trade is decided by this region. China can bypass a long route from South east asia when cpec is complete.
The CPEC will give China land access to the Indian Ocean, cutting the nearly 13,000 km sea voyage through the Strait of Malacca and around India to 2,000 km road journey from Gwadar to Kashgar.
China western region is mostly underdeveloped. The development of Kashgar as a trade terminus will reduce isolation of the underdeveloped Xinjiang province and deepen its engagement with the rest of China.