Mind Map for UPSC Exam (Disability Bill)
---
Mind Map for UPSC Exam (Disability Bill)
---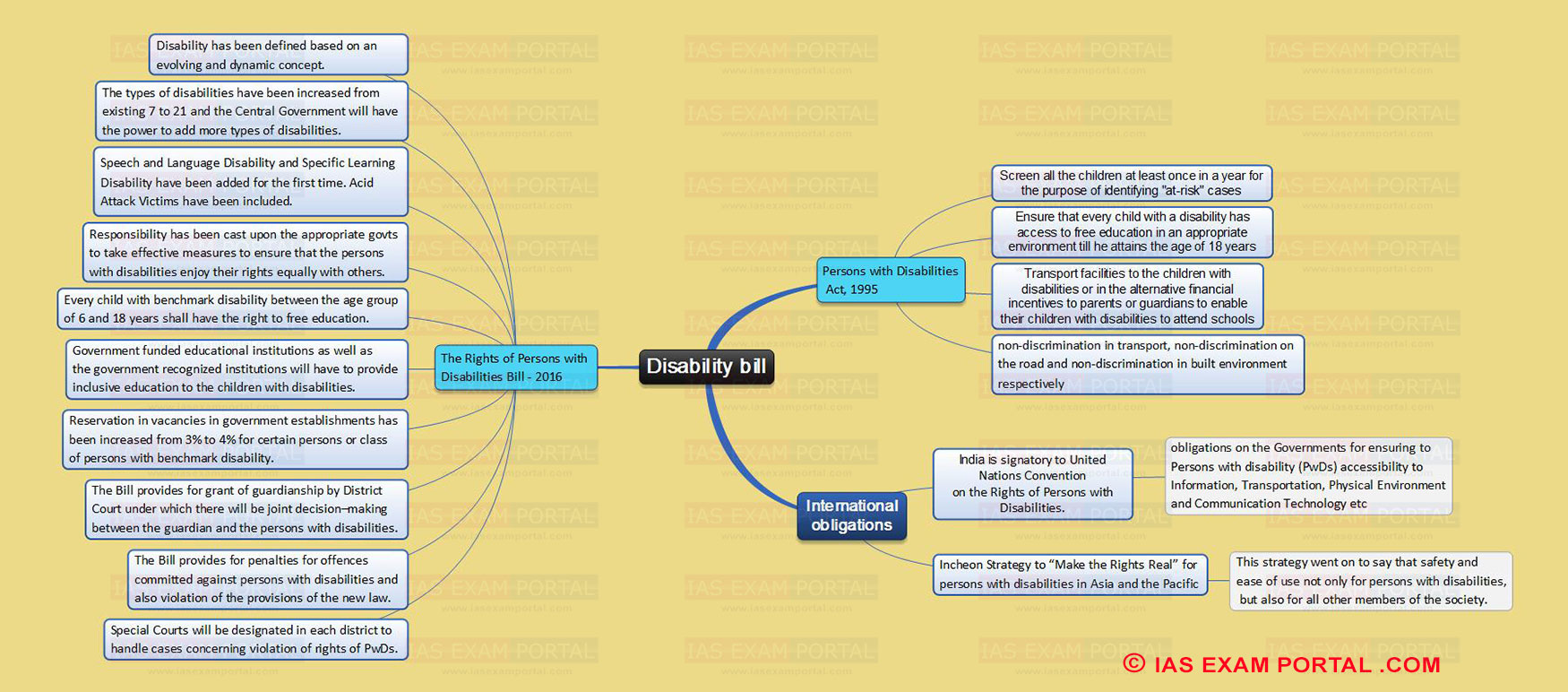 Mind Map Important Topics:
Disability Bill
Persons with Disabilities Act, 1995
Screen all the children at least once in a year for the purpose of identifying "at-risk" cases
Ensure that every child with a disability has access to free education in an appropriate environment till he attains the age of 18 yearsTransport facilities to the children with disabilities or in the alternative financial incentives to parents or guardians to enable their children with disabilities to attend schools
non-discrimination in transport, non-discrimination on the road and non-discrimination in built environment respectively
The Rights of Persons with Disabilities Bill - 2016
Disability has been defined based on an evolving and dynamic concept.
The types of disabilities have been increased from existing 7 to 21 and the Central Government will have the power to add more types of disabilities.
Speech and Language Disability and Specific Learning Disability have been added for the first time. Acid Attack Victims have been included.
Responsibility has been cast upon the appropriate govts to take effective measures to ensure that the persons with disabilities enjoy their rights equally with others.
Every child with benchmark disability between the age group of 6 and 18 years shall have the right to free education.
Government funded educational institutions as well as the government recognized institutions will have to provide inclusive education to the children with disabilities.
Reservation in vacancies in government establishments has been increased from 3% to 4% for certain persons or class of persons with benchmark disability.
The Bill provides for grant of guardianship by District Court under which there will be joint decision–making between the guardian and the persons with disabilities.
The Bill provides for penalties for offences committed against persons with disabilities and also violation of the provisions of the new law.
Special Courts will be designated in each district to handle cases concerning violation of rights of PwDs.
International obligations
India is signatory to United Nations Convention on the Rights of Persons with Disabilities.
obligations on the Governments for ensuring to Persons with disability (PwDs) accessibility to Information, Transportation, Physical Environmentand Communication Technology etc
Incheon Strategy to "Make the Rights Real" for persons with disabilities in Asia and the Pacific
This strategy went on to say that safety and ease of use not only for persons with disabilities, but also for all other members of the society.