Draft Labour Code: Mind Map for UPSC Exam
---
Draft Labour Code: Mind Map for UPSC Exam
---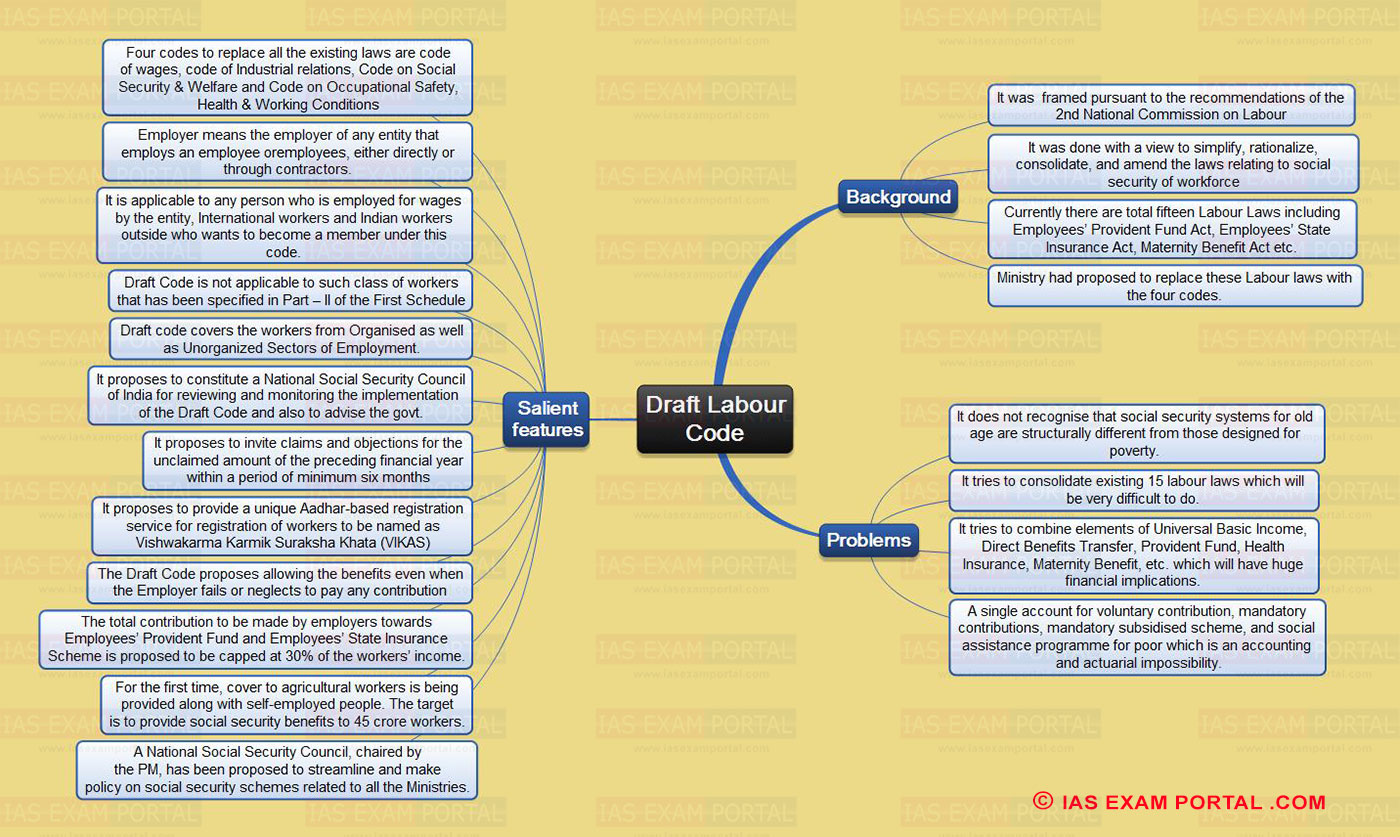 Mind Map Important Topics:
Draft Labour Code
Background
It was framed pursuant to the recommendations of the 2nd National Commission on Labour
It was done with a view to simplify, rationalize, consolidate, and amend the laws relating to social security of workforce
Currently there are total fifteen Labour Laws including Employees' Provident Fund Act, Employees' State Insurance Act, Maternity Benefit Act etc.
Ministry had proposed to replace these Labour laws with the four codes.
Problems
It does not recognise that social security systems for old age are structurally different from those designed for poverty.
It tries to consolidate existing 15 labour laws which will be very difficult to do.
It tries to combine elements of Universal Basic Income, Direct Benefits Transfer, Provident Fund, Health Insurance, Maternity Benefit, etc. which will have huge financial implications.
A single account for voluntary contribution, mandatory contributions, mandatory subsidised scheme, and social assistance programme for poor which is an accounting and actuarial impossibility.
Salient features
Four codes to replace all the existing laws are codeof wages, code of Industrial relations, Code on Social Security & Welfare and Code on Occupational Safety, Health & Working Conditions
Employer means the employer of any entity that employs an employee oremployees, either directly or through contractors.
It is applicable to any person who is employed for wages by the entity, International workers and Indian workers outside who wants to become a member under this code.
Draft Code is not applicable to such class of workers that has been specified in Part – II of the First Schedule
Draft code covers the workers from Organised as well as Unorganized Sectors of Employment.
It proposes to constitute a National Social Security Council of India for reviewing and monitoring the implementation of the Draft Code and also to advise the govt.
It proposes to invite claims and objections for the unclaimed amount of the preceding financial year within a period of minimum six months
It proposes to provide a unique Aadhar-based registration service for registration of workers to be named as Vishwakarma Karmik Suraksha Khata (VIKAS)
The Draft Code proposes allowing the benefits even when the Employer fails or neglects to pay any contribution
The total contribution to be made by employers towards Employees' Provident Fund and Employees' State Insurance Scheme is proposed to be capped at 30% of the workers' income.
For the first time, cover to agricultural workers is being provided along with self-employed people. The target is to provide social security benefits to 45 crore workers.
A National Social Security Council, chaired by the PM, has been proposed to streamline and make policy on social security schemes related to all the Ministries.