Motor Vehicles Amendment: Mind Map for UPSC Exam
---
Motor Vehicles Amendment: Mind Map for UPSC Exam
---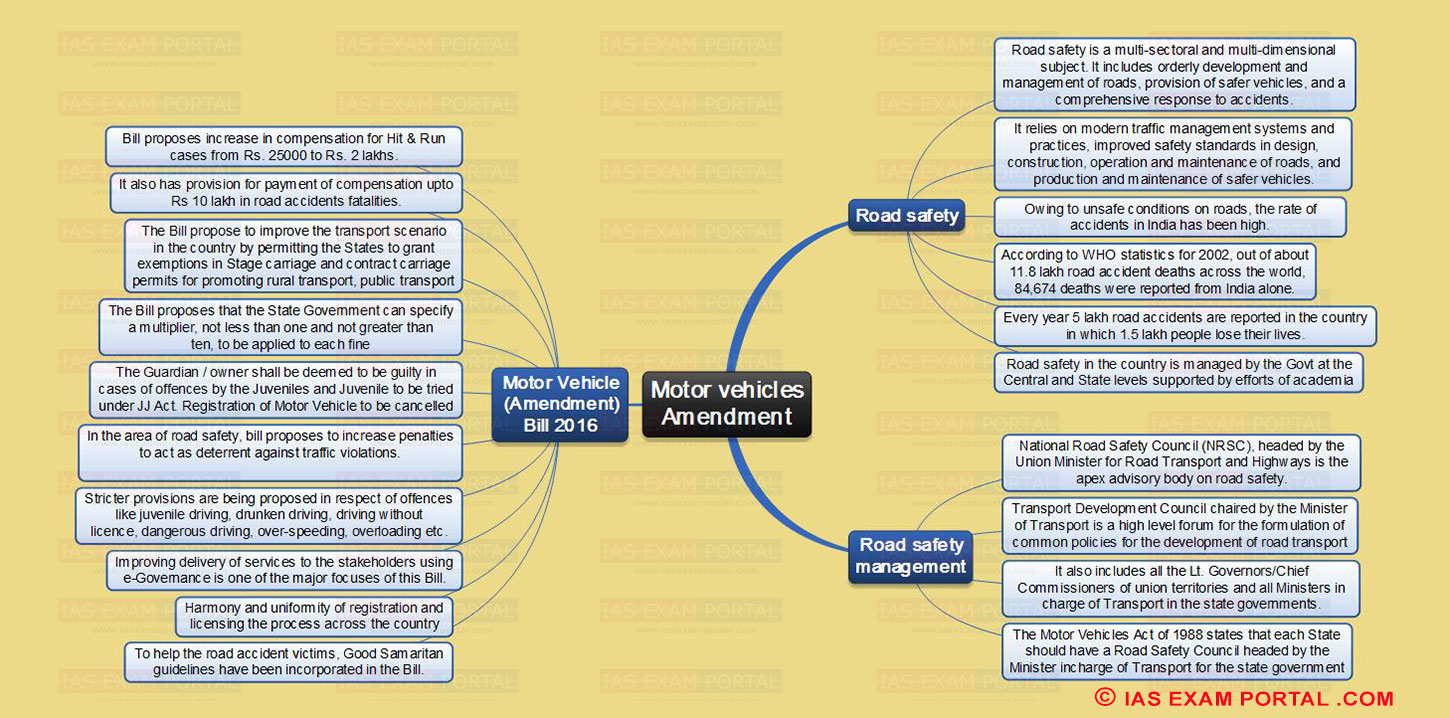 Mind Map Important Topics:
Motor Vehicles Amendment
Road Safety
Road safety is a multi-sectoral and multi-dimensional subject. It includes orderly development and management of roads, provision of safer vehicles, and a comprehensive response to accidents.
It relies on modern traffic management systems and practices, improved safety standards in design, construction, operation and maintenance of roads, and production and maintenance of safer vehicles.
Owing to unsafe conditions on roads, the rate of accidents in India has been high.
According to WHO statistics for 2002, out of about 11.8 lakh road accident deaths across the world, 84,674 deaths were reported from India alone.
Every year 5 lakh road accidents are reported in the country in which 1.5 lakh people lose their lives.
Road safety in the country is managed by the Govt at the Central and State levels supported by efforts of academia
Road Safety Management
National Road Safety Council (NRSC), headed by the Union Minister for Road Transport and Highways is the apex advisory body on road safety.
Transport Development Council chaired by the Minister of Transport is a high level forum for the formulation of common policies for the development of road transport
It also includes all the Lt. Governors/Chief Commissioners of union territories and all Ministers in charge of Transport in the state governments.
The Motor Vehicles Act of 1988 states that each State should have a Road Safety Council headed by the Minister incharge of Transport for the state government
Motor Vehicle (Amendment) Bill 2016
Bill proposes increase in compensation for Hit & Run cases from Rs. 25000 to Rs. 2 lakhs.
It also has provision for payment of compensation upto Rs 10 lakh in road accidents fatalities.
The Bill propose to improve the transport scenario in the country by permitting the States to grant exemptions in Stage carriage and contract carriage permits for promoting rural transport, public transport
The Bill proposes that the State Government can specify a multiplier, not less than one and not greater than ten, to be applied to each fine
The Guardian / owner shall be deemed to be guilty in cases of offences by the Juveniles and Juvenile to be tried under JJ Act. Registration of Motor Vehicle to be cancelled
In the area of road safety, bill proposes to increase penalties to act as deterrent against traffic violations.
Stricter provisions are being proposed in respect of offences like juvenile driving, drunken driving, driving without licence, dangerous driving, over-speeding, overloading etc.
Improving delivery of services to the stakeholders using e-Governance is one of the major focuses of this Bill.
Harmony and uniformity of registration and licensing the process across the country
To help the road accident victims, Good Samaritan guidelines have been incorporated in the Bill.