Mind Map for UPSC Exam (Pradhan Mantri Fasal Bima Yojana)
---
Mind Map for UPSC Exam (Pradhan Mantri Fasal Bima Yojana)
---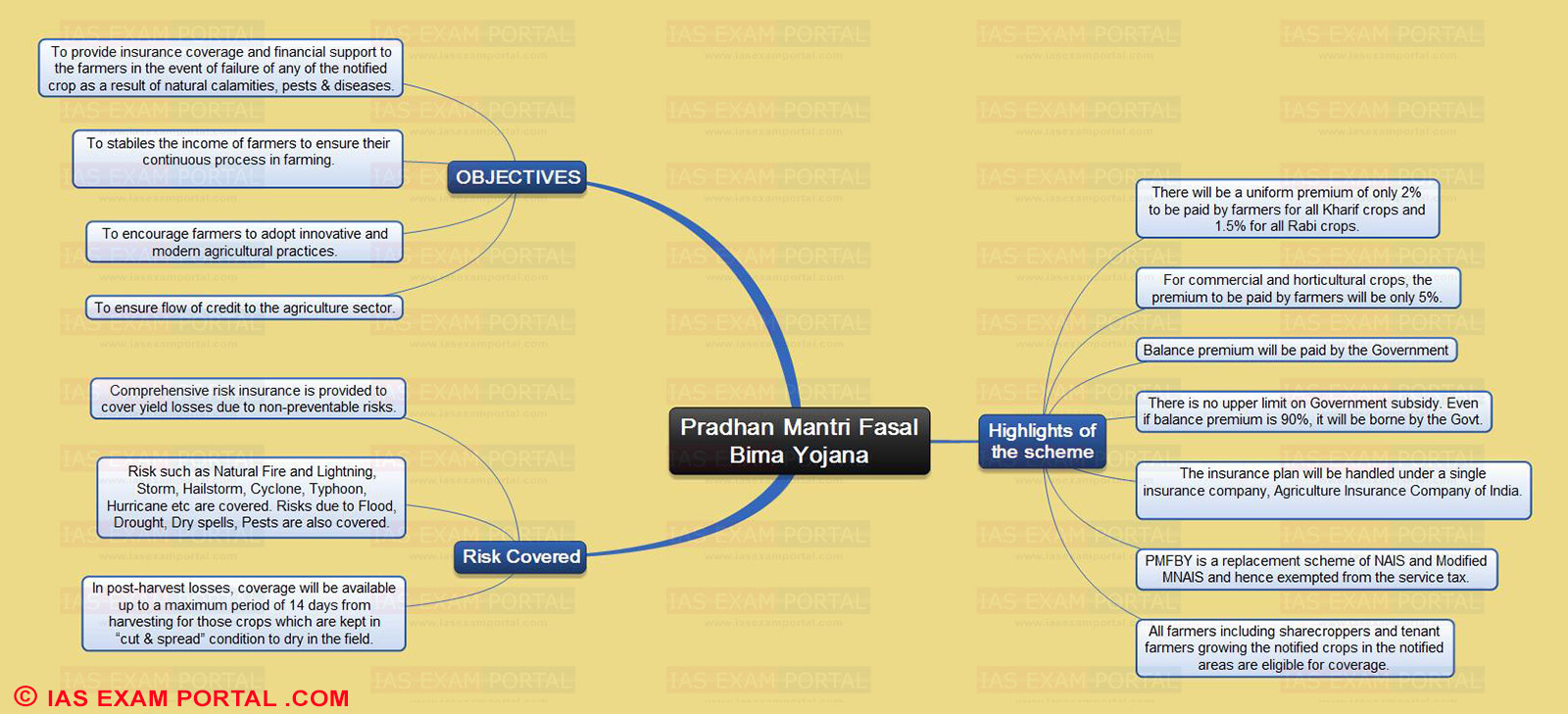 Mind Map Important Topics:
Pradhan Mantri Fasal Bima Yojana
OBJECTIVES
To provide insurance coverage and financial support to the farmers in the event of failure of any of the notified crop as a result of natural calamities, pests & diseases.
To stabiles the income of farmers to ensure their continuous process in farming.
To encourage farmers to adopt innovative and modern agricultural practices.
To ensure flow of credit to the agriculture sector.
Risk Covered
Comprehensive risk insurance is provided to cover yield losses due to non-preventable risks.
Risk such as Natural Fire and Lightning, Storm, Hailstorm, Cyclone, Typhoon, Hurricane etc are covered. Risks due to Flood, Drought, Dry spells, Pests are also covered.
In post-harvest losses, coverage will be available up to a maximum period of 14 days from harvesting for those crops which are kept in "cut & spread" condition to dry in the field.
Highlights of the scheme
There will be a uniform premium of only 2% to be paid by farmers for all Kharif crops and 1.5% for all Rabi crops.
For commercial and horticultural crops, the premium to be paid by farmers will be only 5%.
Balance premium will be paid by the Government
There is no upper limit on Government subsidy. Even if balance premium is 90%, it will be borne by the Govt.
The insurance plan will be handled under a single insurance company, Agriculture Insurance Company of India.
PMFBY is a replacement scheme of NAIS and Modified MNAIS and hence exempted from the service tax.
All farmers including sharecroppers and tenant farmers growing the notified crops in the notified areas are eligible for coverage.