UPSC Mains General Studies Study Kit (GS I + GS II + GS III + GS IV) - 100% Syllabus Covered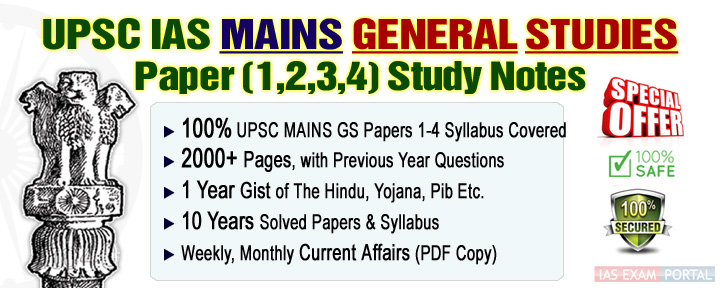 ---
IAS Mains General Studies Study Kit (Print Copy)
---
Dear Aspirants,
As we all know the last change in the examination pattern of UPSC-IAS doubles the total number of papers for general studies from 2 to 4 papers and substantially increases its weightage vis-a vis optional subjects.
Paper
Name
Description
Marks
Paper-I
Essay
250
Paper-II
General Studies-I
Indian Heritage and Culture, History of India and world, Geography of India and world and Society
250
Paper- III
General Studies-II
Governance, Constitution, Polity, Social Justice and International relations etc.
250
Paper- IV
General Studies-III
Science and Technology, Economic Development, Bio-diversity, Security and Disaster Management
250
Paper V
General Studies-IV
Ethics, Integrity, Attitude, Aptitude and case studies
250

G.S. Total

1000
Paper-VI
Optional Subject
Paper-I
250
Paper-VII
Optional Subject
Paper-I
250
Sub Total mains
1750
Personality Test
275

Grand Total

2025
Each of the general studies paper carry 250 marks and in total they make 1000 marks. Thus it is obvious that weightage of General Studies has increased a lot in Civil Service Exam. General studies now constitute close to 57% of weightage in the mains examination, earlier it used to be 30% of the mains paper, it becomes necessary to have a sound strategy for General Studies paper.
Earlier it was felt that the engineering /management/medical students taking edge in their optional subjects. Now the change shows the democratic face of UPSC. Its 100% syllabus based mains materials with full guidance and support. The study material is suitable for beginners as well as advanced aspirants. These booklets are sufficient for the entire syllabus of IAS exam.
What you will get:
100% G.S. Mains Syllabus Covered

Printed Study materials on GS Mains (All four papers)

More Than 1500+ Pages

Gist of Yojana, Kurushetra, Science Reporter and The Hindu – Six months (PDF Copy)

Practice papers for GS Mains papers I,II,III & IV (PDF Copy)

Model Answers for GS Mains Papers I,II,III & IV (PDF Copy)

Weekly Current Affairs – One year (PDF Copy)

GS Mains Categorized Papers of last 3 years (PDF Copy)

With Guidance & Support from Experts

3 Years UPSC General Studies Mains Solved Papers
Price of the Kit:
The price of our Study Kit is Rs. 15,000 Rs 4,999 including courier charges.
FOR HELP CALL: +91 8800734161, 9958790414 (MON-SAT 11AM-6PM)
Number of questions coming from GS Mains study kit in 2013-2018:
Paper
2013
2014
2015
2016
2017
2018
GS Paper-1
18/25
18/25
14/20
16/20
13/20
14/20
GS Paper-2
18/25
14/20
13/20
17/20
15/20
11/20
GS Paper-3
19/28
13/20
12/20
15/20
14/20
12/20
GS Paper-4
14/22
13/21
11/19
11/18
13/22
9/18
NOTE : including Paper-A and Paper-B
Implementation Aspects:
You will Get 04 booklets of all four papers of GS Mains in Hard Copy
Study Kit (Hard Copy) will be delivered to your postal Address after payment confirmation and other value addition material you will get on your email ID in PDF.
After dispatching your kit we will provide you courier tracking details.
For any help we will provide Telephonic & Email Support to the candidates.
No. of Booklets
Subjects
Pages
Table of Contents
1
IAS MAINS GS : Paper 1
(Indian Heritage and Culture, History and Geography of the World and Society)
392 Pages
Click Here for Content
2
IAS MAINS GS : Paper 2
(Governance, Constitution, Polity, Social Justice and International relations)
366 Pages
Click Here for Content
3
IAS MAINS GS : Paper 3
(Technology, Economic Development, Bio-diversity, Environment, Security and Disaster Management)
376 Pages
Click Here for Content
4
IAS MAINS GS : Paper 4
(Ethics, Integrity and Aptitude)
316 Pages
Click Here for Content
Total Booklets - 04
Total Approx Pages: 1450