(Breaking News) Shah Faesal, UPSCPORTAL Member and Kashmiri doctor, Tops UPSC Final Exams 2009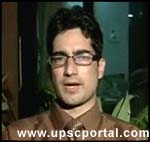 Shah Faesal, UPSCPORTAL Member and Kashmiri doctor, Tops UPSC Final Exams 2009
Shah Faesal [upscportal profile], a doctor from Srinagar, has topped the civil services examination 2009, it was announced on Thursday. Accoring to media reports Faesal lost his parents to terrorism.
A total of 875 candidates - 680 male and 195 female - have been recommended for appointment to the prestigious Indian Administrative Service, Indian Foreign Service, Indian Police Service and other central services, the Union Public Service Commission (UPSC) said.
Faesal, who has done his MBBS from Srinagar, cleared the examination in his first attempt.
Shah Faesal, a resident of frontier Kupwara district and a medical graduate topped the list of 875 candidates declared successful for the three tier examinations today.
Prakash Rajpurohit, B.Tech from Indian Institute of Technology, Delhi, has bagged the second position while Iva Sahay from Jawaharlal Nehru University (JNU) has secured the third position. Sahay is the topper among female candidates.
The top 25 candidates comprise 15 males and 10 females, it said.
According to a UPSC (Union Public Service Commission) 1,93,091 candidates had appeared for the preliminary examination out of which 12,026 qualified for the main written examination. From that 2432 were short listed for the personality test conducted in March and April.
UPSCPORTAL.COM Congratulates him for this inspiring achievement.
Note: ALL Toppers who are members of upscportal.com are requested to contact us for the success story posting.
Shah Faesal Interview Video at NDTV:

UPSC Topper Shah Faesal Interview Video at CNN IBN:

Courtesy: Hindustan Times, PTI, NDTV, CNN-IBN