(Toppers Talk) I can make a difference, says IAS topper - A Ganesh Nadar
(Toppers Talk) I can make a difference, says IAS topper

I can make a difference, says IAS topper

A Ganesh Nadar in Tirunelveli | May 13, 2005 00:23 IST

Divisional Engineer (installation) of BSNL, Tirunelveli, N Sreenivasan is on top of the world.
His son topped the Indian Administrative Services entrance exams.
At the BSNL building in town, everybody is asking to meet Sreenivasan. 'Today there is only one man everyone wants to meet -- Vani madam's husband. His son topped the IAS you know," says a man at the reception counter.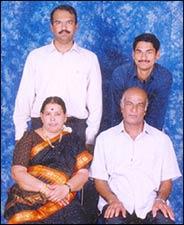 The notice board near the lift is full of clippings from every newspaper that has reported the news and, of course, with congratulatory notes.
Sreenivasan is an unassuming man in spite of being 6 feet tall. His IAS son, Nagarajan, is 6 feet 3 inches tall, and his younger son Sunderrajan is 6 feet 4 inches.
Like his IAS son he too is a hardworking man. When he joined the telephone department Sreenivasan was only a high school graduate. He worked himself to divisional engineer with the help of some education his department provided him along the way.
The mother Vani also works for BSNL. She is personal assistant to the deputy general manager.
She is as unassuming as her husband. "He (Nagarajan) was as mischievous as the next child. But he was always sensible," she smiles.
Her colleague, who knew Nagarajan as a child, says, "I remember him as a precocious child. He used to come here as a tiny tot and ask what each instrument was used for."
The father used to read the Hindu daily to him when he was just three. "He taught Nagarajan English and Maths and that must have helped a lot," says Vani.
Nagarajan studied for 13 years at the Chinmaya Vidyalaya in Tirunelveli. Even though Sreenivasan was transferred, the children stayed in Tirunelveli with their mother and continued their education there.
The siblings, Nagarajan, 26, and Sunderrajan, 24, are graduates from the reputed Birla Institute of Technology and Science, Pilani, in Rajasthan.
Nagarajan is an electrical and electronics Engineer, while his brother is a chemical engineer. While Nagarajan concentrated on getting into the IAS, the younger son went on to get an MBA from Symbiosis, Pune, in Maharashtra.
When Nagarajan was in the 8th standard, he would tell his parents that he would be an IAS officer. And they always encouraged him, recalls Vani.
His favourite authors in Tamil are Sujatha and Kalki. His favourite English author is Asimov. His parents say Nagarajan's only hobby was reading.
Nagarajan topped the IAS in his fourth attempt. In the first attempt he reached the interview stage. In the second, he was selected for Railways, where he now works.
This is how the glad news broke on Thursday.
A reporter from the magazine 'Competition Success' reached their home in Tirunelveli to announce that their son had topped the IAS exams.
Sreenivasan immediately called up Sunderrajan, who was in Delhi at that time. Sunderrajan went to the UPSC office to find Nagarajan's name on the merit list.
An exultant Sunderrajan called up Nagarajan to confirm the news.
Nagarajan first called his mother.
His first words were a famous couplet from the great Tamil work Thirukural. Translated to English it says "A mother is happy when she delivers a son, she is happier when he becomes a Scholar".
This scholar has proved to be the brightest in the land. And, it is not his family alone, but the whole of Tirunelveli and the BSNL that rejoiced.
Sreenivasan received more than 200 calls times since the news broke, while his wife Vani says she has answered the phone more than 400 times.
"I did not count the number of people who came to congratulate us personally," she says.
The IAS topper is not thinking of marriage now. The most eligible bachelor in Tamil Nadu does not know what kind of girl he wants to marry.
He has to undergo two years training before he can join the cadre. "That's more important than marriage," he says.
"He has a soft corner for the poor, he will make a good administrator," says the proud father as he distributes sweets to all drop by to congratulate him.
Nagarajan says he is thrilled. Known as 'Bheem' in his engineering college days, his feet are firmly on the ground.
Nagarajan says he expected to make the list but not top it.
He says he won't ask for a Tamil Nadu posting. "I will go where the authorities post me. I am sure I can make a difference in spite of all the stories of corruption, political patronage and interference in the administrative services one hears about."
As this writer left the BSNL building another good news came in. The BSNL service centre was awarded the best service center in the country. When it rains it pours.
Courtesy: Rediff.com