(Free Coaching) Manidha Naeyam Opens Branch in Anna Nagar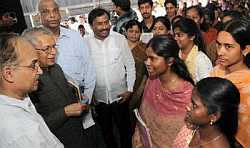 Manidha Naeyam IAS and IPS Free Coaching Centre opened a branch in Anna Nagar East on Monday.
Nearly 600 civil service aspirants would benefit from the setting up of the branch. The coaching centre is a wing of the Manidha Naeyam Charitable Trust founded by former MLA Saidai S. Duraisamy.
Participating in the inauguration ceremony, Mr. Duraisamy said that education is the only tool to attain equality in society. Civil service aspirants must understand their responsibilities and work for the downtrodden. He also explained the features of www.saidais.com, saidaiduraisamysmanidhaneyam.com, a website offering free online coaching for the candidates.
Commending the initiative, the centre's advisory committee member and former Vice-Chancellor of Anna University V. C. Kuzhandaisamy said educating youngsters free of cost was an act of patriotism.
Pointing out that the number of civil servants from Tamil Nadu had dwindled over the past two decades, he said lack of proper facilities was one of the reasons for that. The coaching centre would help in providing equal opportunities to all. Of the 100 candidates selected from Tamil Nadu last year, 25 were from the Manidha Naeyam IAS and IPS Free Coaching Centre, he added.
Former Home Secretary R. Poornalingam said hard work and focussed attention were the watchwords to succeed in the competitive examinations. "You (students) must spend 14 hours a day on preparing for the examination and develop a habit to read and analyse news," he said.
Even if candidates failed to become civil servants, skill development and knowledge acquisition would help them when they opted for other careers, he added.
While former Director General of Police A. X. Alexander traced the progress of the coaching centre, former Highways Department secretary M. Abul Hassan said that a similar facility must be started in south Chennai.
The coaching centre's director Vaa.Voo. Si. said the first coaching centre was started in CIT Nagar in 2006. While 12 candidates from the centre were selected for Civil Services in 2007, the figure rose to 25 last year. A general knowledge monthly magazine was also released at the function.
R.Gopalaswamy, a candidate chosen for Indian Revenue Service, shared his experience. The Trust's director Mallika Duraisamy and the trust's managing director Vetri Duraisamy also participated.
Courtesy : The Hindu
Website: www.saidaiduraisamysmanidhaneyam.com