(News) Decision on inclusion of Tulu in 8th Schedule soon: Moily

Decision on inclusion of Tulu in 8th Schedule soon: Moily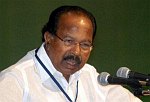 Union Minister for Law and Justice M Veerappa Moily today said the Centre would soon take a decision on inclusion of Tulu language in the 8th Schedule of the Constitution.

Delivering valedictory address in the four-day World Tulu Conference here, he said along with Tulu language, there were other 12 languages, including Kodava, which were being considered for inclusion in the 8th Schedule.

''The S M Krishna Government in Karnataka had long back recommended for the inclusion of the language in the Schedule.

However, a committee formed to look into the issue, withheld the proposal because issue related to use of the language in Union Public Service Commission (UPSC) examinations was not sorted out.

There was the provision to write the UPSC examinations in the languages that have been included in the 8th Schedule,'' he said.

Mr Moily said he had held parleys with the officials concerned on the latest position of the issue and expressed confidence that the Centre would take a decision to announce inclusion of the language in the 8th Schedule very soon.

Referring to the opposition from some quarters against the developmental activities in the Tulu region, Mr Moily said after taking decision on any developmental issues, people should not take any steps which were detrimental to the economic growth.

On the opposition to MSEZ, he said during the last five years, an investment of worth Rs 1.25 lakh crore was cleared and in the next five years there was proposal to increase investment to the tune of Rs five lakh crore, which would bring a sea change in the region.

''We should think whether we require such a growth or not,'' he added.
Courtesy: Sahilonline.org