(Topper) K Jayganesh(156 Rank) - Canteen boy clears UPSC Exam
TOPPER : K Jayganesh(156 Rank) - Canteen boy clears UPSC Exam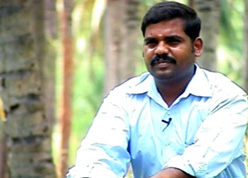 From canteen boy to an administrator, that's the story of 29-year-old K Jayganesh. He's passed the civil services examinations this year with 156th rank.
Now that he has succeeded in doing what he had to, Jayganesh fondly remembers the tree under which he studied, and the local school he attended in his village, Vinnavamangalam — and that is where his dream of becoming a civil servant took root.
He tried three times but failed to make it. It was then that he decided to leave his village for Chennai, where he took up odd jobs to fund his studies, including one at the bill counter at a canteen at a Cinema theatre.
Three more attempts later, he has finally managed to serve the right mix, clearing the UPSC Exams, with a rank of 156. His parents are proud of his achievement.
His father Krishnan says, "I am proud of the fact that someone from my village is going to be a collector and it makes me even prouder that it's none other than my own boy."
His mother Kalavathi adds, "I felt so happy to hear that he's passed and when he came back home, the villagers gave him a grand reception."
As Jayganesh looks forward to learning the nuances of administration, he has not forgotten his beginnings. He sees his new job as a means to give something back to society.
"I come from a village and so I understand their mindset. My aim is to eradicate poverty and uplifting the villagers," says he.
| | |
| --- | --- |
| Food for thought : Canteen boy clears UPSC Exam | |
Courtesy : ibnlive.com