(Success Story) Ludhiana Girl Shruti Sharma Ranks 16th in UPSC Exam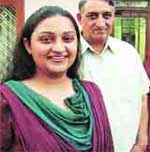 Ten months were enough for 26-years-old Shruti Sharma to bag the 16th position in the Union Public Service Commission (UPSC) examination, that too, in her first attempt.

A resident of Shaheed Bhagat Singh Nagar, Shruti is the daughter of Dr K N Sharma, a retired PAU professor, and Santosh Sharma, a school teacher. Her aim now is to be a "real" administrative officer — one who can work without pressure from politicians.

Speaking to Newsline, Shruti said: "I was sure that I will clear the exam, but had not an idea of getting such a high rank. One needs to get an exposure of the outer world before preparing for the exam. I did the same after 2007, when I passed out with a electronics engineering degree from GNE in Ludhiana." Following this, she joined the college as a lecturer for a few months. Later, she worked for WIPRO as a project engineer for about a year.
Read more..
Courtesy: Indianexpress.com