(Success Story) UPSC Topper Karthik (Rank 140) urges youth to take UPSC exam
UPSC Topper Karthik (Rank 140) urges youth to take UPSC exam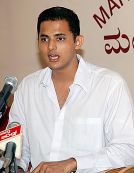 Karthik Kashyap, a 23-year-old civil engineering graduate from here who secured the 140th rank in the Union Public Service Commission examination in his first attempt, wants teachers and parents to promote the "culture of appearing for the civil services examination" among youngsters.
Speaking at a meet-the-press programme organised by the Dakshina Kannada District Working Journalists Association here on Wednesday, Mr. Kashyap urged youngsters to appear for the examination in large numbers.
"Undivided Dakshina Kannada is being projected as the land of intellectuals, but only a few people appear for the civil services examination," he said.
Mr. Kashyap, who is the son of Mayor M. Shankar Bhat, took objection to parents grooming their children to become doctors or engineers. He said that youngsters and their parents should understand that there were opportunities beyond medicine and engineering... [..]
Courtesy : Mangalorean.com
For Study Materials Call Us at +91 8800734161 (MON-SAT 11AM-7PM)