'Think Differently, Discover the Impossible': Kalam to Students
'Think Differently, Discover the Impossible': Kalam to Students
The former President Dr. APJ Abdul Kalam has called upon the students to discover the impossible. Delivering a lecture on "National Character Building' at the Army Public School here today to mark the 'National Education Day', Dr Kalam asked the teachers to encourage the young minds to think differently. Underlining that the teachers are a vital part of nation-building, the visionary scientist-turned-statesman stressed on the value-based education to build a strong India.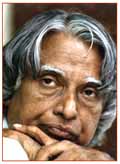 Speaking on the occasion Major General Manvender Singh, GoC Delhi Area, voiced concern over the declining values in society. Laying stress on holistic education in schools, Major General Manvender Singh, who is also the Chairman of the Army Institute of Education, said that the teachers should inculcate ethics and moral values in the children. Dr Neerja Dhankar, Principal, Army Institute of Education, also spoke on the occasion. A large number of students and teachers from education institutes run under the Delhi Area HQs attended the function.
The function was organised by the Army Institute of Education, Delhi Cantt., which has been granted the status of an 'A' grade institute by the Indraprastha University. Recognised by the National Council for Teacher Education (NCTE), the Institute conducts a one-year B.Ed programme for dependents of Army personnel.
Courtesy: Press Information Bureau