(Article) Two more attempts in UPSC Exams: all boon and no bane!!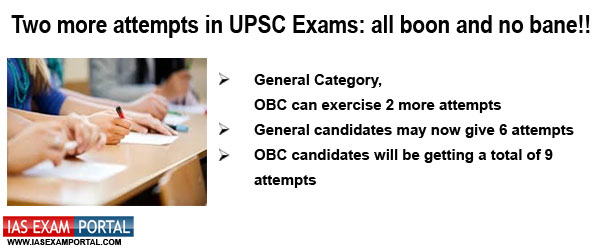 ---
Two more attempts in UPSC Exams: all boon and no bane!!
---
Lakhs of candidates aspiring to join the elite All India Services- IAS, IPS, IFS and a few others- might be rejoiced at the news of Government approval of two more attempts in UPSC exam starting from 2014. It might come as a relief to many . And why not, now everyone belonging to General Category, OBC can exercise 2 more attempts at cracking this reputed exam and thereby increasing the chances of clearing it. Please note that the general candidates may now give 6 attempts and the OBC candidates will be getting a total of 9 attempts.
A further explanation and analysis of the latest Notification is as under:
Candidate belonging to Scheduled Caste and Scheduled Tribes have no restrictions, ipso facto; (but with the upper age limit of 37 years). The upper age limit is also relaxable up to a maximum of five years if a candidate has been residing in Jammu & Kashmir, specifically during the time period from January 1, 1980 to December 31, 1989.
Defense services personnel disabled in operations/Missions would also be given relaxation of three years as a mark of tribute for all the sacrifices they underwent for the country.
Last but not the least, the upper age for blind, deaf-mute and orthopedically handicapped candidates has been relaxed upto a maximum of 10 years over the applicable age limit.
Well, so much for the rosy picture, but take a moment and think about it; with increased attempts for everyone the competition has now shoot up ; giving the experienced candidates a leverage over the fresh candidates.
Other than that everything is hunky dory. UPSC has not officially announced anything yet but the move has definitely uplifted the spirits of aspirants, who are eagerly waiting for the formal notification.
Following is the link to the notice released by Ministry of Personnel, Public Grievances and Pensions, Govt. of India,that was released few days back:
http://ccis.nic.in/WriteReadData/CircularPortal/D2/D02ser/CSE-04032014.pdf
The tentative date of prelims this year is August , 2016 and the notification is expected around May.
The candidates may contact us for further assistance and queries.
ALL THE VERY BEST!!
Team IASEXAMPORTAL
© iasexamportal.com