Cut-Off Marks : Combined Medical Services Examination, 2020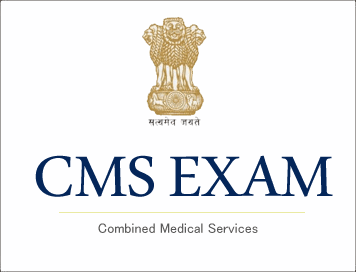 (Cut off) Combined Medical Services Examination, 2020
Category-I

S. No.

 

Category

 

Vacancy

Recommendation of PwBD candidates

Vacancy after recommendation of PwBD candidates

Recommendation of candidates

[Non- PwBD]

Minimum qualifying standards* (Out of 500)

Cut-off marks at Final Stage (Out of 600)

1.

Gen.

73

02

68@

68

279

365

2.

OBC

91

03

88

88

242

327

3.

SC

00

Nil

-

-

-

-

4.

ST

00

Nil

-

-

-

-

5.

EWS

18

Nil

18

18

226

310

 

Total

182

05

174

174

 

 

Candidates belonging to Persons with Benchmark Disability(PwBD)

a.

PwBD- 1

02

02

[01-Gen. & 01-OBC ]

00

 

129

296

b.

PwBD-2

02

02

[01-Gen & 01-OBC ]

00

 

75

125

c.

PwBD-3

02

01

[01-OBC]

01

 

168

221

d.

PwBD-

4 & 5

02

Nil

02

 

 

 

 

Total

08

05

03

 

 

 
Category-II
 

S. No.

 

Category

 

Vacancy

Recommendation of PwBD candidates

Vacancy after recommendation of PwBD candidates

Recommendation of candidates

[Non- PwBD]

Minimum

qualifying standards* (Out of 500)

Cut-off marks at Final Stage (Out of 600)

1.

Gen.

154

05

149

114

279

357

2.

OBC

134

05

129

129

242

324

3.

SC

25

02

23

23

251

328

4.

ST

27

Nil

27

27

198

271

5.

EWS

38

02

36

36

226

310

 

Total

378

14

364

329

 

 

Candidates belonging to Persons with Benchmark Disability(PwBD)

 

a.

PwBD-

1

 

14

14

[05-Gen., 05-OBC,

02-EWS & 02-SC]

 

00

 

 

129

 

217

 

Total

14

14

00

 

 

 
Reserve List
| | | | | | |
| --- | --- | --- | --- | --- | --- |
| GENERAL | OBC | SC | ST | EWS | TOTAL |
| 35 | 27 | 05 | 01 | 02 | 70 |
Tie-Principles
Wherever two or more candidates have secured equal aggregate marks in Combined Medical Services Examination, 2020, the tie(s) have been resolved in accordance with the principles approved by the Commission, viz.
(i) . The candidate senior in age is ranked higher.
(ii) . In case, where date of births also the same, the candidate whose Date/year of completion of the internship is first, is to be ranked higher.
Courtesy: UPSC