(News) Crunch of IPS officers
---
Crunch of IPS officers
---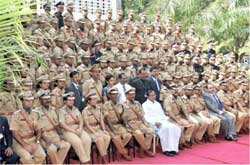 To mitigate the shortage of IPS officers, the Government has introduced 'Limited Competitive Examination' as the third mode of recruitment to the IPS. Officers of the rank of Deputy Superintendents of Police of State Police Services, Assistant Commandants of Central Paramilitary Forces and Captains and Majors of Defence Forces fulfilling certain eligibility criteria are eligible for appearing in the said examination. By this mode of recruitment, 80 candidates are to be recruited annually.
A large number of Court Cases have been received in this Ministry, UPSC, DoP&T and MoD challenging various aspects of the scheme of this mode of recruitment and at present the matter is sub-judice. However, to mitigate the shortage of IPS officers, the batch-size of IPS (direct recruit) has been increased from 88 to 103 from CSE 2005, to 130 from CSE 2008 and to 150 from CSE 2009. Besides the above, the process of appointment to the Indian Police Service by promotion from State Police Service has been accelerated.
This was stated by the Minister of State for Home Affairs, Shri Haribhai Parathibhai Chaudhary in a written reply to a question by Shri Laxman Giluwa, Shri Prataprao Jadhav, Smt. Jyoti Dhurve and Shri CS Putta Raju in the Lok Sabha.
Courtesy: PIB