Current Affairs for IAS Exams - 01 March 2020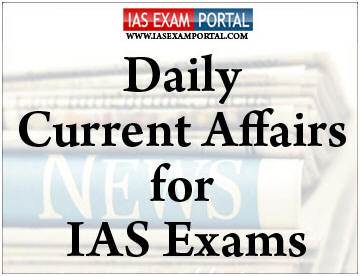 ---
Current Affairs for IAS Exams - 01 March 2020
---
::NATIONAL::
VP claims next 10 years to be decade of youth in India
Vice President Venkaiah Naidu has said the next ten years would be the decade of the youth in India. He gave an extramural lecture in the IIT, Madras on the topic, 'India 2020 to 2030: GenY's Vision for the Decade,' this evening.

In his address, he said, India's population is among the youngest in an ageing world. He said the strategy and vision for the education of the youth will decide how successful India will be in converting the country's demographic advantage into a rich dividend.

The Vice....................................................
CLICK HERE FOR FULL CURRENT AFFAIRS (Only for Course Members)
::ECONOMY::
In terms of invoicing, India is amongst the most dollarized countries
India is among the most dollarised countries as far as invoicing is concerned, and by all these measures of internationalisation, the dollar is largely ahead of other currencies with euro as a distant second, Professor Hélène Rey, Lord Bagri Professor of Economics, London Business School, said.

Ms. Rey was speaking at the Export-Import (EXIM) Bank of India's 35th Commencement Day Annual Lecture in Mumbai on 'financial globalisation and international financial markets'.

"One can also see the U.S. as an insurer, since the value of its external dollar liabilities such as Treasury bills and U.S. government bonds held by the rest of the world tend to appreciate in bad times, thereby insuring the people holding them," she said.

As a result, the U.S. gets seigniorage as people from different countries use dollars, she said, adding that India was one of the most dollarised countries in the world, following Brazil, Pakistan and Indonesia, in the share of imports and exports invoiced in dollars.

Ms. Rey said that according to a survey by the European Central Bank, the dollar dominated 62.2% international debt, 56.3% international loan and 62.7% global exchange reserves, whereas the euro had acquired much less global market.

"The dollar is becoming more unstable over time as the relative size of the U.S. shrinks in the world economy while the stock of dollar liabilities in the rest of the world keep growing," she added.
New Zealand to expand trade with India if the latter does not join RCEP
New Zealand on Thursday said it will look forward to a bilateral trade agreement with India in case New Delhi does not join the China-backed mega trade deal RCEP.

The Narendra Modi-led government in ...........................................
CLICK HERE FOR FULL CURRENT AFFAIRS (Only for Course Members)
::INTERNATIONAL::
India welcomes U.S-Taliban deal on Afghanistan
India has welcomed the deal between the US and the Taliban in Afghanistan. External Affairs Ministry Spokesperson Raveesh Kumar said, New Delhi support all opportunities that can bring peace, security and stability in Afghanistan and end violence, cut ties with international terrorism and lead to a lasting political settlement through an Afghan-led, Afghan-owned and Afghan controlled process.

He said India noted that the entire political spectrum in Afghanistan, including the Government, the democratic polity and civil society, has welcomed the opportunity and hoped for peace and stability generated by these agreements.

Mr Kumar said India will continue to extend all support to the Government and people of Afghanistan in realising their aspirations for a peaceful, democratic and prosperous future where the interest of all sections of Afghan society are protected.

US and Taliban signed a peace deal in Doha yesterday. India attended the historic event as Observer. The agreement will pave the way for phased withdrawal of American troops from Afghanistan.

As part of the deal, the Taliban are required to initiate a dialogue with the Afghan government and other civil society and political groups for a permanent ceasefire and power-sharing in post-war Afghanistan.
Turkey threatens to allow refugees towards Europe
Turkey today threatened to allow tens of thousands of refugees to leave for Europe.

At the Turkish border, Greek police clashed with .....................................................
CLICK HERE FOR FULL CURRENT AFFAIRS (Only for Course Members)
::SCIENCE & TECHNOLOGY::
Evidence of colistin resistant bacteria in the gut found in Indian patients
A small study involving 65 stool samples taken from patients from a single hospital in Chennai found 51% of them harbour colistin-resistant bacteria. This reflects the presence of such bacteria in the gut as stool samples represent gut colonisation.

This is the first study from India which has found indirect evidence of colistin-resistant bacteria in the gut and was published in the journal Diagnostic Microbiology & Infectious Disease.

Colistin is the last-resort antibiotic used to treat highly drug-resistant bacterial infections.

Colistin-resistant bacteria can be of hospital origin or food ............................................
CLICK HERE FOR FULL CURRENT AFFAIRS (Only for Course Members)
::SPORTS::
India's fastest women clinches gold in Khelo India university games
India's fastest woman Dutee Chand clinched gold in 100 meters dash while long distance runner Narendra Pratap Singh bagged his second title at Khelo India University Games in Bhubaneswar today.

The 24-year-old sprinter, representing Kalinga Institute of Industrial Technology (KIIT), raced ahead to take a massive lead within no time. With her competitors nowhere close to Dutee, the national record holder bagged gold with a timing of 11.49 seconds.

The second best, S. Dhanalakshmi from Mangalore University, clocked 11.99 seconds and S.S. Sneha from Mahatma Gandhi University clinched the bronze with a timing of 12.08 seconds.