Current Affairs for IAS Exams - 01 March 2021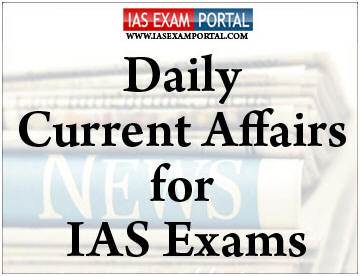 ---
Current Affairs for IAS Exams - 01 March 2021
::NATIONAL::
Caracal
The National Board for Wildlife and Union Ministry of Environment, Forest and Climate Change last month included the caracal in the list of critically endangered species.
It is medium-sized wildcat found in parts of Rajasthan and Gujarat.
Its earliest evidence in subcontinent comes from a fossil dating back to Indus Valley civilisation.
It is also found in Africa, Middle East, Central and South Asia. While it flourishes in parts of Africa, its numbers in Asia are declining.
It finds mention in Abul Fazl's Akbarnama, as a hunting animal in the time of Akbar.
IUCN lists Caracals under Least concern due to large numbers in Africa.
Saras Aajeevika Mela 2021
Inaugurated by Union Agriculture Minister the Saras Aajeevika Mela 2021 is underway at Noida Haat.It will continue till 14th March. 
The fair remains open from 11 AM to 8 PM daily. More than 300 rural self-help groups and craftsman from 27 states are participating in the Mela which is being by the Ministry of Rural Development.
The Ministry of Rural Development is working to include more women in Self Help Groups (SHGs). He said these SHGs played a vital role in increasing family income and improving quality of life.
CLICK HERE FOR FULL CURRENT AFFAIRS (Only for Course Members)
::INTERNATIONAL::
India, China foreign ministers to set up hotline
The foreign ministers of India and China have agreed to establish a new hotline to ensure "timely communication" in the wake of last year's border crisis, but differed sharply on the way forward to restore relations.
Border crisis impact
Underlining how both sides have viewed differently the impact of the border crisis on the broader relationship, Mr. Wang said "there has been some wavering and back-pedalling in India's China policy", because of which "practical cooperation between the two countries has been affected."
India's stand
India made it clear to China that it is not realistic to insulate the relationship from the boundary crisis, and emphasised that in its view, peace on the border is a prerequisite for the rest of the relationship to develop. 
China, however, has hit out at India's economic measures, such as banning Chinese apps and stricter curbs on investment following last year's tensions, viewing India's "whole of government" approach as going against a past consensus of containing differences while cooperating elsewhere.
Ketoprofen
Recently, Bangladesh banned painkiller ketoprofen.
It became the first country to ban any of the drugs now known to be toxic to vultures since the previous veterinary diclofenac ban more than 10 years ago.
Ketoprofen is painkiller which is used widely to treat the cattle.
Diclofenac and ketoprofen are Non-Steroidal Anti-Inflammatory Drugs (NSAIDs) which are the primary threats to the vultures of South Asia and responsible for the catastrophic 99.9% declines of white-rumped vultures in the region.
In India, diclofenac drug was banned by the Drug Controller General of India in 2006.
::ECONOMY::
Bond yield
Rising yields on government securities or bonds in the United States and India have triggered concern over the negative impact on other asset classes, especially stock markets, and even gold. 
The yield on 10-year bonds in India moved up from the recent low of 5.76% to 6.20% in line with the rise in US yields, sending jitters through the stock market, where the benchmark Sensex fell 2,300 points last week.
Why do bond yields rise?
Bond yield is the return an investor gets on that bond or on a particular government security. 
The major factors affecting the yield is the monetary policy of the Reserve Bank of India, especially the course of interest rates, the fiscal position of the government and its borrowing programme, global markets, economy, and inflation. 
A fall in interest rates makes bond prices rise, and bond yields fall — and rising interest rates cause bond prices to fall, and bond yields to rise. 
In short, a rise in bond yields means interest rates in the monetary system have fallen, and the returns for investors (those who invested in bonds and govt securities) have declined.
Bond yields play a big role in foreign portfolio investment (FPI) flow. Traditionally, when bond yields rise in the US, FPIs move out of Indian equities. 
Also, it has been seen that when the bond yield in India goes up, it results in capital outflows from equities and into debt.
::SCIENCE AND TECHNOLOGY::
Intermediary Guidelines and Digital Media Ethics Code Rules 2021
Government notifies Information Technology (Intermediary Guidelines and Digital Media Ethics Code) Rules 2021.
The rules have been framed in exercise of powers under section 87 (2) of the Information Technology Act, 2000 and in supersession of the earlier Information Technology (Intermediary Guidelines) Rules 2011.
Part- II of these Rules shall be administered by Ministry of Electronics and IT, while Part-III relating to Code of Ethics and procedure and safeguards in relation to digital media shall be administered by the Ministry of Information and Broadcasting.
Salient features:
Due Diligence to Be Followed by Intermediaries: The Rules prescribe due diligence that must be followed by intermediaries, including social media intermediaries. In case, due diligence is not followed by the intermediary, safe harbour provisions will not apply to them.
Grievance Redressal Mechanism: The Rules seek to empower the users by mandating the intermediaries, including social media intermediaries, to establish a grievance redressal mechanism for receiving resolving complaints from the users or victims.
Ensuring Online Safety and Dignity of Users, Especially Women Users: Intermediaries shall remove or disable access withing 24 hours of receipt of complaints of contents that exposes the private areas of individuals, show such individuals in full or partial nudity or in sexual act or is in the nature of impersonation including morphed images etc. 
Two Categories of Social Media Intermediaries: To encourage innovations and enable growth of new social media intermediaries without subjecting smaller platforms to significant compliance requirement, the Rules make a distinction between social media intermediaries and significant social media intermediaries. 
The Rules will come in effect from the date of their publication in the gazette, except for the additional due diligence for significant social media intermediaries, which shall come in effect 3 months after publication of these Rules.
CLICK HERE FOR FULL CURRENT AFFAIRS (Only for Course Members)