Current Affairs for IAS Exams - 01 April 2021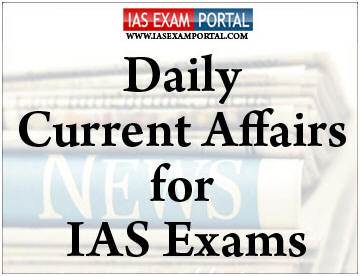 ---
Current Affairs for IAS Exams - 01 April 2021
::NATIONAL::
Jal Jeevan Mission deploys sensor-based IoT devices to monitor rural drinking water supply systems
The Ministry of Jal Shakti has decided to take the digital route to use sensor-based IoT devices to effectively monitor the implementation of Jal Jeevan Mission (JJM) in more than six lakh villages.
About:
National Jal Jeevan Mission in collaboration with Tata Community Initiatives Trust (TCIT) and Tata Trusts recently completed pilot projects in several remote villages of five States i.e., Uttarakhand, Rajasthan, Gujarat, Maharashtra, and Himachal Pradesh.
A key feature of these pilots has been the use of frugal yet sturdy sensors, which makes the solution scalable and sustainable.
One of the key challenges posed to the team was to develop a robust solution at a fraction of the water infrastructure costs (<10-15% of total scheme capex) without compromising on quality or functionality. These costs are expected to reduce further at scale.
The Internet of Things (IoT) based remote monitoring provides near real-time information without any manual intervention by using sensors.
This would not only allow effective monitoring and management on-ground, but also enable real-time visibility to State water supply/ PHED officials, and citizens, said the government.
The pilots have led to several outcomes as it has helped identify distribution issues – such as outages, leakages, low pressure, etc. and led to resolution across sites.
Hypnea indica
New species of red algae discovered. They were named Hypnea indica (after India) and Hypnea bullata.
They grow in the intertidal regions (an area that is submerged during the high tide and exposed during low tides) of the west, south east Indian coast.
Red algae are one of the earliest eukaryotic algae,mostly found in marine habitats.They are red because of the presence of the pigment phycoerythrin.
CLICK HERE FOR FULL CURRENT AFFAIRS (Only for Course Members)
::INTERNATIONAL::
India, Mauritius free trade agreement
Several Indian products will enjoy the benefit of greater market access at concessional duties in Mauritius as the free trade agreement signed between the two countries will come into effect from April 1.
India and Mauritius signed the Comprehensive Economic Cooperation and Partnership Agreement (CECPA), a kind of free trade pact, on February 22.
Both sides have completed their internal legal procedures and the India-Mauritius CECPA will enter into force on 01 April 2021.
The pact covers 310 export items for India, including food and beverages, agricultural products, textile and textile articles, base metals, electricals and electronic item, plastics and chemicals, and wood.
India has offered around 95 sub-sectors from the 11 broad services sectors, including R&D, telecommunication, financial, distribution, higher education, environmental, health, and transport services.
It added that Indian exporters have to obtain a Certificate of Origin (CoO) from the authorised Indian agencies to avail the preferential benefits under the agreement.
International treaty for pandemic preparedness and response
Leaders of several nations including UK, Germany, France, Indonesia etc along with World Health Organisation(WHO) called on the international community to work towards ITPPR.
Main goal would be to foster a comprehensive, multi-sectoral approach to strengthen national, regional and global capacities and resilience to future pandemics.
It aims to be better prepared to predict, prevent, detect, assess and effectively respond to pandemics ina highly coordinated fashion.
::ECONOMY::
Government slashes rates on small savings schemes by up to 1.1%
The government has sharply slashed the rates on all small savings instruments for the first quarter of 2021-22.
About:
This bringing the rate of return on the Public Provident Fund down from 7.1% to 6.4% and effecting cuts ranging from 40 basis points (0.4%) to 110 basis points (1.1%).
The sharpest cut announced earlier was seen in the quarterly interest rate paid on one-year term deposits, from 5.5% in the January to March quarter to 4.4% in this quarter.
The rate of return on the Senior Citizen Savings' Scheme was cut from 7.4% to 6.5%, while the Sukanya Samriddhi Account Scheme's return was reduced from 7.6% to 6.9%.
The interest rate paid on National Savings Certificate and Kisan Vikas Patra were also reduced from 6.8% to 5.9%, and from 6.9% to 6.2%.
The Kisan Vikas Patra, which used to mature in 124 months, will now mature in 138 months.
::SCIENCE AND TECHNOLOGY::
AIM-PRIME
Atal Innovation Mission (AIM), NITI Aayog launched AIM-PRIME (Program for Researchers on Innovations, Market-Readiness and Entrepreneurship).
About:
It is an initiative to promote and support science-based deep-tech startups and ventures across India.
AIM has joined hands with Bill & Melinda Gates Foundation (BMGF) to launch this nationwide program which will be implemented by Venture Center - a non-profit technology business incubator.
Deep technology is an outcome of very intense research and development (R&D) with high knowledge content.
The benefits of this program are aimed at addressing specific issues through training and guidance over a period of 12 months.
Candidates selected for the program will get access to in-depth learning via a comprehensive lecture series, live team projects, exercises, and project-specific mentoring.
They will also have access to a deep tech startup playbook, curated video library, and plenty of peer-to-peer learning opportunities.
The AIM-PRIME program is specifically tailored for the rapid scaling up of deep-tech science ventures in India, providing not just the necessary intellect and support but also the exposure they rightly deserve.
The announcement was made as a part of the virtual programme attended by officials of AIM, NITI Aayog, BMGF, Venture Centre,Incubators, startups and mentor amongst other beneficiaries.
 CLICK HERE FOR FULL CURRENT AFFAIRS (Only for Course Members)