Current Affairs for IAS Exams - 01 August 2022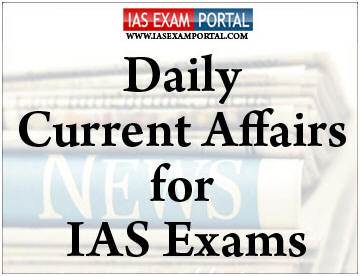 ---
Current Affairs for IAS Exams - 01 August 2022
::NATIONAL::
Centre formed special task force to monitor monkeypox
The Union health ministry has formed a special task force to monitor monkeypox cases, assist in the expansion of diagnostic facilities, and explore the possibility of vaccine development or sourcing to control the infection.
About:
The task force will also coordinate cases from states and provide any expertise that the states need," said a health ministry official, who did not want to be named.
India has so far reported three monkeypox cases from Kerala and one from Delhi. The cases exclude that of a 22-year-old man, who died in Kerala's Thrissur on Saturday. 
Monkeypox is a viral zoonosis, or a virus transmitted to humans from animals, with symptoms similar to those in smallpox patients. 
The World Health Organisation has said it is clinically less severe than smallpox and declared monkeypox a "public health emergency of international concern".
Over 20,000 monkeypox cases have been reported from 75 countries globally.
Centre notifies new health warnings on tobacco product packs
Ministry of Health and Family Welfare has notified new sets of specified health warnings for all tobacco product packages by makingan amendment in the Cigarettes and other Tobacco Products (Packaging and Labelling) Rules, 2008.
About:
All tobacco products manufactured, imported, or packaged on or after December 1, 2022 shall display a new image with thetextual health warning 'Tobacco causes painful death'
New health warnings shall be for a period of twelve months.
According to Global Adult Tobacco Survey India (2016-17), nearly 267 million adults in India (29% of all adults) are users oftobacco.
Tobacco use is a major risk factor for many chronic diseases, including cancer, lung disease, cardiovascular disease and stroke.
It accounts for more than 1.3 million deaths every year.
Programme against tobacco use: 
National Tobacco Control Programme (NTCP).
CLICK HERE FOR FULL CURRENT AFFAIRS (Only for Course Members)
::INTERNATIONAL::
Ex VINBAX 2022
The 3rd Edition of Vietnam-India Bilateral Army Exercise "Ex VINBAX 2022" will begin from 1st of August 2022.
About:
India and Vietnam share a Comprehensive Strategic Partnership and defence cooperation is a key pillar of this partnership. Vietnam is an important partner in India's Act East policy and the Indo-Pacific vision.
The theme of Ex VINBAX - 2022 is the employment and deployment of an Engineer Company and a Medical Team as part of the United Nations Contingent for Peace Keeping Operations.
The conduct of Ex VINBAX - 2022 as a field training exercise with enhanced scope from previous editions of bilateral exercises will strengthen mutual confidence, and inter-operability and enable sharing of best practices between the Indian Army and Vietnam People's Army. 
The joint exercise will also provide an opportunity to the troops of both the Contingents to learn about the social and cultural heritage each other. Indian Army is being represented by troops from the 105 Engineer Regiment.
AL NAJAH-IV
The 4th Edition of India Oman Joint Military Exercise 'AL NAJAH-IV' between contingents of Indian Army and the Royal Army of Oman is scheduled to take place at the Foreign Training Node of Mahajan Field Firing Ranges (Rajasthan) from 01 to 13 August 2022. 
About:
The Royal Army of Oman contingent comprising 60 personnel from the Sultan of Oman Parachute Regiment have arrived at the exercise location. The Indian Army is represented by troops from the 18 MECHANISED INFANTRY Battalion. 
The scope of the exercise includes professional interaction, mutual understanding of drills & procedures, establishment of joint command & control structures and elimination of terrorist threats. 
The joint exercise would focus on Counter Terrorism Operations, Regional Security Operations and Peace Keeping Operations under United Nations charter apart from organising joint physical training schedules, tactical drills, techniques and procedures.
CLICK HERE FOR FULL CURRENT AFFAIRS (Only for Course Members)
::ECONOMY::
Aid for Trade
India received the highest recipient of aid for trade from developed countries in 2020.
About:
Overall, India received $2.7 billion out of $48.7 billion of total disbursements.
It helps developing countries, particularly least developed countries, by mobilising resources toaddress the supply-side and trade-related infrastructure obstacles.
Its progress is monitored by the WTO (World Trade Organisation) and OECD (Organisation forEconomic Cooperation and Development).
CLICK HERE FOR FULL CURRENT AFFAIRS (Only for Course Members)
::SCIENCE AND TECHNOLOGY::
Invasive Species
Two invasive species, the American bullfrog and the brown tree snake, cost the world an estimated $16 billion between 1986 and 2020, by causing problems ranging from crop damage to power outages, according to a study published in Scientific Reports.
About:
The brown-and-green frog, known as lithobatescatesbeianus and weighs over two pounds (0.9 kg), had the greatest impact in Europe.
The brown tree snake, known as boigairregularis, has multiplied uncontrollably on Pacific islands including Guam and the Mariana Islands, where the species was introduced by the U.S. troops in World War II.
The snakes have, at times, been so abundant that they caused power outages by crawling on electrical equipment. This signals the need for investment controlling global transport of invasive species to avoid paying for mitigation after the invasions occur.
CLICK HERE FOR FULL CURRENT AFFAIRS (Only for Course Members)