Current Affairs for IAS Exams - 01 June 2022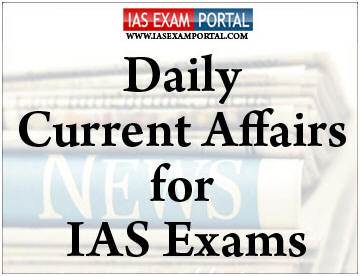 ---
Current Affairs for IAS Exams - 01 June 2022
::NATIONAL::
Sugar Cultivation
After a five-year gap, Maharashtra has overtaken Uttar Pradesh (UP) to regain its position as India's top sugar producer.
The State output for the 2021-22 crushing year (October-September) at 138 lakh tonnes (lt). That is an all-time-high, beating the previous 107.21 lt of 2018-19.
About Sugar production:
After Brazil, India is the largest sugar producer globally.
It needs hot and humid climate with an average temperature of 21°C to 27°C.
75-150 cm rainfall is favorable for sugar cane cultivation.
Moisture retaining and deep rich loamy soil is ideal for its growth.
Reason for decline: 
High diversion of sugar cane for making ethanol recently.
Loss from excess rains and water-logging in low-lying areas of eastern UP.
CLICK HERE FOR FULL CURRENT AFFAIRS (Only for Course Members)
PM CARES for Children Scheme 
Prime Minister Narendra Modi will release benefits under the PM CARES for children scheme.
About:
A passbook of PM CARES for Children, and health card under Ayushman Bharat - Pradhan Mantri Jan Arogya Yojana will be handed over to the children during the programme, the Prime Minister's Office said.
PM CARES for Children Scheme was launched by the Prime Minister on May 29, 2021 to support children who have lost both the parents or legal guardian or adoptive parents or surviving parent to COVID-19 pandemic, during the period from March 11, 2020 to February 28, 2022.
Under the Scheme Scholarship allowance would be Rs. 20,000/- per child per annum which will comprise monthly allowance of Rs.1,000 per month and Annual academic allowance of Rs. 8,000 to cover the entire school fees, cost of the books and uniform, shoes and other educational equipment.
The objective of the scheme is to ensure comprehensive care and protection of children in a sustained manner by providing them boarding and lodging, empowering them through education and scholarships, equipping them for self-sufficient existence with financial support of Rs 10 lakh on attaining 23 years of age and ensuring their wellbeing through health insurance.
CLICK HERE FOR FULL CURRENT AFFAIRS (Only for Course Members)
::INTERNATIONAL::
UN report on the Taliban regime
A new report from the Analytical Support and Sanctions Monitoring Team of the United Nations Security Council (UNSC) says that foreign terrorist organisations continue to enjoy safe haven under the new Taliban regime. 
About:
The report adds that due to financial constraints, and possibly under political pressure not to embarrass the Taliban internationally at this juncture, the terrorist groups are currently in consolidation mode and not likely to launch major attacks outside Afghanistan before 2023.
The monitoring team assists the UNSC sanctions committee. Its report, circulated among committee members, informs the formulation of UN strategy in Afghanistan. 
India is currently the chair of the sanctions committee, which comprises all the 15 UNSC members. 
This report — the 13th overall — is the first since the Taliban returned to power in August 2021. The UN team could not visit Afghanistan for evidence-gathering. 
Tehreek-e-Taliban Pakistan (TTP) constitutes the largest component of foreign terrorist fighters in Afghanistan, with their numbers estimated at 3,000-4,000, and mostly located along the east and south-east Afghanistan-Pakistan border areas.
Climate emergency declared in Vanuatu
Vanuatu has declared a climate emergency. The country is located in the southwestern Pacific Ocean.
About:
The International Court of Justice (ICJ) affirm that vulnerable nations must be protected from climate change.
Home to 300,000 people across a 1,300-kilometre daisy chain of some 80 islands, Vanuatu lost 64% of its GDP to Tropical Cyclone Pam in 2015 and endured further devastation from Cyclone Harold in 2020.
There is no precise definition of climate emergency, however, this move will put the climate andthe environment at the very centre of all government policy, rather than being on the fringe ofpolitical decisions.
CLICK HERE FOR FULL CURRENT AFFAIRS (Only for Course Members)
::ECONOMY::
India's fiscal deficit improves to 6.7% in FY22
The Fiscal deficit improved to 6.71% of the FY22 GDP over the revised budget estimate of 6.9% mainly on account of higher tax realisation. 
About:
Unveiling the revenue-expenditure data of the Union government, the Controller General of Accounts (CGA) said that the fiscal deficit in absolute terms was ₹15,86,537 crore (provisional). 
During the fiscal Tax receipts were at ₹18.2 lakh crore as against the revised estimates (RE) of ₹17.65 lakh crore. 
Total expenditure was higher at ₹37.94 lakh crore against the revised estimated of ₹37.7 lakh cr presented to Parliament on February 1, 2021. 
The CGA further informed the revenue deficit at the end of the fiscal was 4.37% for fiscal year 2021-22. 
As the fiscal deficit of the Centre was contained marginally below the FY22 revised estimate, benefitting from the higher tax and non-tax revenue and lower capital spending, which absorbed the shortfall in non-debt capital revenue and higher capital spending.
CLICK HERE FOR FULL CURRENT AFFAIRS (Only for Course Members)
::SCIENCE AND TECHNOLOGY::
PARAM ANANTA
PARAM ANANTA Supercomputer commissioned at IIT, Gandhinagar.
Supercomputer established under Phase 2 of National Supercomputing Mission to Facilitate Computational Research.
About:
Dedicated to the nation under National Supercomputing Mission (NSM) - a joint initiative of Ministry of Electronics and Information Technology (MeitY) and Department of Science and Technology (DST).
PARAM ANANTA system is based on Direct Contact Liquid Cooling technology to obtain a high power usage effectiveness and thereby reducing the operational cost. 
Multiple applications from various scientific domains such as Weather and Climate, Bioinformatics, Computational Chemistry, Molecular Dynamics, Material Sciences, Computational Fluid Dynamics etc. have been installed on the system for the benefit of researchers. 
CLICK HERE FOR FULL CURRENT AFFAIRS (Only for Course Members)