Current Affairs for IAS Exams - 01 September 2022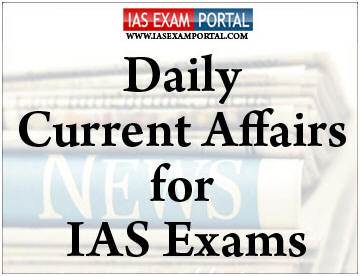 ---
Current Affairs for IAS Exams - 01 September 2022
::NATIONAL::
National Pharmaceutical Pricing Authority (NPPA)
Silver Jubilee Celebrations of NPPA, an attached office of Department of Pharmaceuticals (DoP),Ministry of Chemicals & Fertilizers, held recently.
About:
NPPA was constituted in 1997 as an independent Regulator for pricing of drugs to Implement provisions of Drugs (Prices Control) Order (DPCO).
Monitor availability of drugs, identify shortages and to take remedial steps.
Maintain data on production, exports and imports etc. for bulk drugs and formulations.
On the occasion following initiatives were also launched:
Integrated Pharmaceutical Database Management System 2.0 to provide a single window forsubmissions of various forms as mandated under DPCO,2013.
Pharma SahiDaam 2.0 App with updated features like speech recognition, facility for launching complaints etc.
Animal Birth Control Rules 2022
Centre proposes new rules to control population of street dogs.
Rules amend 2001 rules and define responsibilities (of stakeholders at different levels) to securethe welfare and wellbeing of animals.
Rules will help in fulfilling commitment under National Action Plan for Dog Mediated RabiesElimination by 2030.
Key guidelines:
Fix responsibility of resident welfare associations (RWAs) in feeding community animals in their respective localities.
Setting up of monitoring committee to control excess population of street dogs through animalbirth control programmes.
CLICK HERE FOR FULL CURRENT AFFAIRS (Only for Course Members)
::INTERNATIONAL::
Nasa postpones launch of Artemis 1 moon mission over rocket engine snag
NASA's Artemis mission is aimed at exploring Moon with specific objective of getting human beings back on lunar surface andpossibly beyond, to Mars and elsewhere.
Key highlights: 
Artemis I mission will be an uncrewed tested flight, while Artemis II will have a crew.
Lunar landing is only expected in Artemis III.
Artemis I was going to be the first flight of new Space Launch System (SLS) rocket (one of the most powerful) that will propel Orionspacecraft, designed to meet demands of human missions to deep space.
There has been renewed interest on Moon with several countries planning lunar missions in coming years.
These include Chandrayaan-3 (India), Pathfinder Lunar Orbiter (Korea), Luna 25 (Russia), SLIM (Japan) etc.
Mikhail Gorbachev
Mikhail Gorbachev, the last leader of the Union of Soviet Socialist Republics, has died at the age 91. 
About:
Gorbachev's desire to pull the USSR out of economic and social stagnation not only led to the collapse of the USSR but also ended the old war. But two words — "perestroika" and "glasnost" — will forever be associated with Gorbachev and, in essence, will be his legacy. Simply put, perestroika, means restructuring and glasnost means openness.
When Gorbachev took over as the General Secretary of the Communist Party in 1985, the then USSR was already groaning under the inefficiencies of a planned economy. 
While official data did not show it, the fact was that almost all of the USSR's economic parameters — be it the GDP growth rate or labour productivity etc. — had collapsed since the start of 1970s. 
CLICK HERE FOR FULL CURRENT AFFAIRS (Only for Course Members)
::ECONOMY::
Fake Currencies 
Nearly 60% of all fake notes seized in 2021 were of ₹2,000 denomination, the Crime in India 2021 report compiled by the National Crime Records Bureau (NCRB) shows.
About:
Of the fake Indian currency notes with a face value of ₹20.39 crore seized in 2021, ₹12.18 crore was in the denomination of ₹2,000.
The new ₹2,000 and ₹500 currency notes were introduced in 2016 after the old ₹500 and ₹1,000 notes were scrapped by the Union government. The government had said that curbing of fake notes was one of the primary objectives of the 2016 demonetisation exercise.
Post-2016, there has been an increase in seizure of fake money, the NCRB data reveal.
CLICK HERE FOR FULL CURRENT AFFAIRS (Only for Course Members)
::SCIENCE AND TECHNOLOGY::
Anti-radiation Pills
With fears of a nuclear disaster at Ukraine's Zaporizhzhia power plant growing, the European Union has decided to pre-emptively supply 5.5 million anti-radiation pills to be distributed among residents in the vicinity.
What is a radiation emergency?
These are unplanned or accidental events that create radio-nuclear hazard to humans and the environment. Such situations involve radiation exposure from a radioactive source and require prompt intervention to mitigate the threat.
Dealing with such an emergency also involves the use of anti-radiation tablets.
What are anti-radiation pills?
Potassium iodide (KI) tablets, or anti-radiation pills, are known to provide some protection in cases of radiation exposure. They contain non-radioactive iodine and can help block absorption, and subsequent concentration, of radioactive iodine in the thyroid gland.
CLICK HERE FOR FULL CURRENT AFFAIRS (Only for Course Members)