Current Affairs for IAS Exams - 02 March 2021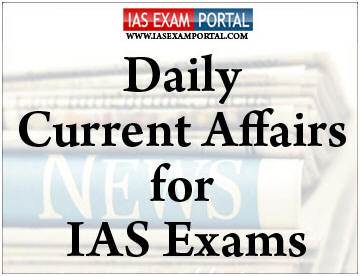 ---
Current Affairs for IAS Exams - 02 March 2021
::NATIONAL::
Sahitya Akademi Fellowship
Recently, Sahitya Akademi Fellowship was awarded to a distinguished scholar, writer, translator and critic,Professor Velcheru Narayana Rao.
Sahitya Akademi Fellowship is the highest literary honour in the country awarded by Sahitya Akademi.
Sahitya Akademiis an autonomous organization under Ministry of Culture working to promote literature in the languages of India including English.
This honour is reserved for 'the immortals of literature' and limited to 21 only at any given time.
Sahitya Akademi has also instituted a Premchand Fellowship named after Premchand during his 125thBirth Anniversary in 2005.
Custodian of Enemy Properties for India
The Centre has identified over 3,000 new enemy properties left behind by the Chinese and Pakistani nationals after the India-China war in 1962 and Indo-Pak wars in 1965 and 1971.
According to government officials, the number of enemy properties vested with the Custodian of Enemy Properties for India (CEPI) has risen to 12,426 from 9,406.
Enemy property/alien properties refers to property or assets held or managed on behalf of an enemy subject or an enemy company.
It also refers to assets left behind by individuals who migrated to Pakistan or China and are no longer citizens of India.
Enemy Property Act 1968 was enacted to deal with such properties.
Administration of enemy properties is done by Custodian of Enemy Property for India (CEPI), underMinistry of Home Affairs.
CLICK HERE FOR FULL CURRENT AFFAIRS (Only for Course Members)
::INTERNATIONAL::
India-Russia explore partnership with Asean as part of Indo-Pacific construct
India and Russiahave decided to explore a partnership in the Indo-Pacific region with special focus on the Asean region and SE Asia.
It is happening the following the recent senior-level consultations led by the foreign secretary in Moscow.
New Delhi and Moscow are in talks to join hands with Asean-related bodies as part of their emerging Indo-Pacific partnership besides widening their connectivity and business links in East Asia and North-East Asia.
It is understood that the Russian side is receptive to India's suggestions and is expected to explore bilateral partnership in the Asean with focus on post-pandemic economic re-building.
India has been emphasising on a free, open and inclusive Indo-Pacific region and as part of its inclusivity concept views Russia as a Pacific power and a key player in the Indo-Pacific region.
Global Association for Physicians of Indian Origin
Union Minister for Health communicated the Global Indian Physicians Congress, organised by the Global Association for Physicians of Indian Origin (GAPIO), through virtual conference.
GAPIO is a non-profit organization established in 2011.
It is founded by Padma Vibhushan, Dr.Prathap C Reddy, Chairman of Apollo Hospitals Group and Founder President of GAPIO along with Dr.Sanku Rao – Past President of AAPI, USA and Dr. Ramesh Mehta – President of BAPIO, UK.
The aim of GAPIO is to bring together 1.4 million physicians of Indian origin in the world on one professional platform. 
GAPIO currently has presence in 53 countries. Dr. Anupam Sibal is the current President of GAPIO.
::ECONOMY::
Mobile Train Radio Communication 
Mobile Train Radio Communication (MTRC) System commissioned first time in Western Railway Trainsin Mumbai.
The Mobile Train Radio Communication system is an effective and a technologically advanced communication system which can play an intrinsic role in preventing train accidents and reducing delays through effective communication.
It facilitates an instant and constant interaction of train crew with the Control Centre and the Station Master.
MRTC acts in a similar way to that of Air traffic control (ARC) for aircrafts.
The system will monitor, track and aid in communication between the trains and the control room thereby ensuring smooth movement of rakes as well as help in preventing adverse events.
::SCIENCE AND TECHNOLOGY::
TLR7/8 
The Indian Institute of Chemical Technology (IICT)played a role in the development of Covexin, the indigenous vaccine developed by city-based Bharat Biotech International Limited.
The vaccine is a highly purified, whole virion, inactivated SARS-CoV2.
The vaccine has been formulated with 'Algel-IMDG', which contains chemically absorbed TLR7/8 as an agonist or an adjuvant onto aluminium hydroxide gel to generate the requisite type of immune responses without damaging the body.
The firm had approached the IICT to develop the synthetic route for the adjuvant molecule TLR 7/8 with indigenous chemicals at an affordable price and with highest purity.
This indigenously developed molecule aided Bharat Biotech to scale up the production of the adjuvant.
CLICK HERE FOR FULL CURRENT AFFAIRS (Only for Course Members)
::MISCELLANEOUS::
Bir Chilarai
Prime Minister recently paid tribute to Bir Chilarai (also called Shukla Dhwaj).
He was a general of the Koch Royal Dynasty of Assam and played a crucial role in expanding empire of his elder brother, Nara Narayan.
He was son of Maharaja Viswa Singha, the founder ruler of Koch royal dynasty.
Assam government confers Bir Chilarai Award, the highest honor for bravery to individuals.