Current Affairs for IAS Exams - 02 April 2021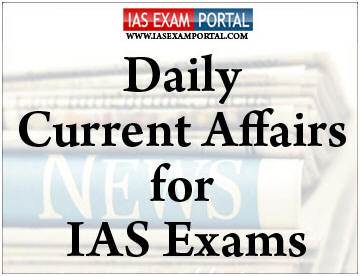 ---
Current Affairs for IAS Exams - 02 April 2021
::NATIONAL::
DSIR-PRISM Scheme
Recently, awareness program for Department of Scientific and Industrial Research (DSIR) -PRISM was launched.
DSIR, part of Ministry of Science and Technology, carries out activities relating to indigenous technology promotion, development, utilization and transfer.
PRISM is aimed at transforming an individual innovator into a successful technopreneur by promoting,supporting, and funding implementable and commercially viable innovations created for the society.
Under PRISM, an innovator of Indian nationality is provided technical, strategic, and financial assistance.
It is implemented across various sectors from energy to healthcare to waste management and others.
6th Annual Meeting ofBoard of Governors of NewDevelopment Bank
Union Minister of Finance and Corporate Affairs who is also India's Governor in NDB attended event.
NDB, a multilateral development bank was set up in 2014 during sixth BRICS (Brazil, Russia, India, China,and South Africa) summit through Fortaleza declaration.
The Bank's capital is equally shared among founding members.
All members of the United Nations could be members of the bank, however the share of the BRICS nations can never be less than 55% of voting power.
NDB's Headquarters are in Shanghai, China.
CLICK HERE FOR FULL CURRENT AFFAIRS (Only for Course Members)
::INTERNATIONAL::
Shantir Ogroshena -2021
Indian Army will participate in Multinational Military Exercise namely SHANTIR OGROSHENA -2021 in Bangladesh.
The nine days exercise will start on the 4th of this month to commemorate the birth centenary of Bangladesh Father of the Nation, Bangabandhu Sheikh Mujibur Rahman and mark glorious 50 years of liberation.
Indian Army contingent comprising 30 personnel from the Dogra Regiment will participate in the exercise along with contingents of Bhutan, Sri Lankan and Bangladesh Armies.
The theme of the exercise is Robust Peace Keeping Operations.
Military observers from the USA, UK, Turkey, Saudi Arabia, Kuwait and Singapore will also be in attendance throughout the exercise.
Pakistan resumes trade with India after 19 months
Pakistan lifted ban on cotton and sugar imports from India, after it had banned imports of goods from Indiain 2019, after abrogation of Article 370.
Also, India had revoked Pakistan's Most Favoured Nation (MFN) status and imposed 200 per cent tariff onPakistani imports in the aftermath of Pulwama terrorist attack.
Before the ban, bilateral trade has hovered around $2 billion between the two.
::ECONOMY::
Harmonised System of Nomenclature Code (HSN) Code
With effect from the 1st April, 2021, it has been made mandatory for a GST taxpayer, having turnover of more thanRs 5 crore in the preceding financial year, to furnish HSN Code or SAC on the invoices issued for supplies of taxable goods and services.
HSN code is a 6-digit uniform code that classifies 5000+ products and is accepted worldwide. It was developed by the World Customs Organization (WCO).
SAC are codes issued by CBEC to uniformly classify each service under GST. Each service has a unique SAC.
::SCIENCE AND TECHNOLOGY::
Baikal-GVD
Russian scientists launched one of the world's biggest underwater neutrino telescopes called the Baikal-GVD (Gigaton Volume Detector) in the waters of Lake Baikal, the world's deepest lake situated in Siberia.
About:
The construction of this telescope, which started in 2016, is motivated by the mission to study in detail the elusive fundamental particles called neutrinos and to possibly determine their sources.
Studying this will aid scientists' understanding of the origins of the universe since some neutrinos were formed during the Big Bang, others continue to be formed as a result of supernova explosions or because of nuclear reactions in the Sun.
The Baikal-GVD is one of the three largest neutrino detectors in the world along with the IceCube at the South Pole and ANTARES in the Mediterranean Sea.
 CLICK HERE FOR FULL CURRENT AFFAIRS (Only for Course Members)
::MISCELLANEOUS::
Lake Baikal
Lake Baikal is a rift lake located in southern Siberia, Russia.
Lake Baikal is the largest freshwater lake by volume in the world, containing 22 to 23% of the world's fresh surface water.
With a maximum depth of 1,642 m (5,387 ft), Baikal is the world's deepest lake.
It is the world's oldest lake at 25–30 million years.
It is the seventh-largest lake in the world by surface area.
Lake Baikal formed as an ancient rift valley and has a long, crescent shape.
The region to the east of Lake Baikal is referred to as Transbaikalia or as the Transbaikal, and the loosely defined region around the lake itself is sometimes known as Baikalia.
UNESCO declared Lake Baikal a World Heritage Site in 1996.