Current Affairs for IAS Exams - 02 August 2022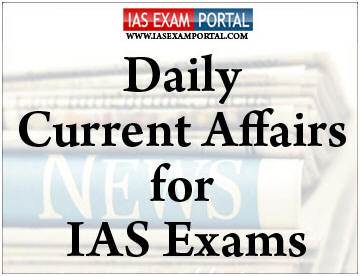 ---
Current Affairs for IAS Exams - 02 August 2022
::NATIONAL::
Electoral bonds
Data from State bank of India shows that since 2018, political parties havecollected more than Rs 10000 cr. from Electoral bonds (EB).
Union Budget 2017-18 introduced EBs as interest-free bearer instruments inan attempt to cleanse the system of political funding in the country.
About:
Electoral bonds (valid for 15 days from the date of issue) can be purchased by acitizen of India or entities incorporated or established in India.
Rationale was to: limit the use of cash in political funding, eliminate fraudulent political parties, Protecting donor from political victimization, curbblack money etc.
Sold in multiples of Rs 1,000, Rs 10,000, Rs 1 lakh, Rs 10 lakh, and Rs 1 crore.SBI is the only bank authorised to sell them.
Concern over Electoral Bonds: 
Anonymous donation may compromise withthe principle of free and fair election.
Allowed possibility of corporate misuse as itremoves limits and disclosure requirements onCompany donations to Political Parties.
CLICK HERE FOR FULL CURRENT AFFAIRS (Only for Course Members)
Creation of Districts
The West Bengal cabinet has approved the creation of seven new districts in the state. This will take the number of districts in West Bengal to 30 from the existing 23.
Key highlights: 
A new Sundarban district will be carved out of South 24-Parganas district;
Two new districts will be created out of North 24-Parganas district — Ichhamati in Bongaon subdivision and a yet unnamed district in Basirhat;
Ranaghat, a city and municipality in Nadia district, will become the fourth new district;
A new district of Bishnupur will be carved out of the existing Bankura district; and
Two new districts of Baharampur and Jangipur will be created out of Murshidabad.
Significance: 
States keep creating new districts from time to time. 
CLICK HERE FOR FULL CURRENT AFFAIRS (Only for Course Members)
::INTERNATIONAL::
India to work towards unlocking trade potential with Central Asia through Chabahar Port
On the occasion of Chabahar Day, India affirmed its commitmenttowards unlocking its trade potential with Central Asian Region (CAR)by making Chabahar Port a transit hub under INSTC.
About:
Chabahar port is located in Gulf of Oman at Sistan-Baluchistanprovince of Iran on Makran Coast. It is jointly developed by India, Iranand Afghanistan.
Using Chabahar, India can bypass Pakistan in transportinggoods to Afghanistan and landlocked Central Asia.
Significance:
Endowed with commercially viable quantities of minerals like coal,gas, uranium etc.
Participation of private sector in building infrastructure projectsrail, road, highways, power transmission lines, nuclear power, etc.
Provides a near abroad market for India's industry.
CLICK HERE FOR FULL CURRENT AFFAIRS (Only for Course Members)
India Maldives ties 
Maldives President Ibu Solih arrived in Delhi for a bilateral visit on Monday, amid rows within his government over ties with India, the Yoga Day attack, and a bitter row with Maldivian Speaker, former President and party colleague Mohammad Nasheed.
About:
During his four-day visit, Mr. Solih will is expected to focus on enhancing trade and connectivity between the two countries.
He will meet with Prime Minister Narendra Modi for bilateral talks, discuss strategic ties, and the status of infrastructure agreements between them, and sign a number of MoUs (Memorandum of Understanding).
The infrastructure projects include the Greater Male Connectivity Project of bridges connecting the capital city to neighbouring islands, to be built by Indian company Afcon with the help of a $400-million Line of Credit and a $100-million grant from India, along with other projects under India's $1.4-billion assistance announced during Mr. Solih's last visit to India in December 2018.
CLICK HERE FOR FULL CURRENT AFFAIRS (Only for Course Members)
::ECONOMY::
Responsible AI for Youth 2022
National E-Governance Division of Ministry of Electronics & IT in collaboration with Intel India launched 'Responsible AI for Youth 2022' program.
About:
Program is aimed at enabling school students with Artificial intelligence (AI) skills in an inclusive manner through exclusive hands-on learning and mentorship opportunities.
It is open to all school students studying in classes 8-12 across India.
Objectives of the program: Foster a deeper understanding of AI-tech and social skills, enableyouth to develop AI-enabled solutions etc.
CLICK HERE FOR FULL CURRENT AFFAIRS (Only for Course Members)
::SCIENCE AND TECHNOLOGY::
Alpha Fold
Deep Mind, a company based in London and owned by Google, announced this week that it had predicted the three-dimensional structures of more than 200 million proteins using AlphaFold. 
What is Alpha Fold?
AlphaFold is an AI-based protein structure prediction tool. 
It is based on a computer system called deep neural network. Inspired by the human brain, neural networks use a large amount of input data and provides the desired output exactly like how a human brain would. 
The real work is done by the black box between the input and the output layers, called the hidden networks. AlphaFold is fed with protein sequences as input. 
CLICK HERE FOR FULL CURRENT AFFAIRS (Only for Course Members)