Current Affairs for IAS Exams - 02 September 2022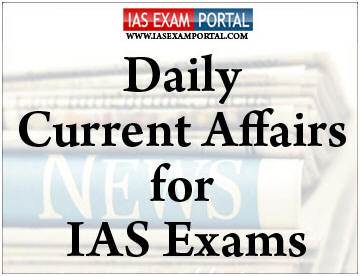 ---
Current Affairs for IAS Exams - 02 September 2022
::NATIONAL::
India-made HPV vaccine
India's first indigenously developed vaccine to prevent cervical cancer, CERVAVAC, will likely cost ₹200-400 a shot and be commercially available later this year.
About:
CERVAVAC, developed by Serum Institute of India (SII), was approved by the Drug Controller General of India in July.
CERVAVAC is a quadrivalent vaccine, meaning it is effective against at least four variants of cancer-causing Human Papilloma Virus (HPV), and resulted from a partnership of DBT's Biotechnology Industry Research Assistance Council (BIRAC), and the Bill and Melinda Gates Foundation that supported Serum's development efforts.
Annually, about 1.25 lakh women are diagnosed with cervical cancer, and over 75,000 die from the disease in India. Close to 83% of invasive cervical cancers in India and and 70% of cases worldwide are attributed to HPV-types 16 or 18.
CLICK HERE FOR FULL CURRENT AFFAIRS (Only for Course Members)
::INTERNATIONAL::
Super Typhoon Hinnamnor
The strongest tropical storm of 2022, dubbed Super Typhoon 'Hinnamnor', has been barrelling across the western Pacific Ocean and is presently hurtling back towards the islands of Japan and South Korea, packing wind speeds of upto 241 kilometres per hour.
About:
On September 1 morning, the category 5 typhoon — the highest classification on the scale — was about 230 km away from Japan's Okinawa prefecture, according to the Hong Kong Observatory. 
Thunderstorm warnings have been issued in several regions across the country. As it inches towards the Japanese islands once again, the typhoon is expected to develop further.
Hinnamnor is the 11th tropical storm this year to develop into a typhoon.
The storm is expected to move towards parts of Southwestern Japan, Eastern China and South Korea over the next few days. 
One of the factors contributing to the Super Typhoon rapidly intensifying and expanding is the fact that it has started absorbing other local meteorological systems. 
Warm tropical waters and other pre-existing meteorological disturbances have also led to the system's escalation.
UN Human Rights Council
The Geneva-based UN Human Rights Council (HRC) accused China of serious human rights violations that may amount to "crimes against humanity" in a report examining a crackdown on Uighurs / Uyghurs and other ethnic groups.
About:
Human rights groups have accused China of sweeping a million or more people from the minority groups into detention camps, where many have said they were tortured, sexually assaulted, and forced to abandon their language and religion.
There are about 12 million Uyghurs, mostly Muslim, living in Xinjiang, which is officially known as the Xinjiang Uyghur Autonomous Region (XUAR).
The Uyghurs speak their own language, which is similar to Turkish, and see themselves as culturally and ethnically close to Central Asian nations. They make up less than half of the Xinjiang population.
CLICK HERE FOR FULL CURRENT AFFAIRS (Only for Course Members)
::ECONOMY::
300 billion USD in electronic production by 2026
MoS for Electronics & Information Technology presented a report titled "Globalize to Localize: Exporting at Scale and Deepening the Ecosystem are Vital to Higher Domestic Value Addition".
About:
The India Council for Research on International Economic Relations (ICRIER) and India Cellular and Electronics Association (ICEA) prepared this report that examines how India might reach its goal of $300 billion in electronics production and US$120 billion in exports by 2025–2026.
Status of electronic sector in India
The electronics sector of India contributes around 3.4% of the country's GDP.
The electronics industry is a 76 bn dollar manufacturing economy with 16 bn dollarof exports, with a target of 21 to 25 bn dollars of exports in next year.
Electronics as a sector has jumped to the 6th largest export from India in 2022.
India's domestic production in electronics has increased $ 29 Bn in 2014-15 to $ 67 Bnin 2020-21. 
CLICK HERE FOR FULL CURRENT AFFAIRS (Only for Course Members)
::SCIENCE AND TECHNOLOGY::
Potassium iodidetablets
Amidst the fear of nuclear disaster at Ukraine's Zaporizhzhia power plant growing, the EuropeanUnion has decided to supply anti-radiation pills to residents in the vicinity.
About:
Potassium iodide (KI) tablets, or anti-radiation pills, are known to provide some protection in cases of radiationexposure.
They contain non-radioactive iodine and can help block absorption, and subsequentconcentration, of radioactive iodine in the thyroid gland.
KI tablets helps to achieve 'thyroid blocking'.
CLICK HERE FOR FULL CURRENT AFFAIRS (Only for Course Members)