Current Affairs for IAS Exams - 03 February 2019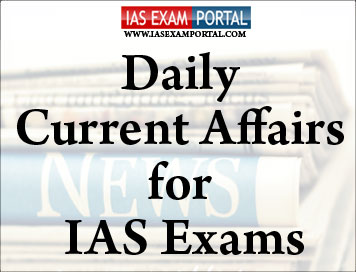 Current Affairs for IAS Exams - 03 February 2019
::NATIONAL::
Vice president urges need to bring in structural changes in agriculture
 Vice President M Venkaiah Naidu today stressed the need for structural changes in Agriculture to achieve home grown food security and promote rural employment.
 He was addressing students, teachers and agricultural scientists, at the VNR Vigyan Jyothi Institute of Engineering and Technology on the outskirts of Hyderabad after inaugurating Yogayya Naidu building on the institute's campus a short while ago.
 Speaking on the occasion, he advocated for diversification of farming systems and value addition to primary agriculture products through improved post-harvest technology.
 He said small-scale and village industries should be focussed for up-gradation of both technology and marketing skills by rural youth.
 He also stressed on the need for greater synergy between the private, public and co-operative sectors to create more avenues for skilled jobs in the villages.
Former Madhya Pradesh DGP appointed as new CBI director
 Former Director-General of Police of Madhya Pradesh Rishi Kumar Shukla, a 1983 batch Indian Police Service (IPS) officer of the M.P. cadre, was on Saturday appointed the Director of the Central Bureau of Investigation (CBI), the country's premier investigation agency, for two years.
 Mr. Shukla was picked from a panel of several names cleared by the high-power committee, led by Prime Minister Narendra Modi and comprising the Chief Justice of India and the Leader of the Opposition in the Lok Sabha.
 Mr. Shukla's appointment comes at a time when the agency is mired in a series of controversies related to a bitter fight between two top officials, former Director Alok Verma and Special Director Rakesh Asthana, both of whom were shunted out following serious corruption allegations against them.
 In fact, the top post in the agency has been vacant since October 2018 when Mr. Verma and his deputy Mr. Asthana were removed based on Central Vigilance Commission (CVC) report after Mr Verma lodged an FIR naming his deputy Asthana in a bribery case.
 However, the Leader of the Opposition M. Mallikarjun Kharge submitted a dissent note on Mr. Shukla's appointment, saying he did not meet the required criteria as he had not worked in any anti-corruption agency.
::ECONOMY::
Centre claims anti-black money laws brought in huge amount of undisclosed money
 The anti-black money measures taken by the Government during the last four and half years in the form of Black Money Law, the Fugitive Criminal Offenders Act, and Demonetisation, have brought undisclosed income of about Rs 1,30,000 crore to tax. These measures have also led to seizure and attachment of assets worth approximately Rs 50,000 crore, and compelled holders of large cash currency to disclose their source of earnings.
 While presenting the Interim Budget 2019-20 in Parliament today the Union Minister for Finance, Corporate Affairs, Railways & Coal, Shri Piyush Goyal said, "Our Government is committed to eliminating the ills of black money from our country."
 During this period, Benami assets worth Rs 6,900 crore and foreign assets worth Rs 1,600 crore have been attached. As many as 3,38,000 shell companies have been detected and de-registered, and their directors disqualified.
 The Minister said that there is 18% growth in direct tax collection in 2017-18 and increase in tax base by as many as 1.06 crore people filing income tax returns for the first time in FY 2017-18 is mainly on account of demonetization.
Money laundering case filed against former ICICI CEO
 The Enforcement Directorate has initiated a money laundering probe on the basis of the Central Bureau of Investigation (CBI) case against Chanda Kochhar, then managing director and chief executive officer of ICICI Bank, her husband Deepak Kochhar, Videocon Group head Venugopal Dhoot and others for sanction of credit facilities allegedly in violation of rules.
 The agency will investigate the money trail to determine whether there was any laundering of the funds involved.
 The CBI registered the FIR last month, also naming Mr. Kochhar's company Nupower Renewables Ltd. (NRL), Videocon International Electronics Ltd., Videocon Industries Ltd. and Supreme Energy Private Limited (SEPL).
 The case was lodged following a preliminary inquiry instituted on December 8, 2017, on charges that the bank sanctioned credit facilities of about ₹3,250 crore in violation of its credit policy and Reserve Bank of India (RBI) guidelines.
 It was also alleged that as part of the quid pro quo, Mr. Dhoot made an investment of ₹64 crore in the NRL through the SEPL, and also transferred the latter to the Pinnacle Energy Trust, managed by Mr. Kochhar, through a circuitous route between 2010 and 2012.
 The agency found that the bank had sanctioned six high-value loans to various Videocon Group firm.
::INTERNATIONAL::
Venezuelan president calls for early parliamentary elections
 Venezuela President Nicolas Maduro has threatened to bring forward parliamentary elections this year in a bid to sideline opposition leader Juan Guaido's challenge to his authority. The Parliamentary elections are scheduled for the end of 2020.
 Guaido is the Parliament president and declared himself acting President of the country on January 23. He led a mass opposition street protest in Caracas yesterday demanding Maduro resign and hold new Presidential elections.
 Meanwhile four major European nations - Britain, France, Germany and Spain - have said they will join the United States and several Latin American countries in recognizing Guaido as interim President if Maduro doesn't call the Presidential elections by midnight on Sunday.
 In a related development, a top US official has called on Venezuela's military to follow the lead of a general who sided with opposition leader Juan Guaido.
 National Security Advisor John Bolton said in a tweet that the US calls on all military members to follow General Francisco Yanez's lead, and to protect the peaceful protestors supporting democracy.
 Yanez had posted a video of himself rejecting Maduro's authority and recognising Guaido, the National Assembly head, as the acting President.
Iran unveils new long range cruise missile
 Iran unveiled a new cruise missile with a range of 1,300 km (800 miles) on Saturday, state television reported, as the Middle Eastern country displays its achievements during celebrations marking the 40th anniversary of the 1979 Islamic Revolution
 "With a range of more than 1,300 km this cruise missile needs a very short time for its preparedness and can fly at a low altitude," Iranian Defence Minister Amir Hatami said in remarks carried by state television during the unveiling ceremony.
 Mr. Hatami said the new surface-to-surface missile, named Hoveizeh, was from the Soumar family of cruise missiles, which were unveiled in 2015.
 Western experts say Iran often exaggerates its weapons capabilities, although there are concerns about its long-range ballistic missiles.
 Iran said in January its bid to launch a satellite failed after Tehran ignored U.S. warnings to avoid such activity.
 Washington warned Tehran this month against undertaking three planned rocket launches that it said would violate a U.N. Security Council resolution because they use ballistic missile technology.
 The United States is concerned that the long-range ballistic technology used to put satellites into orbit could also be used to launch warheads.
::SCIENCE & TECHNOLOGY::
Researchers develop microbial fuel cells that can treat textile wastewater
 Microbial fuel cells (MFCs) are fast emerging as an option for several specific requirements. Now, a startup, JSP Enviro, aims to use this technology to process textile wastewater and additionally generate electricity that will render this exercise energy-efficient.
 The principle of using the MFC to degrade wastewater is simple. A carefully selected cohort of bacteria is made to act on the textile wastewater placed in the fuel cell.
 These bacteria are isolated from the very wastewater they are meant to degrade. They feed on the organic material in the water and break it down under anaerobic (without oxygen) conditions, releasing electrons in the process.
 The bacteria take turns to act on the wastewater and purify it: There are many species of bacteria. If a dye is present in the water, it is broken to a simpler form by one species; this, in turn, is acted on by another species and so on.
 While now, with the prototype, they can generate power of around 1 watt per square-metre, they aim to get to about 5 watts per square-metre. This power can be used to sustain the process.
::SPORTS::
Anjali Saraogi wins IDBI Federal Marathon
 Anjali Saraogi retained her title in the IDBI Federal Life Insurance Kolkata Marathon with a career-best timing today.
 Tlanding Wahlang won the men's full marathon. The 45 year old Saraogi achieved the feat less than three months after recovering from a surgery.
 Seniormost runner in the women's field, Anjali clocked 3 hours 16 minutes 54 seconds to win the race and better her last year's timing of 3 hours 30 minutes:53 seconds. Tlanding Wahlang clocked 2 hours:35 minutes :42 seconds to win the men's full marathon.