Current Affairs for IAS Exams - 03 April 2021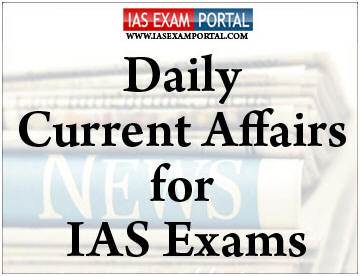 ---
Current Affairs for IAS Exams - 03 April 2021
::NATIONAL::
Army War College
The Army War College (AWC), Mhow celebrated its Golden Jubilee today to mark 50 glorious years of its inception as the premier training institute of Indian Army.
The College is the fountain-head of all tactical training in the Indian Army and solely responsible for training officers of the Indian Armed Forces and from friendly foreign countries.
The College is the leading seat for learning of Warfare, carrying out research in tactics, logistics, contemporary military studies and improvement in military doctrine.
The college was originally established as the College of Combat at Mhowin Madhya Pradesh on 1 April 1971.
It was spun out of the Infantry School, Mhow. In 2003, the college was renamed as the Army War College, Mhow.
The Army War College with its proud distinctive identity stands by the inscribed motto 'Yuddhaya Karir Nischaya' which means 'Into Battle With Resolve'.
 My NEP 2020 platform of NCTE Portal
Ministry of Education launched the "MyNEP2020" Platform of the National Council for Teacher Education(NCTE) Web Portal.
Platform seeks to invite suggestions/inputs/membership from the stakeholders for preparing a draft for the development of National Professional Standards for Teachers (NPST) and National Mission forMentoring Program membership (NMM).
NCTE was established under the NCTE Act 1993 as a statutory body. Its objectives include Planned and coordinated development of the teacher education system.
Regulation of norms and standards in teacher education system and their proper maintenance and topics related thereto.
CLICK HERE FOR FULL CURRENT AFFAIRS (Only for Course Members)
::INTERNATIONAL::
Watergate scandal
G Gordon Liddy, the former FBI agent and Republican adviser who was widely considered the mastermind behind the 1972 Watergate break-in, died at the age of 90. He passed away at his daughter's house in Virginia, his son told the Associated Press.
The Watergate Scandal, in which a group of men tied to former President Richard Nixon's re-election campaign broke into the Democratic headquarters in Washington DC's Watergate complex, is often regarded as one of the darkest chapters in US history.
It led to the country's first and only presidential resignation — an issue that was cited repeatedly towards the fag end of Donald Trump's tenure as president, when he was facing impeachment for his role in the Capitol Hill riots.
Liddy was famously known to have been unapologetic about his role in the Watergate crimes, for which he spent over four years in prison, including 100 days in solitary confinement.
About Watergate scandal:
On June 17, 1972, at 2:30 am, five burglars were caught breaking into the Democratic National Committee's headquarters at the Watergate Hotel, just over a kilometre away from the White House.
The prowlers, who were caught wiretapping phones and stealing documents, were later found to be linked to President Richard Nixon's reelection campaign.
The break-in was not their first attempt at breaching the DNC headquarters. After they failed to complete their mission during a previous attempt at forced entry, they returned a month later to finish the job.
 17th BIMSTEC Ministerial Meeting
External Affairs Minister S Jaishankar underlined the importance of connectivity between members of the Bay of Bengal Initiative for Multi-Sectoral Technical and Economic Cooperation (BIMSTEC), which marks its silver jubilee next year.
They encouraged Member States to complete their internal procedures for adoption of the BIMSTEC Charter and endorsed Rationalization of Sectors and Sub-sectors of cooperation under the BIMSTEC framework which will be adopted at the next BIMSTEC Summit.
The meeting welcomed the proposal of the Chair to hold the Fifth BIMSTEC Summit in Sri Lanka in next few months in consultation with the Member states.
The meeting took note that the BIMSTEC Centre for Weather and Climate, being hosted in India, is fully functional with the state of the art facilities to provide Disaster Early Warnings.
::ECONOMY::
Index of eight core industries
The Office of the Economic Adviser, Department for Promotion of Industry and Internal Trade, Ministry ofCommerce and Industry released Index of Eight Core Industries for February, 2021.
The decline of 4.6% is witnessed in all 8 sectors.
It accounts 40.27% of the weight of items included in the Index of Industrial Production (IIP).
8 core sectors includes Refinery Products (28.04%),Electricity (19.85%), Steel (17.92%), Coal (10.33%), Crude Oil(8.98%), Natural Gas (6.88%), Cement (5.37%), Fertilizers (2.63%).
::SCIENCE AND TECHNOLOGY::
Wind Pattern and Ventilation Index Forecast
Air quality over Delhi-NCR is likely to remain in Moderate category.It is published by Ministry of Earth Science.
Other similar initiatives launched by ministry:
MAUSAM APP: Forecast weather conditions of around 450 cities, which will show the weather conditions of the past 24 hours and seven days.
MEGHDOOT APP: provide location, and crop and livestock-specific weather-based agro advisories to farmers in local languages.
DAMINI APP: It is developed by Indian Institute of Tropical Meteorology (IITM) for Lightning Warning
 CLICK HERE FOR FULL CURRENT AFFAIRS (Only for Course Members)
::MISCELLANEOUS::
Dadasaheb Phalke Award
Rajinikanth has been nominated for this coveted award for his contribution as an actor, producer and screenwriter.
The award was introduced in 1969 by the government to honour the Father of Indian Cinema, Dhundiraj GovindPhalke Popularly known as Dadasaheb Phalke.
He made the first Indian Feature film Raja Harishchandra (1913).
The award is announced by Ministry of Information & Broadcasting and recognises the contribution of film personalities and their outstanding contribution to the growth and development of Indian Cinema.
The first recipient of this award was Devika Rani.