Current Affairs for IAS Exams - 03 June 2019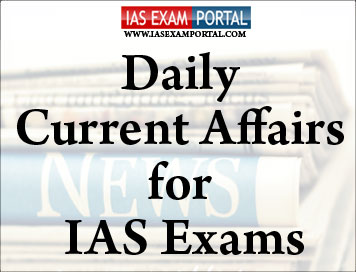 ---
Current Affairs for IAS Exams - 03 June 2019
---
::NATIONAL::
Vice president urges scientists to address issue of climate change
The Vice President of India, Shri M. Venkaiah Naidu has called upon scientists and researchers to address pressing issues such as climate change, global warming and extreme weather events so that the world was better prepared to tackle adverse situations.
Interacting with scientists and young researchers of the National Atmospheric Research Laboratory (NARL) near Tirupati in Andhra Pradesh today, he said that weather and climate were posing new challenges with each passing day.
Referring to challenges like an increase in high impact weather systems, water scarcity, drying up of rivers, growing pollution and survival threat to several animal and plant species due to climate change, he said that it was highly imperative for scientists and researchers to address these issues.
Exhorting the scientists to work on state-of-the-art observational instruments to generate high-quality data on climate models suitable for India's tropical climate, the Vice President cautioned them to guard against erroneous results generated by data from elsewhere and called for accurate assessment and prediction.
The Indian subcontinent has distinct climatic zones and their interaction with global climate patterns needs to be studied on a priority basis for our long term well-being, he added.
Pointing out that India has been an active member in the climate action plan right from the formation of the UN Framework Convention on Climate Change through to the latest Paris Accord, Shri Naidu said that in order to make a meaningful contribution to the climate action plan, there was a need for quality scientific data from all over the country and the globe.
IMD forecasts decreased heat wave across North India
The MeT department has forecast a decrease in the severity of heat wave in parts of North India from today. In a tweet, the MeT Office said, due to easterly winds at lower levels, the severity of heat wave is likely to decrease over Punjab, Haryana, Chandigarh, Delhi and Uttar Pradesh.
In Rajasthan, intense heat continued to paralyse normal life yesterday. Temperatures varying from 44 degrees to 48 degree Celsius were recorded in the state. AIR correspondent reports that there is a minor drop in the maximum and minimum temperature across the state but not enough to be called as relief.
Uttar Pradesh also continues to reel under scorching heat. Jhansi recorded the highest temperature of 47.1 degree Celsius yesterday, followed by Banda 46.8 and Orai 45 degree celsius. However, thundershowers and stormy winds at some places in eastern parts, including Gorakhpur and Gonda, gave some respite.
In Uttarakhand, people got some relief due to rain in different areas yesterday. One person died while another is missing in Chamoli and Almora districts.
Himachal Pradesh also experienced light showers in some parts bringing down the maximum temperatures by two to three notches. Shimla, Dharamshala, Bhuntar and Sundernagar experienced light rain. The weatherman has predicted more rain this week.
::ECONOMY::
Overseas investment to India surges in May
Overseas investors pumped more than 9,000 crore rupees into the Indian capital markets in last month on expectations of more business-friendly measures following the BJP's landslide victory in the general elections.
Interestingly, foreign investors were net sellers for the first three weeks of May, but the tide turned just ahead of the announcement of election results.
According to the latest depositories data, Foreign Portfolio Investors (FPIs) infused around 7,920 crore rupees into equities and 1,111 crore rupees in the debt market during second to -31st of May, taking the cumulative investment to around 9,031crore rupees.
Prior to this, they had invested a net 16,093 crore rupees in April, 45,981 crore rupees in March and 11,182 crore rupees in February in the capital markets (both equity and debt).
India & China to be major players in air traffic industry claims IATA
International Air Transport Association, IATA, has said that India and China are projected to account for nearly half of the air passenger growth worldwide over the next two decades, with travellers coming from all walks of life.
It said that with more number of people making air travel, India was one of the fastest growing domestic aviation markets in the world for nearly five years continuously.

However, It added, the growth turned negative in April mainly due to flight cancellations and subsequent grounding of full-service carrier Jet Airways. Brian Pearce, Chief Economist at the IATA today said the negative growth in the Indian market was temporary and that the market would expand as Indians want to travel more.
In his address at the annual general meeting here, IATA Director General and CEO Alexandre de Juniac said the developing markets are expected to provide the majority of additional passenger demand. He said, India and China alone are forecast to account for around 45 per cent of all additional passenger trips over the next two decades.
::INTERNATIONAL::
Presidential elections cancelled in Algeria
Algeria's Constitutional Council has extended interim President AbdelkaderBensalah's powers yesterday. The presidential elections scheduled next month have been cancelled by the Constitutional Council.
The Council said that a presidential election would not be held because it had rejected the only two candidates' documents who had applied to run for the elections.
An acute political crisis broke out in Algeria in February after then-ailing president Bouteflika announced his bid to seek a fifth term in the office, triggering a wave of anti-government protests.
Protests, nevertheless, are still underway, with demonstrators demanding that all politicians who received offices under Bouteflika should first resign.
US tightens visa rules ,seeks social media usage details
The United States has asked Visa applicants to provide information on their use of social media under the new rules. The move is aimed at enhancing the vetting of foreign nationals and to screen out terrorists and other dangerous individuals seeking entry into America.
State Department adopted a new policy under which most visa applicants, including temporary visitors, will be required to list their social media identifiers in a drop down menu along with other personal information.
Applicants will have the option to say that they do not use social media if that is the case. A US State Department official said that if a visa applicant lies about social media use, they could face serious consequences.
Visa applicants will also be required in the future to turn more extensive information on their travel history. The new rules stems from a March 2017 executive order issued by President Donald Trump intended to put extreme vetting into place.
::SCIENCE & TECHNOLOGY::
Researchers develop materials suited for quantum optoelectronics
Materials such as tungsten diselenide (WSe2) and molybdenum diselenide are being studied keenly for their opto-electronic properties – a combination of optics and electronics. A key property of these materials is photoluminescence, in which the material absorbs light and re-emits it as a spectrum.
Consisting of practically one layer of atoms, these materials are two-dimensional in structure. Photoluminescence properties can be used in various devices such as quantum LEDs which can be used in communication and computation.
As is well known, electrons in semiconductors occupy bands of energy known as valence bands. As long as they live in these bands, they do not move and contribute to conduction.
If excited by a small energy input, they get kicked into what is called the conduction band where they can actually be delocalised and contribute to the conduction by moving around.
As is well known, electrons in semiconductors occupy bands of energy known as valence bands. As long as they live in these bands, they do not move and contribute to conduction. If excited by a small energy input, they get kicked into what is called the conduction band where they can actually be delocalised and contribute to the conduction by moving around.
::SPORTS::
India beat Ireland in U21 women's hockey
The Indian Women's Hockey team came from a goal down to beat Ireland 2-1 and register its second win at the Cantor Fitzgerald Under-21 International four-nation tournament at Dublin yesterday.
Laura Foley gave Ireland the lead in the 10th minute before India scored through Reet in the 35th and Sharmila Devi in the 53rd minute.