Current Affairs for IAS Exams - 03 August 2022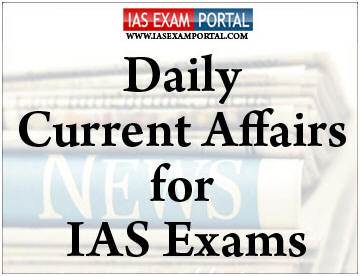 ---
Current Affairs for IAS Exams - 03 August 2022
::NATIONAL::
Wild Life (Protection) Amendment Bill, 2021
The Lok Sabha passed the Wild Life (Protection) Amendment Bill, 2021.
It seeking to increase the species protected under the Wild Life (Protection) Act, 1972, and implement the Convention on International Trade in Endangered Species of Wild Fauna and Flora, CITES.
The Bill amends the Wild Life (Protection) Act, 1972.  The Act regulates the protection of wild animals, birds and plants.
 Key features of the Bill include:
CITES:  CITES is an international agreement between governments to ensure that international trade in specimens of wild animals and plants does not threaten the survival of the species.  Under CITES, plant and animal specimens are classified into three categories (Appendices) based on the threat to their extinction. 
Rationalising schedules: Currently, the Act has six schedules for specially protected plants (one), specially protected animals (four), and vermin species (one).  Vermin refers to small animals that carry disease and destroy food.  The Bill reduces the total number of schedules to four by: (i) reducing the number of schedules for specially protected animals to two (one for greater protection level), (ii) removes the schedule for vermin species, and (iii) inserts a new schedule for specimens listed in the Appendices under CITES (scheduled specimens).
Obligations under CITES:   The Bill provides for the central government to designate a: (i) Management Authority, which grants export or import permits for trade of specimens, and (iii) Scientific Authority, which gives advice on aspects related to impact on the survival of the specimens being traded.  
Invasive alien species: The Bills empowers the central government to regulate or prohibit the import, trade, possession or proliferation of invasive alien species.  Invasive alien species refers to plant or animal species which are not native to India and whose introduction may adversely impact wild life or its habitat.  
Control of sanctuaries: The Act entrusts the Chief Wild Life Warden to control, manage and maintain all sanctuaries in a state.  The Chief Wild Life Warden is appointed by the state government.  The Bill specifies that actions of the Chief Warden must be in accordance with the management plans for the sanctuary.  
Conservation reserves: Under the Act, state governments may declare areas adjacent to national parks and sanctuaries as a conservation reserve, for protecting flora and fauna, and their habitat.  The Bill empowers the central government to also notify a conservation reserve.
CLICK HERE FOR FULL CURRENT AFFAIRS (Only for Course Members)
New e-waste rules threaten jobs, collection network
A proposed framework by the Centre for regulating e-waste in India has upset a key link of India's electronic waste collection system and threatens the livelihood of thousands of people.
About:
Electronic waste, or electronic goods that are past their productive life and old parts, is largely handled by India's vast informal sector.
Spent goods are dismantled and viable working parts refurbished, with the rest making their way into chemical dismantling units. Many of these units are run out of unregulated sweatshops that employ child labour and hazardous extraction techniques. This electronic detritus contaminates soil and aggravates plastic pollution.
The Environment Ministry brought the E-waste (Management) Rules, 2016, which introduced a system of Extended Producer Responsibility (EPR) compelling makers of electronic goods to ensure a proportion of the goods they sold every year was recycled. 
Most companies however did not maintain an in-house unit in charge of recycling and this gave rise to a network of government-registered companies, called producer responsibility organisations (PRO).
CLICK HERE FOR FULL CURRENT AFFAIRS (Only for Course Members)
::INTERNATIONAL::
Pitch Black
India will be part of a mega air combat exercise in Australia this month that is set to witness the participation of around 100 aircraft and 2,500 military personnel from 17 countries. 
About:
The Royal Australian Air Force (RAAF) considers "Pitch Black" as its "capstone" international engagement activity with the air forces of strategic partners and allies.
Exercise Pitch Black 2022 is the Royal Australian Air Force's most significant International Engagement activity with forces participating from a wide range of partner and allied nations developing and enhancing military relationships at all levels.
About 100 aircraft and 2,500 military personnel from 17 countries will arrive in the Northern Territory in the country in two weeks to commence Pitch Black 2022 (PBK22).
CLICK HERE FOR FULL CURRENT AFFAIRS (Only for Course Members)
Ayman al-Zawahiri
Al Qaeda leader Ayman al-Zawahiri was killed in a CIA drone strike in Afghanistan over the weekend, US officials said. 
About:
The killing of Zawahiri is considered the biggest blow to the militant group since its founder Osama bin Laden was killed in 2011. 
Zawahiri, an Egyptian who had a 25 million dollar bounty on his head, helped coordinate the 9/11 attacks that killed nearly 3,000 people in the US in 2001. One of the US officials said the CIA carried out a drone strike in the Afghan capital Kabul on Sunday.
US President Joe Biden addressed the nation from the White House on the operation. The drone attack is the first known US strike inside Afghanistan since US troops and diplomats left the country in August 2021.
CLICK HERE FOR FULL CURRENT AFFAIRS (Only for Course Members)
::ECONOMY::
India's 5G Spectrum Auction 
India's first-ever auction for 5G spectrum concluded with Jio enterprise emerging as the top bidder.
The auction was held for spectrum in various low (600 MHz, 700 MHz, 800 MHz, 900 MHz, 1800 MHz, 2100 MHz, 2300 MHz, 2500 MHz), mid (3300 MHz),and high (26 GHz).
About Spectrum
Spectrum relates to the radio frequencies allocated to the mobile industryand other sectors for communication over the airwaves.
These airwaves are called spectrum, which is subdivided into bands thathave varying frequencies.
5G technology will use both low frequencies (f<1GHz), and highfrequencies (1GHz<f<6GH).
Three key spectrum frequencies for 5G are required i.e., Sub-1 GHz, 1-6 GHz,and above 6 GHz.
Need for spectrum allocation:
Union government owns all the publicly available assets within thegeographical boundaries of the country, which also include the airwavesspectrum.
CLICK HERE FOR FULL CURRENT AFFAIRS (Only for Course Members)
::SCIENCE AND TECHNOLOGY::
South Korea develops nanotech tattoo as health monitoring device
Researchers at the Korea Advanced Institute of Science and Technology (KAIST) in the city of Daejeon southwest of Seoul have developed an electronic tattoo ink made of liquid metal and carbon nanotubes that functions as a bioelectrode.
About:
Steve Park, Materials Science & Engineering professor at Korea Advanced Institute of Science and Technology (KAIST), demonstrates an electronic tattoo (e-tattoo) on his arm connected with an electrocardiogram (ECG) monitoring system.
Hooked up to an electrocardiogram (ECG) device or other biosensor, it can send a readout of a patient's heart rate and other vital signs such glucose and lactate to a monitor.
CLICK HERE FOR FULL CURRENT AFFAIRS (Only for Course Members)