Current Affairs for IAS Exams - 03 May 2021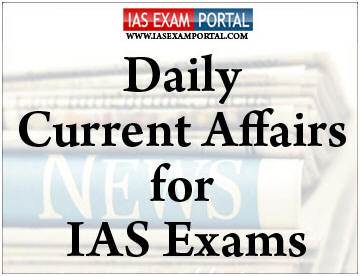 ---
Current Affairs for IAS Exams - 03 May 2021
::NATIONAL::
Alternate Investment Fund
Labour ministry has notified that Employees Provident Fund Organisation can invest up to 5% in AIF to support infra push.
Alternate Investment Fund (AIF) means any fund established or incorporated in India which is a privately pooled investment vehicle which collects funds from sophisticated investors, whether Indian or foreign, for investing it in accordance with defined investment policy for the benefit of its investors.
SEBI categorises AIF into
CategoryI AIF like Venture Capital Funds.
Category II AIF like Private Equity (PE) Funds.
Category III AIF like Hedge Funds.
Operation Samudra Setu-II
It is launched by Indian Navy to augment ongoing national mission to meet the country's oxygen requirements.
Warships have been deployed to carry liquid oxygen-filled cryogenic containers and associated medical equipment to India amid its worsening COVID-19 pandemic.
All such containers carried on aircraft around country are empty because oxygen-filled tanks cannot be transported by air.
CLICK HERE FOR FULL CURRENT AFFAIRS (Only for Course Members)
::INTERNATIONAL::
India receives COVID-19 aid from Taiwan
India received assistance from Taiwan including oxygen concentrators and cylinders, with more batches of medical equipment set to follow from Taipei.
Taiwan's deployment of medical supplies is testament to the close collaboration and partnership across multiple agencies on both sides.
About:
Taiwan officially the Republic of China (ROC)is a country in East Asia.
Neighbouring countries include the People's Republic of China (PRC) to the northwest, Japan to the northeast, and the Philippines to the south.
The main island of Taiwan has an area of 35,808 square kilometres (13,826 sq mi), with mountain ranges dominating the eastern two-thirds and plains in the western third, where its highly urbanised population is concentrated.
The capital is Taipei, which, along with New Taipei and Keelung, forms the largest metropolitan area of Taiwan. Other major cities include Kaohsiung, Taichung, Tainan and Taoyuan.
With 23.57 million inhabitants, Taiwan is among the most densely populated countries.
 World Press Freedom Day
World Press Freedom Day is being observed on 3rd May.
This day is celebrated on the 3rd of May every year.
This year's World Press Freedom Day theme "Information as a Public Good" serves as a call to affirm the importance of cherishing information as a public good.
::ECONOMY::
Scheme of FinancialAssistance to States forCapital Expenditure
The Centre will provide additional Rs15,000 crore in FY22 to states as interest-free loan for capital expenditure.
About:
It including Rs5,000 crore if states undertake asset monetization and disinvestment of their public sector enterprises.
Under the scheme, financial assistance is provided to state governments in the form of 50-year interest free loan.
The Government has decided to continue the scheme in the year 2021-22.
Funds provided to the states will be used for new and ongoing capital projects. The funds can also be used for settling pending bills in ongoing capital projects.
Capital expenditure creates employment, enhances the future productive capacity of the economy, and results in a higher rate of economic growth.
::SCIENCE AND TECHNOLOGY::
CT scan
Several Covid positive patients with mild to moderate Covid symptoms, and some with negative RT-PCR reports but Covid symptoms are coming for CT scans.
About:
CT scan is a combination of multiple X-rays and a computer process to create a picture of the body or any part of the body and it shows much more details about the body than the regular X-ray.
If a patient's oxygen level is going down below 95 during home quarantine or his health is not improving even after a week after coming Covid positive then such patients should get their CT scan done to detect the infection level.
Even if a patient is showing mild or moderate symptoms and his report is false negative they should act wisely and go in home quarantine and must keep a tab on the oxygen level and there is no need to expose the body to such radiations of CT scan unnecessarily.
 CLICK HERE FOR FULL CURRENT AFFAIRS (Only for Course Members)