Current Affairs for IAS Exams - 03 May 2022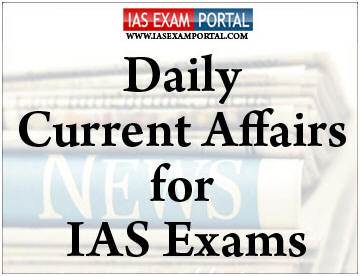 ---
Current Affairs for IAS Exams - 03 May 2022
::NATIONAL::  
Gene Bank Project
The country's first-of-its-kind gene bank project in Maharashtra, which received the approval of the State Cabinet last week and is to be implemented across the State.
This has the potential to use modern scientific methodology to separate the chaff from the grain from the massive pool of traditional Indian wisdom.
It can also scout and introduce crop cultivars and livestock breeds for better adaptation to climate change and variability.
About:
MaharashtraGene Bank (MGB) is a collaborative process of knowledge generation, documentation, validation and propagation of successful community-driven practices of conservation of biodiversity.
The project covers all streams of pure sciences to social sciences in a bid to save bio-diversity.
The project could help document vast traditional knowledge resources of local communities. 
It will help in scouting and introduction of crop cultivars and livestock breeds for better adaptation to climate change and variability, demonstrating solutions to ensure food and nutritional security for marginalized communities and creating a model of community-led conservation in India.
Seven major thematic areas of the project include,
1.    ex situ conservation of marine biodiversity;
2.    on farm conservation of crop genetic diversity;
3.    on farm conservation of livestock genetic diversity;
4.    conservation and sustainable use of indigenous fish and shellfish diversity in selected water bodies; 
5.    conservation of grassland and savanna biodiversity;
6.    eco restoration of community forest resource lands employing a diversity of life-sustaining 
CLICK HERE FOR FULL CURRENT AFFAIRS (Only for Course Members)
Subsidy to buy drones for farmers 
Union Agriculture Minister said that the government is providing a 50 percent subsidy to SC-ST, small and marginal, women and farmers of northeastern states to buy drones. 
About:
For other farmers, financial assistance will be given up to 40 percent or a maximum of four lakh rupees to buy drones. 
The government is promoting the use of drones for the convenience of the farmers, reducing the cost and increasing the income.
CLICK HERE FOR FULL CURRENT AFFAIRS (Only for Course Members)
::INTERNATIONAL::
'Declaration for the Future of the Internet'
The 60 countries that have signed a global declaration to keep the Internet open, free, and neutral. 
About:
Called the 'Declaration for the Future of the Internet', the document is an agreement to prevent digital authoritarianism.
Major countries that have signed the declaration include the US, European Union, United Kingdom, Canada and France. 
India, China and Russia are among the large nations that are not part of this declaration.
Highlights the principles of the declaration:
To protect human rights and fundamental freedoms of all people,
Promote a global Internet that advances the free flow of information.
Advancing "inclusive and affordable" connectivity.
Promote trust in the global digital ecosystem, including through protection of privacy,
CLICK HERE FOR FULL CURRENT AFFAIRS (Only for Course Members)
India Denmark relations 
Prime Minister Narendra Modi arrived in Denmark on the second leg of his three-nation Europe trip during which he will hold talks with his Danish counterpart Mette Frederiksen and attend the 2nd India-Nordic Summit.
India-Denmark:
A Green Strategic Partnership' was established during a virtual summit in September 2020. 
This partnership was translated into a result-oriented five-year action plan during Prime Minister Frederiksen's India visit in October 2021.
Nordic Countries:
India and Nordic countries are going tohost the 2nd India-Nordic Summit atCopenhagen, after the 1st summit of 2018in Stockholm.
Nordic countries represents the fivecountries of Nordic region, i.e. Denmark,Norway, Sweden, Finland and Iceland. Italso includes:
1.    Faroe Islands and Greenland as part of the Kingdom of Denmark, and 
2.    Aland which is part of Finland.
CLICK HERE FOR FULL CURRENT AFFAIRS (Only for Course Members)
::ECONOMY::
National Open Access Registry
National Open Access Registry (NOAR) has successfully gone live from 1st May 2022. 
About:
NOAR has been designed as an integrated single window electronic platform accessible to all stakeholders including open access participants, traders, power exchanges, national/regional/state load despatch centres for electronic processing of short-term open access application thereby automating the administration of the short-term open access in inter-state transmission system.
The NOAR platform shall act as a repository of information related to short term open access in inter-state transmission including standing clearance issued by RLDCs or SLDCs and short-term open access granted to the open access customers etc. and make such information available to the stakeholders online. 
National Load Despatch Centre (NLDC) operated by Power System Operation Corporation Limited (POSOCO) has been designated as the nodal agency for implementation and operation of NOAR. 
NOAR would be the key to facilitate faster electricity markets and enable integration of Renewable Energy (RE) resources into the grid. 
CLICK HERE FOR FULL CURRENT AFFAIRS (Only for Course Members)
::SCIENCE AND TECHNOLOGY::
Anabolic steroids
From two Tokyo Olympians being banned to Noida Police seizing fake drugs and supplements worth Rs 2 crore, anabolic steroids have often been in news, although not for the right reasons.
What are anabolic steroids?
Anabolic steroids are essentially lab-made versions of the male hormone testosterone and have a similar effect of increasing muscle mass as the natural hormone does.
It also increases male characteristics in a person, such as facial hair and a deeper voice.
What are they prescribed for?
The anabolic steroids have a very limited medical role and are mainly used by doctors to help patients gain weight after a severe illness or injury. It could also be prescribed in small doses to the elderly to build muscle mass and in some cases also helps to treat anaemia.
CLICK HERE FOR FULL CURRENT AFFAIRS (Only for Course Members)
::Sports::
Online skill-based gaming
IndiaTech, (members of online gaming firms: Dream11 and Mobile Premier League) ought aclarification on Rule 31A of the Central Goods & Service Tax Rules 2017.
About:
Rule 31A is not intended to cover games of skill and therefore, is not applicable to any form ofonline gaming where there is a multitude of skill over chance.
The rule applies to lottery, betting, gambling, and horse racing.
IndiaTech, suggested the GST should be applicable on only the amount that is received bythe platform for providing its services.
GST is currently paid at the rate of 18 per cent on the platform fee or gross gaming revenue(GGR) as applicable.
CLICK HERE FOR FULL CURRENT AFFAIRS (Only for Course Members)