Current Affairs for IAS Exams - 04 January 2021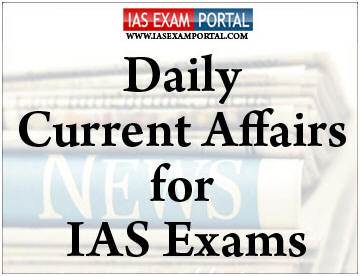 ---
Current Affairs for IAS Exams - 04 January 2021
---
::NATIONAL::
Nationwide vaccine dryrun
The Central Drugs Standard Control Organization is in process of reviewing different Covid-19 vaccines for emergency use approval, the state and Union Territory administrations are preparing for an imminent rollout.
Dry run is aimed at testing the planned operations and the laid-out mechanisms for Covid-19 vaccination inthe state.
It will provide insights into any gaps or bottlenecks so that those could be addressed before thecommencement of the actual drive.
It includes necessary data entry in Co-WIN.
Co-WIN is an online platform for monitoring vaccine delivery, testing for cold storage, management of crowdat the session sites with proper physical distancing etc.
National Database on Sexual Offenders
National Database on Sexual Offenders (NDSO) comprising those convicted on charges of rape, gang rape, child sex abuse and eve teasing has crossed1 million names.
NDSO is a central database of sexual offenders in the country which is being maintained by National CrimeRecords Bureau (NCRB).
CLICK HERE FOR FULL CURRENT AFFAIRS (Only for Course Members)
::INTERNATIONAL::
Tampon tax
The UK began 2021 by abolishing a 5 per cent Value Added Tax (VAT) on women's sanitary products, often referred to as the "tampon tax" and which many activists had described as sexist.
It now joins the list of countries which have already eliminated this tax, which includes India, Australia and Canada.
The "tampon tax"
Until December 31, the UK was a part of the EU, where period products such as sanitary napkins and tampons are classified as non-essential, and member states are required to levy a 5 per cent tax on them.
Now that the UK is out of the 27-member bloc, it is not bound by its directives, under which sanitary products had been subjected to five different VAT rates since 1973– with the lowest 5 per cent slab being applicable since 2001.
The removal of the tax has thus been praised by women's right activists and Brexit proponents at the same time.
Gibraltar
Hours before the Brexit transition period ended on New Year's Eve, Spain announced it had struck a deal with the UK to maintain free movement to and from Gibraltar – a small portion of land on the southern tip of the Iberian peninsula that Britain controls but Spain claims as its own.
Gibraltar will now be part of the Schengen zone and follow EU rules, thus ensuring that a hard border does not separate it from the rest of Europe.
The status of Gibraltar:
Gibraltar, with an area of just 6.8 sq km and a population of around 34,000 people, has been the subject of intense dispute between Spain and Britain for centuries.
CLICK HERE FOR FULL CURRENT AFFAIRS (Only for Course Members)
Economy
RBI has issued calendar for auction of treasury bills
RBI, in consultation with Government of India, has issued calendar for auction of treasury bills.
Treasury Bills are short term (up to one year) borrowing instruments of the Government of India or by acentral authority of any country which enable investors to park their short term surplus funds while reducingtheir market risk.
They are auctioned by RBI at regular intervals and issued at a discount to face value.
At present, the active T-Bills are 91-days T-Bills, 182-day T-Bills and 364-days T-Bills.
Science and Technology
Banana Grit
Scientists at the CSIR-National Institute for Interdisciplinary Science and Technology (NIIST) at Pappanamcode here in Kerala have come up with a new product, Banana Grit, developed from raw Nendran bananas. 
Billed as an ideal ingredient in a healthy diet, Banana Grit can be used for making a wide range of dishes, according to the NIIST. It bears a resemblance to 'rava' and broken wheat.
The concept was introduced to utilise the presence of resistant starch in bananas, which is reported to improve gut health. Hence, the dishes prepared with Banana Grit and its byproduct banana powder incline to the new focus on gut health, which the scientific community is widely discussing now to maintain health and well-being," the NIIST said, adding that years of research on the Nendran variety helped it open up a new segment of application for the starch-rich banana.
Developing new uses for Nendran also comes as a boon to farmers who have often been struggling against falling prices, according to the scientists. 
CLICK HERE FOR FULL CURRENT AFFAIRS (Only for Course Members)