Current Affairs for IAS Exams - 04 February 2019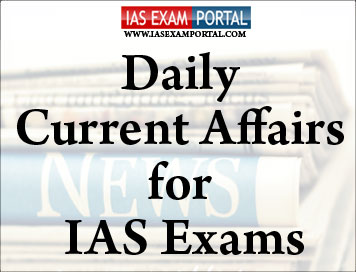 Current Affairs for IAS Exams - 04 February 2019
::NATIONAL::
Centre assures disbursement of funds via PM-KISAN scheme this month
The government will start disbursing a substantial amount under the income support scheme for small farmers this month itself as beneficiary data are already in place, a top official of the Finance Ministry said.
In his interim Budget speech on Friday, Finance Minister Piyush Goyal announced the Pradhan Mantri Kisan Samman Nidhi (PM-KISAN) Scheme, under which Rs. 6,000 per year would be provided to farmers holding cultivable land of up to two hectares.
The government last year released Agriculture Census 2015-16 and most States have moved to electronic record-keeping. Mr. Garg said the Agriculture Department would now relate the holdings to the families which will receive assistance.
The PM-KISAN scheme has been approved by the Cabinet and therefore the administrative department can go ahead with it, Mr. Garg said. He said 12 crore beneficiaries have been identified with the help of Agriculture Census Data 2015-16.
Apart from direct income support to farmers, Mr. Goyal had also announced extended interest subsidy on loans availed for animal husbandry and fishery as well as to those farmers affected by severe natural calamities.
Supreme court takes stance in CBI jurisdiction case
The high drama over the CBI's move to question Kolkata Police Commissioner on Sunday in the chit fund scam cases raises questions about the agency's jurisdiction in a State which has already withdrawn "general consent" for its investigations.
The CBI has been investigating the Saradha scam after the Supreme Court transferred the case to it in the Subrata Chattoraj versus Union of India judgment on May 9, 2014.
The withdrawal of general consent to the CBI to exercise jurisdiction within its territory applies prospectively in Andhra Pradesh and West Bengal, both of which withdrew consent last year. In the latter, the then Left Front government gave the consent in 1989.But the withdrawal of consent would not have retrospective effect.
The Supreme Court clarifies the position of law in Kazi Lhendup Dorji vs CBI , a reported decision of 1994.The court reasoned that the State government's withdrawal should not be allowed to stall a pending case.
The withdrawal of general consent means CBI officers lose police powers under the Criminal Procedure Code in the State concerned and for registering a case. "The case should be allowed to reach its logical conclusion notwithstanding the withdrawal of consent during pendency of investigation," the court had held in the Dorji case.
In 1961, the Supreme Court in the Major E.G. Barsay judgment held that "no member of the Establishment (CBI) can exercise powers and jurisdiction in any area in a State without the consent of the government of that State"
::ECONOMY::
Govt.to initiate steps to simplify procedure of CPSE disinvestment
With 35 Central Public Sector Enterprises (CPSEs) being lined up for strategic sale, the Finance Ministry is planning to streamline processes to cut down the time for the outright sale of such state-owned companies.
Taking a cue from the ongoing strategic sale of Pawan Hans, the Department of Investment and Public Asset Management (DIPAM) is keen that the long-drawn sale process of CPSEs be simplified so that more than one company could be taken up for the sell-off simultaneously.
We are going to correct the procedure [for strategic sale]. It is a bit long and long-winding, which was all right initially as everybody had to take precautions.
Now, with precaution, we understand how to go ahead. The process is very important for strategic disinvestment and that is going to be our endeavour [to simplify it]," DIPAM Secretary Atanu Chakraborty said.
Recently, NITI Aayog submitted to the DIPAM the fifth list of CPSEs, profitable and non-profitable, which can go in for a strategic sale.
The firms that have been shortlisted for strategic sale include Air India, Air India subsidiary AIATSL, Dredging Corporation, BEML, Scooters India, Bharat Pumps Compressors, and Bhadrawati, Salem and Durgapur units of SAIL.
Indian smartphone brands losing out to chinese counterparts
Once among the go-to smartphone brands for Indian consumers, home-grown mobile phonemakers such as Micromax, Lava, Karbonn and Intex are now struggling to make a mark.
These brands have been unable to challenge the flurry of quality products at affordable prices from China-based smartphone manufacturers over the past few years.
Indian brands, which together commanded almost 50% of the total smartphone market towards the end of 2014, now account for less than 9% of the market.
Chinese brands, on the other hand, have been able to corner nearly 60% of the smartphone market at the end of fourth quarter of 2018, according Counterpoint Research.
Hanish Bhatia, senior analyst, devices & ecosystem, Counterpoint Research, said a key reason for the growth of Chinese brands "is their affordable offerings with stand-out features, including strong design language and their ability to leverage deeper access to the Shenzhen-based manufacturing and supply chain ecosystem."
With the new FDI rules in e-commerce, "not much of discounting will happen that is the mandate from the government, so that there is not much disparity in offline vs online. That is what we foresee right now." The new rules may also spur more online-heavy players such as Realme and Honor to expand offline, said an expert.
Despite being the second largest smartphone market in the world after China with more than 430 million users, India is under-penetrated compared to many other markets. Smartphone users account for just 45% of the potential total addressable market in the country.
::INTERNATIONAL::
Afghan opposition to hold talks with Taliban soon
The Taliban said on Sunday that it will send a delegation to Russia for a rare meeting with Afghan Opposition leaders, just days after peace talks with the U.S. that excluded the Kabul government.
The two-day sit-down in Moscow, starting on Tuesday, will be attended by some of President Ashraf Ghani's chief political rivals, but none of the government envoys tasked with Taliban negotiations.
Mr. Ghani has appealed to the insurgents to talk after being frozen out of six days of discussions between the Taliban and the U.S. in Doha last month that sealed the outlines of a peace deal.
Among those who have confirmed their attendance in Moscow is Haneef Atmar, who is running against Mr. Ghani in the elections. Former warlord Atta Muhammad Noor and former Afghan president Hamid Karzai both Ghani rivals are also attending.
A senior Taliban official said they would send a delegation, but described the meeting as non-political and "arranged by some organisations based in Moscow".
The Russian Embassy in Kabul issued a statement late on Saturday on behalf of the "Afghan Society of Russia". The group said it had invited "influential figures" to the dialogue in the President Hotel in Moscow.
Israel confirms building of massive barrier in Gaza border
Israel today said it has begun construction of a massive new Gaza border barrier. Prime Minister Benjamin Netanyahu told reporters that work to strengthen the Israeli border with the Gaza Strip had entered a new phase with the construction of an above-ground barrier.
He said the barrier, set to stand six metres off the ground, will prevent terrorists from Gaza from penetrating into Israeli territory on the ground.
This construction follows the 65-kilometre course of an underground barrier, also under construction, meant to neutralise the threat of cross-border tunnels built by Gaza militants.
Palestinians, now for nearly a year, have gathered at least weekly along the Gaza border for often-violent protests, calling for an end to the Israel's blockade of Gaza. At least 246 Palestinians have been killed since then by the Israeli forces.
::SCIENCE & TECHNOLOGY::
Inkjet printing procedure to help make cheaper solar panels
Scientists has developed a novel inkjet processing method for perovskites a new generation of cheaper solar cells that makes it possible to produce solar panels under lower temperatures, thus sharply reducing costs.
Solar panels coated with the mineral are light, flexible, efficient, inexpensive and come in varying hues and degrees of transparency.
They can easily be fixed to almost any surface be it laptop, car, drone, spacecraft or building to produce electricity, including in the shade or indoors
In the following decades, synthesising the atomic structure of perovskite became easier. But it was not until 2009 that Japanese researcher Tsutomu Miyasaka discovered that perovskites can be used to form photovoltaic solar cells.
Initially the process was complicated and required ultra high temperatures, so only materials that could withstand extreme heat like glass could be coated with perovskite cells.
In 2013, while still a Ph.D student at the University of Valencia in Spain, Ms. Malinkiewicz figured out a way to coat flexible foil with perovskites using an evaporation method.
Later, she developed an inkjet printing procedure that lowered production costs enough to make mass production economically feasible. "That was a bull's eye. Now high temperatures are no longer required to coat things with a photovoltaic layer," she said.
::SPORTS::
Smrithi Mandhana tops ICC cricket ratings
Indian opener Smriti Mandhana has climbed three spots in the batters' list to become number one in the latest ICC women's ODI rankings. Earlier, she was named ICC Women's Player of the Year 2018.
Smriti Mandhana has been in supreme form in the 50-over format. Young Jemimah Rodrigues rose up 64 places. She now sits at the 61st position in the rankings.
However, Indian skipper Mithali Raj slipped down one spot to finish at the fifth position.India's spin trio of Deepti Sharma, Poonam Yadav and Ekta Bisht also had a great day in the rankings. Yadav and Sharma have climbed five spots.
For Study Materials Call Us at +91 8800734161 (MON-SAT 11AM-7PM)