Current Affairs for IAS Exams - 04 February 2020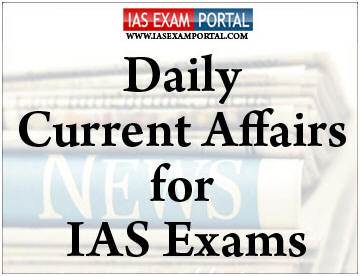 ---
Current Affairs for IAS Exams - 04 February 2020
---
::NATIONAL::
SC issues direction to states for establishing Gram Nyayalayas
The Supreme Court has directed the states, which are yet come out with notifications for establishing Gram Nyayalayas, to do so within four weeks. The apex court also asked the high courts to expedite the process of consultation with state governments on this issue.
A bench headed by Justice N V Ramana also took into account the fact that several states have issued notifications for establishing Gram Nyayalayas but all of them were not functioning except in Kerala, Maharashtra and Rajasthan.
The bench noted that states like Gujarat, Haryana, Telangana, West Bengal, Uttarakhand, Chhattisgarh and Odisha have not yet filed their affidavits on this issue despite the apex court's last year direction.
The apex court had in September last year agreed to hear a plea seeking a direction to the Centre and all states for taking steps to set up Gram Nyayalayas under the supervision and monitoring of the top court.
An Act passed by Parliament in 2008 provided for setting up of Gram Nyayalayas at the grassroots level for providing access to justice to citizens at the doorstep.
WCD ministry claims over 1.25crore beneficiaries benefitted from DBT
Women and Child Development Minister SmritiZubinIrani today said that one crore 28 lakh beneficiaries received 5,280 crore rupees in their bank accounts through Direct Benefit Transfer. She said, efficiency in the implementation of the PradhanMantriMatruVandanaYojana, PMMVY has now touched the 90 per cent mark in comparison to 38 per cent in 2018.
Speaking at the function in New Delhi after giving away the PMMVY awards to states, union territories and districts for best performance, she appealed to achieve hundred per cent target in this year. She said, it is to be ensured that no women and children are left out from the benefit of the scheme.
She urged the participants to initiate Jan Andolan in the districts to awaken the people about the risks faced by young girls who are entering into motherhood. She informed that POSHAN Maah will be observed in the next month to inform the importance of nutritious food, ill effects of anemia, the importance of sanitation and vaccination of mother and child.
In the category of best performance among States and Union Territories having a population of more than one crore, the first position was awarded to Madhya Pradesh followed by Andhra Pradesh and Haryana. Among States and Union Territories having a population of less than one crore, Dadra and Nagar Haveli got the first award.
::ECONOMY::
IMF MD asserts Indian economy not in recession
IMF Managing Director KristalinaGeorgieva has asserted that Indian economy is not in a recession.
She told a group of foreign journalists in Washington yesterday that the Indian economy indeed experienced an abrupt slowdown last year adding that the IMF had to revise growth projections, downwards.
Georgieva said IMF is expecting 5.8 percent growth rate in 2020 and then an upward trajectory to 6.5 percent in 2021. The IMF MD said that India undertook some important reforms which would be beneficial for the country over the longer term.
She added that they do have some short-term impact. She said that there is not a lot of fiscal space in India, but IMF also recognises that the policies of the government on that side, on the fiscal side have been prudent.
Fall in GDP growth impacts corporate credits ,says experts
The credit profile of Indian companies has deteriorated in the nine months of the fiscal hurt by a sharp slowdown in GDP growth. India Ratings (Ind-Ra) an arm of rating agency Fitch has downgraded 188 issuer ratings versus 103 upgrades during the period.
As a result the downgrade to upgrade ratio has deteriorated to 1.83 in the first nine months of the fiscal from 0.86 in the fiscal 2019.
The aggregate debt of all ratings downgraded to the total aggregate debt of all upgraded ratings also increased to 3.08.
A sharp drop in private consumption, continuing low investments and increasing working capital intensity led to the deterioration in corporate credit profiles this fiscal.
This was compounded by a drying up in liquidity as banks, non-banking financial companies and mutual funds turned risk-averse. As a result defaults increased to 4.9% of all issuers reviewed during this period up from 2.9% last year.
Industries most impacted by the slowdown were capital goods (mainly tier II construction & engineering), utilities (renewable energy), food, beverages and tobacco.
"With the central and state governments bearing the heavy burden of propelling demand and monetary policy providing some cushion, it will be critical for the other pillars to start contributing to ease the credit pressure," said RakeshValecha, senior director, Ind-Ra.
::INTERNATIONAL::
New large natural gas field discovered in UAE
The United Arab Emirates today announced the discovery of a new natural gas field containing 80 trillion standard cubic feet of gas in the cross-border area of the Emirates of Abu Dhabi and Dubai.
A press statement by the Government of Dubai stated that the discovery of the Jebel Ali gas field will contribute to achieving gas self-sufficiency for the nation and support the next phase of its major development projects in line with the nation's strategic development plan for the coming 50 years.
Vice President and Prime Minister of the UAE and Ruler of Dubai Sheikh Mohammed bin Rashid Al Maktoum and Crown Prince of Abu Dhabi and Deputy Supreme Commander of the UAE Armed Forces Sheikh Mohamed bin Zayed Al Nahyan today witnessed a strategic cooperation agreement between the Abu Dhabi National Oil Company (ADNOC), a top energy company of the UAE and the Dubai Supply Authority (DUSUP) to continue to explore and develop shallow gas in the cross-border area of the Emirates of Abu Dhabi and Dubai, as part of the joint venture called the Jebel Ali field.
This new gas field, spanning an area of 5,000 square kilometres in the cross-border area of the two emirates, represents one of the largest natural gas discoveries in the UAE.
The discovery strengthens the UAE's position among countries with the world's largest natural gas reserves. This discovery will help UAE in transiting the gulf nation from a net importer of gas to a potential net exporter of gas in coming times.
China lowers interest rates to boost economy
China's central bank has lowered the interest rates on reverse repurchase agreements today to boost economic activities. The cut came as Chinese financial markets reopened after an extended Lunar New Year holiday. The People's Bank of China has also injected a total of 173 billion US dollars into money markets through reverse bond repurchase agreements.
Chinese Army stationed in central China's Hubei Province has begun distributing daily necessities to the residents of Wuhan. Chinese authorities have said that they will further increase the supply of daily necessities including fresh vegetables, meat, grain and oil to central Hubei Province.
Meanwhile, China's Ministry of Agriculture and Rural Affairs has said in a statement that the highly pathogenic bird flu outbreak occurred in a farm in the Shuangqing district in Hunan province which has killed more than half of the chickens in the farm.
Local authorities have culled 17,828 poultry after the outbreak. No human cases of the Hunan H5N1 virus have been reported. Hunan province lies on the southern border of Hubei province, the epicentre of the rapidly spreading coronavirus. Tens of millions of people are still quarantined throughout the Hunan Province in an effort to combat the virus.
According to the World Health Organization, the H5N1 avian flu has killed 455 people worldwide since 2003. The WHO says, that the virus does not infect humans easily and spread from person to person appears to be unusual. Last month, China also detected the highly pathogenic H5N6 strain of avian flu in swans in its western Xinjiang region.
::SCIENCE & TECHNOLOGY::
Researchers develop AI tech to help speech impaired humans
Indian Institute of Technology (IIT) Madras researchers have developed an Artificial Intelligence technology to convert brain signals of speech impaired humans into language.
The other major application for this field of research is that the researchers can potentially interpret nature's signals such as plant photosynthesis process or their response to external forces, the institute said in a press release.
Electrical signals, brain signal or any signal, in general, are waveforms which are decoded to meaningful information using physical law or mathematical transforms such as Fourier Transform or Laplace transform.
These physical laws and mathematical transforms are science-based languages discovered by renowned scientists such as Sir Isaac Newton and Jean-Baptiste Joseph Fourier.
Elaborating on this research, Nandigana said, "The output result is the ionic current, which represents the flow of ions which are charged particles. These electrically driven ionic current signals are worked on to be interpreted as human language meaning speech."
The other major application of this field of research potentially is that can it interpret nature's signals, like plant photosynthesis process or their response to external forces when their real data signal is collected.
"The big breakthrough will be can we interpret what plants and nature is trying to communicate to us. This will help in predicting monsoons, earthquake, floods, Tsunami and other natural disasters using our Artificial Intelligence and Deep Learning algorithms," said Nandigana.
::SPORTS::
Many Indian women amongst nominees for BBC sportswomen awards
Wrestler VineshPhogat, Shuttler P.V. Sindhu and Boxer M.C. Mary Kom will compete for the inaugural BBC Indian sportswoman of the year award after being nominated for the honour.
Sprinter Dutee Chand and para-badminton player Manasi Joshi are the other nominees for the award, the winner of which will be announced on the 8th of next month. The winner will be decided on the basis of public voting, which will be open till the 18th of this month on six BBC vernacular websites.
Head of BBC Indian languages RupaJha informed that the nominees were picked up by a panel of 40 eminent sports journalists.