Current Affairs for IAS Exams - 04 August 2019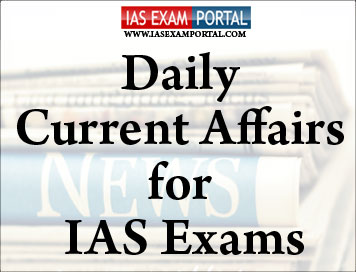 ---
Current Affairs for IAS Exams - 04 August 2019
---
::NATIONAL::
Pakistan not responding to India's request on retrieving bodes at LoC
Pakistani Army has not responded to the Indian Army's offer to retrieve the bodies of its regular army personnel and Border Action Team (BAT) terrorists. The bodies are lying near Line of Control (LOC) in Keran sector of north Kashmir's Kupwara district since last evening.
Srinagar-based Defense Spokesman Colonel Rajesh Kalia said that Indian Army last evening offered to Pak Army to retrieve the bodies of their personnel in Keran Sector for last rites and there was no response to the offer till now.
Last evening, Army foiled an attack by Pakistan's Border Action Team (BAT) on a forward post along the LoC in Keran sector, killing at least five to seven intruders comprising of Pakistani regulars and terrorists.
He said Pakistan has made a number of attempts in the last 36 hours to disturb peace in the Valley and target AmarnathYatra.
Meanwhile The Pakistan Army said on Saturday that the Indian troops had used "cluster ammunition" to target civilians across the Line of Control and killed two persons. The Indian Army rejected the charge as "pure propaganda".
Pakistan Foreign Minister Shah Mahmood Qureshi said his country would highlight the alleged use of cluster ammunition at the international level.
JalShakthiAbhiyan delivers several water conservation measures
In a countrywide effort to enhance water security, especially in water-stressed districts, the Jal Shakti Abhiyan, JSA delivered over 3.5 lakh water conservation measures in 256 districts during the last month.
Out of these, 1.54 lakh were of water conservation and rain water harvesting measures, 20 thousand related to the rejuvenation of traditional water bodies, over 65 thousand were reuse and recharge structures and 1.23 lakh were watershed development projects.
An estimated 2.64 crore people participated in the Abhiyan making it a peoples'movement. Around 4.25 crore saplings were also planted as a part of the efforts. The outcome of the first phase of the Jal Shakti Abhiyan was announced at a review meeting held in New Delhi yesterday.
Union Cabinet Secretary Pradeep Kumar Sinha appreciated the efforts and commitment shown by the nodal officers and encouraged them to closely work with districts for bringing significant changes through key interventions and initiatives.
Drinking Water and Sanitation Secretary ParameswaranIyer said, JSA has led to an increase in groundwater level, surface water storage capacity, soil moisture in farm lands and increased plant cover.
JSA is a collaborative effort of various Ministries of the Centre and State Governments and it is primarily a JalSanchay Campaign.
::ECONOMY::
SEBI expresses concern over trust in corporate governance
The Securities and Exchange Board of India (SEBI) on Saturday expressed concern over related-party transactions, a method "frequently" employed by corporates for diversion of funds.
"Related-party transactions are being frequently used for diversion of funds by corporates. Another instance is extension of loans of companies to related parties. The list is endless. This really bothers the regulator," SEBI's Executive Director Amarjeet Singh said.
Speaking at the Financial Market Conclave organised by CII here, he said these practices should be discontinued in the interest of listed companies, promoters and related parties. Mr. Singh said fraudulent related-party transactions were being used for "siphoning of funds." Mr. Singh added that regarding corporate governance, there had been a decline of trust for which the SEBI had already initiated steps.
"Serious corporate governance issues witnessed a linear rise causing a number of company failures. Corporate governance is aimed at keeping the trust of various stakeholders. Learning from the global financial crisis, this was far from satisfactory," Mr. Singh said.
There had also been instances of non-disclosure of valuation reports, he said, adding that the companies resorted to complex structures to hide the risk from siphoning funds. In this context, he said the SEBI was enhancing monitoring of compliance, along with the stock exchanges.
India asks China to fix trade deficits in RCEP
India has told China that the proposed mega free trade agreement RCEP should address the causes of high trade imbalances among the member countries, the Commerce Ministry said on Saturday.
The matter was among the issues raised by Commerce Secretary AnupWadhawan in his meeting with Wang Shouwen, the Vice Minister of China's Commerce Ministry, on the sidelines of RCEP inter-sessional ministerial meeting in Beijing on Friday.
The Secretary "emphasised on the importance of an RCEP agreement that would duly address the causes of existing trade imbalances," the Ministry said in a statement. Mr.Wadhawan is in Beijing for the eighth RCEP inter-sessional ministerial meeting.
Determined to keep the momentum towards achieving the Leaders' mandate to conclude the RCEP negotiations by the end of the year, the Ministers "called on all members to find pragmatic and solution-oriented approaches to narrow divergence on the various remaining issues", it added.
The Secretary also raised bilateral trade issues with the Chinese Minister. India has sought greater market access from China for its products like sugar, rice and pharmaceuticals to narrow the high trade deficit.
He also pushed for greater market access to other items such as milk and milk products, pomegranate, soybean meal, and okra. Besides, he asked for easing of the business visa regime by China for Indians. In his meeting with BoonyaritKalayanamit, Permanent Secretary of Thailand, the Secretary requested Thailand to improve its offer in goods and services under RCEP.
::INTERNATIONAL::
U.S to deploy missiles in Asia
Washington wants to quickly deploy new intermediate-range missiles in Asia, U.S. Defense Secretary Mark Esper said on Saturday in a move likely to anger China.
The new Pentagon chief said the U.S. was now free to deploy the weapons following its withdrawal on Friday from the Intermediate-Range Nuclear Forces (INF) treaty with Russia. "Yes I would like to," Mr.Esper said, when asked if the U.S. was considering deploying new medium-range conventional weapons in Asia.
The plan to deploy new missiles in Asia is likely to anger China which is vying with Washington for influence in the region, but Mr.Esper said Beijing should not be surprised. .
The INF treaty was considered a cornerstone of the global arms control architecture but the U.S. said the bilateral pact had given other countries — namely China — free rein to develop their own long-range missiles.
Mr.Esper said he chose Asia for his first trip since taking office on July 23 "to affirm our commitment to the region, to reassure our allies and our partners." The Pentagon chief and U.S. Secretary of State Mike Pompeo are due to meet with their Australian counterparts on Sunday.
Demand for implementation of Chittangong hill tract accord in Bangladesh
Indigenous people of Bangladesh have demanded quick implementation of the Chittagong Hill Tract (CHT) Accord signed in 1997. Addressing a press conference in Dhaka yesterday ParbatyaChattogram Jana SanghatiSamity (PCJSS) Chairman SantuLarma said that the core clauses of the CHT accord have not been implemented even after 21 years. He said indigenous people are living a life of uncertainty and insecurity. SantuLarma is a signatory to the accord.
Talking about indigenous languages, SantuLarma said that 14 out of the 41 languages are facing extinction. He urged the government to set up a national academy for preserving these languages and accord constitutional status to the indigenous communities.
The government signed CHT accord in 1997 with PCJSS representing Jumma indigenous people to end decades of armed conflict in the South Eastern region of the country.
Protection of the land rights of Jumma people, rehabilitation, self government and withdrawal of military from the region were the key points of the accord.
Indigenous people's organisations have accused the government of not implementing the accord but the government claims that most of the provisions of the accord have been implemented. Prime Minister Sheikh Hasina was honoured with the UNESCO Peace Prize in 1998 for the accord.
::SCIENCE & TECHNOLOGY::
India successfully test fires QR-SAM
India today successfully test-fired its all weather tracked-chassis Quick Reaction Surface-to-Air Missile (QR-SAM) from a mobile launcher at launch complex III of the Integrated Test Range at Chandipur in Odisha this morning. It was the second developmental trial of the missile in this year from the same test range.
Earlier, the surface-to-air missile was tested successfully on Feb 26, 2019. It was test fired from a rotatable truck-based launch unit at Chandipur. Jointly developed by Defence Research and Development Organisation (DRDO) and Bharat Electronics Ltd, the QR-SAM weapon system is a quick reaction, network-centric missile system capable of search-on-the-move.
AIR correspondent reports that QR-SAM system can also engage multiple targets within a range of around 25 to 30 km with two vehicle configuration for area air defence. It is a truck-mounted missile with a 360 degree rotatable, electro-mechanically operated, turret-based launch unit.
The missile intended to defend Army formations operating in plains and semi-desert areas, was required to engage all kinds of targets, including aircraft at altitudes up to 9 kilometers, hovering helicopters, missiles up to 800 meters per second and low-flying targets, including those that suddenly appear at close range. The first test launch of the missile was conducted on June 4, 2017, from the same base.
::SPORTS::
VineshPhogat wins gold in Polish open tournament
Star India grappler VineshPhogat has bagged gold in women's 53kg category of the Poland Open wrestling tournament in Warsaw.
The 24-year-old prevailed 3-2 over local wrestler Roksana in the final of the competition.
This was her third consecutive gold in the 53 kg category after winning Gold at Grand Prix of Spain and at the YasarDogu International at Istanb